World Cup 2022: What to expect on Day 11
Tuesday was the start of the separation of the last-16 wheat from the chaff of teams whose journeys end at the group stage.
That theme continues today as Group C and D come to the boil. By the time the clock ticks 9pm tonight, there is a possibility that Lionel Messi and Argentina could bow out of the tournament after meeting Robert Lewandowski's Poland, while a Denmark team viewed as dark horses will be hoping to emerge from Group D alongside France in the 3pm kick-offs with a must-win against a battling Australia side.
There was little expectation about Australia when the tournament kicked off such was the perceived quality of a squad generally bereft of players from Europe's top five leagues.
And yet, thanks to a win over Tunisia following the heavy opening 4-1 defeat to France, they have played themselves into a position where they could become just the second Socceroos outfit to reach the knockout stages of a men's World Cup.
Avoid defeat to Denmark this afternoon whilst hoping Tunisia don't beat France and Australia will make it into the last-16.
The only time they achieved that feat was during the time of the golden generation which saw Mark Viduka, Harry Kewell, Tim Cahill and co come agonisingly close to reaching the 2006 quarter-finals but for a Francesco Totti penalty from a somewhat dubious officiating call in their last-16 encounter against eventual champions Italy.
Australia manager Graham Arnold was part of Guus Hiddink's backroom team 16 years ago and hopes that past achievement serves as a pointer for the current squad.
"They were 10 years of age watching those guys do what they did in 2006. And those guys were their inspiration," he said.
"That's the whole purpose ... it's about the game in Australia ... to leave a legacy is huge."
Arnold has indicated that his side will not sit back against the Danes in what is a straight shootout for second place but given the contrasting calibre of talent available to both teams, one can expect the Socceroos' battling qualities to come to the fore.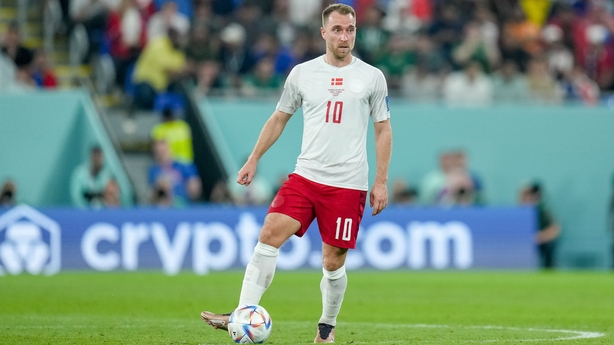 Euro 2020 semi-finalists Denmark have been somewhat underwhelming in the tournament so far. A stalemate against Tunisia was not helpful to their cause and although they played well in spells in the subsequent 2-1 defeat to France, it leaves Kasper Hjulmand's side under pressure to get a victory over Australia to make it into the knockout stages for the second World Cup in a row.
Goals have been hard to come by so far, with Andreas Christensen's header against the French the only one they have mustered so far.
Centre-forward has been a problem position with neither Kasper Dolberg nor Andreas Cornelius, who missed a sitter against Tunisia, providing much of a cutting edge. Martin Braithwaite was also unable to spark anything after being brought on versus the French. Yussuf Poulsen, who scored against Peru in the last World Cup, has yet to be called upon.
It's an issue Hjulmand has been conscious of but the manager remains confident that his side will find a way regardless of the ultimate source of the goals.
"You cannot expect to push a button and expect to score a lot of goals," he said after the France game.
"We have a lot of good strikers and we were very close today. I really like what we have and... on this team we have a lot of goal scorers.
"All through 2021 we had 18 different goal scorers on the national team so that shows that our goals come from a lot of different players.
"In the World Cup qualification games we had eight wins and 29 goals so we have great strikers with great players all around the pitch that can score."
Losing Thomas Delaney to a knee injury in the opening game has also not been ideal given his importance in the centre of the park in support of talisman Christian Eriksen and Spurs' Pierre-Emil Hjojberg.
Eriksen will, needless to say, be key as the Danes look to pick their way through Australia's rearguard action but getting the balance right further forward will be decisive in deciding whether it's a flight back to Copenhagen or a likely meeting with whichever side tops Group C.
Even if France don't go on to win the World Cup, they have had a little victory of sorts by ending the curse of the reigning champions.
Didier Deschamps' side are the first holders since the Brazil's 2002-winning team to not make a group stage exit.
Impressive wins over Australia and Denmark - albeit not without a couple of chinks in the armour - has already seen them through to the last-16.
On the positive side, the absence of Ballon D'Or winner Karim Benzema has not been felt with Kylian Mbappe already contending for the Golden Boot after three goals in two games and Olivier Giroud also on target to move level at the top of the all-time French goalscoring list.
Les Bleus know that avoiding defeat to Tunisia will be enough to top Group D and book a knockout game against the Group C runner-up, so Deschamps will ring the changes but whether Golden Boot-chasing Mbappe will be among those rested is something the 2018-winning manager is coy about.
"His fitness is fine so we don't need to manage that," Deschamps has said.
"Perhaps then you are asking about his ego. Kylian doesn't have a big ego. Of course he's an important player, a key player, but he's a team player.
"Of course he's a star because he's such a vital player but he's not 18 anymore. He's got a bit more experience. He always wants to play but that's true of all players. Not all of them can start (today). There are a lot of factors to take into account."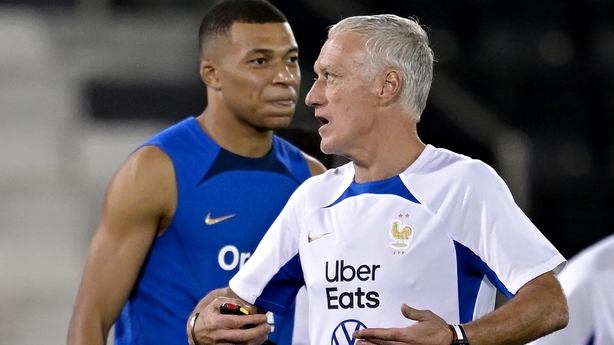 For Tunisia, the equation is simple. Like Denmark they have to win in order to give themselves a chance of progressing.
However, unlike the Danes who have a straight shootout against Australia, it's a tough task for the Tunisians. Even if the French rest a few key names, their second string would still be favourites against the North Africans.
They have proven defensively resolute, holding Denmark to a scoreless draw before narrowly losing to Australia, who they must hope don't beat the Danes.
But if goal difference comes into the equation, Tunisia will need to actually score a goal which has proven impossible in their first two games.
Motivation won't be an issue however given that 10 of their squad were born in France, including some who previously represented their birth nation at youth level.
"I wanted to be in France's group before the draw. It's a dream come true," Corsica-born ex-Sunderland winger Wahbi Khazri said this week.
"I try to represent Tunisia in France every weekend by performing well and I like to represent Corsica too, because I was born there. I carry a lot of flags on my shoulders, it's nice. I am 100% Tunisian, 100% French and 100% Corsican. I have no embarrassment about that."
For an hour against Mexico, it didn't look like Argentina would be giving themselves a real shot of staying in the competition as they looked to make up for the shock 2-1 defeat to Saudi Arabia four days before that.
But cometh the hour, cometh the man. Lionel Messi to the rescue with a superb long-range strike and coupled with a second goal by Enzo Fernandez late on, the Albiceleste saw off the Mexicans and have progression to the last-16 back in their own hands again.
Another win over Poland and Argentina will almost certainly top Group C although Saudi Arabia could still pip them via goal difference or head-to-heads with victory against Mexico. A draw for Argentina would leave them checking their phones nervously for the outcome in the Saudi-Mexico game.
Given how out-of-sorts Argentina have looked for much of the two opening games, taking on Poland is certainly not a gimme.
However, the confidence taken from emerging from that tense Mexico game with the desired result will buoy them at least where Argentina and Manchester United defender Lisandro Martinez is concerned.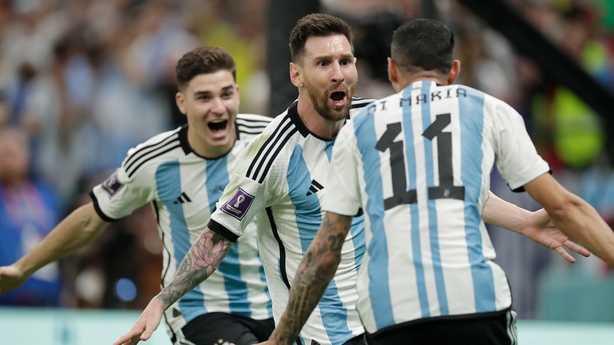 "We know what we are capable of. We can play better and we know we have not reached our best level yet. But we are trying," he said.
"We have to be well organised so (Poland) don't get us on the counter-attack."
The Messi goal against Mexico appeared to put a pep into the Argentine step but manager Lionel Scaloni is cautious about whether that will prove to be a flash in the pan.
"Obviously after a victory against Mexico, we are feeling better emotionally. We are on the right path now.
"Have we recovered our identity after the (Messi) goal? It depends on how you see it, because then we had to defend the result, whatever it took. That's football. It's tough.
"We had a couple of chances after the goal to get a bigger result, at the end of the match we managed to do that, and that's what counts.
"That's our identity - we fight for every single ball and try to be strong. That's what we asked our players (for) ahead of the match, and that really reassured us - that's what we saw on the pitch. Yes, the first half wasn't great, but we saw our players fighting."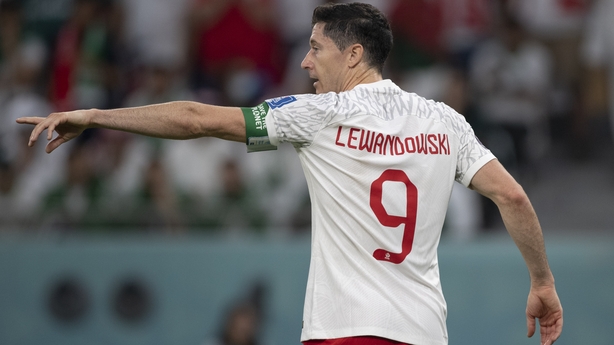 Poland will have other ideas and are well positioned to reach the knockout stages for the first time since their golden generation of the '70s and '80s were eliminated in the last-16 in 1986.
While they had to settle for a draw with Mexico after Robert Lewandowski's penalty miss, a hard-fought 2-0 victory over Saudi Arabia has them poised on four points, knowing that a point against Argentina will be enough to carry them through.
Even a defeat may not be consequential if the Saudis fail to beat Mexico and goal difference goes their way.
But significantly, Lewandowski goes into the group closer with a sense of freedom having got the monkey of never scoring at a World Cup well and truly off his back after finding the net last time out.
That coupled with consecutive clean sheets has breathed optimism into the Polish ranks.
"We should all be excited to play Argentina, that we play for something, it's high stakes. We will do everything to win because we can do it," said manager Czeslaw Michniewicz, who has emphasised that was "not only a match between Lewandowski and Messi - it's not tennis, it's not one-on-one".
Saudi Arabia have only reached the knockout stage once, on their tournament debut in 1994. But the shock win over Argentina means they have a realistic chance of doing so once again.
Beat Mexico and regardless of what happens between Argentina and Poland, then Herve Renard's team will go through. A defeat would end their involvement however, while a draw could leave them at the mercy of goal difference vis a vis the Polish if the latter lose to the Argentines.
Saudi Arabia have performed above expectations in both the Argentina game and the 2-0 defeat to Poland which saw them miss a penalty.
It will also feel like a home game to them given the proximity of Qatar and the number of Saudi fans who have attended their games thus far.
"If these players want the fans to remember them they have to make history, otherwise people will forget in 20 or 30 years, because the last time we reached the second round was in 1994," said Renard.
"The most important thing is that we are still alive for this game and we have the chance to qualify, but we will have to fight very hard. Mexico have a lot of experience in the World Cup and a better record than Saudi Arabia."
Saudi Arabia have picked up injuries along the way and captain Salman Al-Faraj will not be available for the remainder of the tournament.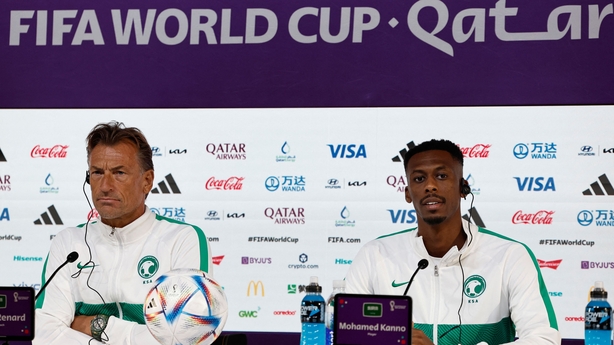 While the last-16 isn't a place Saudi Arabia are all too familiar with, it's become an uncomfortable abode for Mexico at every World Cup from 1994 onwards.
Such is the inability to go beyond that stage to the quarter-finals, it's often referred to as the 'Curse of the fifth game'.
But right now they would welcome the minimum of a last-16 spot. They are in the most precarious position in Group C, knowing that only victory against the Saudis will prevent a first group stage exit during a World Cup since 1978.
Even a win might not be enough if the result in the Argentina-Poland game doesn't go their way. They will need Poland to win in that scenario but if it's a draw or Argentina win, then goal difference would come into it.
The return of captain Andres Guardado to full fitness after a knock against Argentina has given them a boost but further forward is the issue where an absence of goals has been the most significant issue carried over from qualification.
"We believe in our chances and we hold on to them," said Guardado.
"When you get a blow like the other day you need to digest it and turn the page very quickly.
"We have a big chance to forget the defeat to Argentina with a big game against Saudi Arabia. We can still qualify, we believe in our chances and nobody can tell us it is impossible."
Follow every game from the 2022 FIFA World Cup via live blogs on RTÉ.ie/sport and the RTÉ News app, or watch live on RTÉ Television and RTÉ Player
The RTÉ News channel is available on:
Saorview - Channel 21
Virgin Media - Channel 200
Sky - Channel 521
Eir - Channel 517