While some of her teammates will be continuing to celebrate Sunday's TG4 All-Ireland football victory over Kerry for the rest of the week, things are a little different for Vikki Wall.
The Dunboyne powerhouse will be jetting off to Australia on Friday to begin the next chapter of her sporting life, having signed a professional contract with North Melbourne earlier in the year.
Her Meath manager Eamonn Murray admitted after Sunday's victory that it had been emotional at the full-time whistle, as it dawned on himself and his players that there would be a breakup of this exceptional squad, even if it's only a partial one.
There won't be too much time for acclimatisation for Wall, with Melbourne set to begin their pre-season schedule tomorrow. Wall is targeting a meeting with Adelaide Crows on 13 August for her club debut.
"I've to say goodbye to a few people, fit a few people in," she says of her last few days in Ireland.
"I had my bags packed before Sunday's game. They've a pre-season game on 3 August, and then they've another one on the 13th against Adelaide, which I'm hoping to tog out for.
"It's probably been the best thing to have beforehand, in a sense. I have been working with North Melbourne the last while, doing a few bits and pieces.
"Both have been a nice distraction from each other. It's nice to flick on a few of the Aussie Rules games to take your mind off GAA, and then if I'm getting too caught up in that, I put on some of the old Meath games to switch off."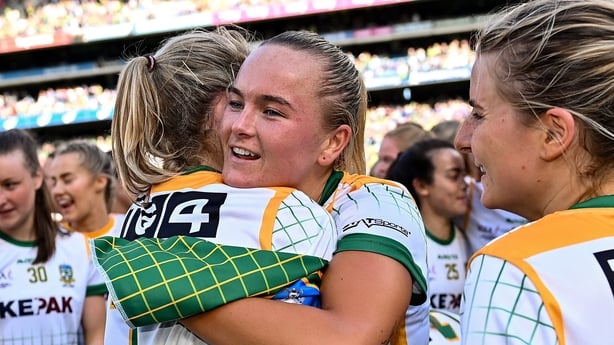 Wall is one of 21 Irish players to have secured contracts in Australia this year, alongside the likes of her teammate Orlagh Lally, Cork's Erika O'Shea and Dublin's Sinead Goldrick.
The 23-year-old is unquestionably one of the game's top players over here, having been crowned the player of the season last year, while in Sunday's final she kicked three points from play.
With the money in the Australian game set to increase over the next decade, the potential for the LGFA to lose some of their brightest lights is surely a worry for the association.
On a much practical level, the well-worn path of Irish players heading down under has made it slightly easier for Wall.
"I would have been in College with a few girls who are over there now," she says.
"Anyone who is over there has reached out; they're all so approachable. They're saying to meet up, or even just giving me tips and tricks of what to bring and what not to pack - something as simple as that.
"They've all been great and I'm really looking forward to it now."
---
LGFA's Australian conundrum looming large ahead of final
---
One of the more controversial issues in the women's game here has been the tackle, and the alleged difficulty for those involved to properly interpret it.
A number of players and managers have been calling for more physicality to be allowed in the game over the last few years, and the greater certainty over what is allowed in the AFLW is something that Wall is looking forward to embracing.
"It's a bit more simple in terms of what you can and cannot do," she says.
"There's a lot of ambiguity around what a tackle is in ladies football at the moment. The idea of 'non-contact' is nonsense at this stage.
"When you're expecting a bit more physicality you can react to it. You're not almost trying to win a free over there."