The night of an All-Ireland final victory is usually a joyous occasion for management and players, but Meath supremo Eamonn Murray hinted that yesterday's nine-point win over Kerry had been somewhat bittersweet.
The Royals re-affirmed their position as the preeminent football team in the country, as a dominant second-half display saw them keep their opponents from the Kingdom scoreless for the last 25 minutes.
In that time they smashed in 2-02 to pull away, allowing them to enjoy the last few minutes when they knew the Brendan Martin Cup would be making the journey back to the banks of the Boyne with them.
If it would be possible to keep that squad together, there would surely be another few All-Irelands in them. Particularly at a time when both Cork and Dublin - the counties that won all 16 finals from 2005 to 2020 between them - appear to be at different stages of transitional periods.
But the much publicised departures of two of their star players yesterday - Orlagh Lally and particularly Vikki Wall - means the chance to go on and match the achievements of Kerry, Cork and Dublin teams of the past by putting three or more titles together in a row will be much more difficult.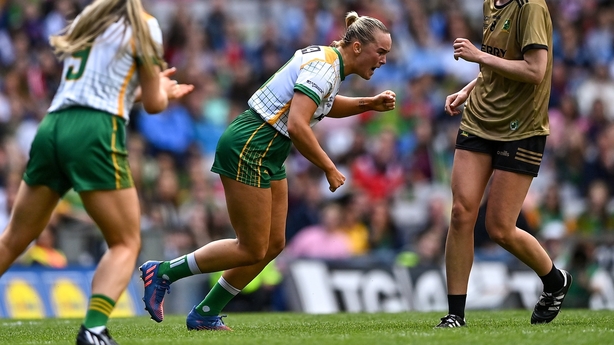 It's not clear when either will be back in the green and gold of Meath, and Murray admitted that as it dawned on him after the game, he did become emotional.
"You'd have to get like that, losing players and stuff," he said.
"You're probably good enough to win three or four in a row, but we won't. We'll worry about that next week.
"It was the perfect send off, and that's why it was a bit emotional for us all - it won't be easy.
"They've two All-Irelands in their pocket so they can go with pride, and their heads up. We wish them luck and look forward to them coming back - they will be back, I know they will.".
Asked about the turning point in a season which saw them claim the Lidl National League title, before losing the Leinster final to Dublin, Murray pointed to their All-Ireland quarter-final win over Galway.
"The big game for me all year was always Galway," he said.
"I know all about them. I remember watching them [Kilkerrin-Clonberne] in the club final and they won that easy.
"I know how good they were and they've 15 or 20 outstanding players. They scored 1-11 against us and that's the most we've conceded in a long time.
"They're a good team, and Emma [Duggan's] class point that day changed the year for us."
The challenge for Meath will be to try to fill the void left by two classy players in their ranks. Their departure will surely bring them back to the pack somewhat.
Whatever happens Royals next, their squad is still in its prime. Just two starters - goalkeeper Monica McGuirk and forward Niamh O'Sullivan - are in their 30s, while the four substitutes they introduced are all in their 20s
For this week though, at the very least, they can enjoy the most comprehensive All-Ireland final performance in half a decade.