The potential snowball effect of more and more players heading to the AFL Women's will continue to be a "problem" that the LGFA have to grapple with going forward, says former All-Ireland-winning Dublin captain Denise Masterson.
This year's TG4 All-Ireland Senior Championship final takes place on Sunday with reigning champions Meath going up against Kerry.
But Meath star Vikki Wall and midfielder Orlagh Lally will be heading for Australia to start life in the AFLW after that and other leading lights have also been linked with moves Down Under to take up professional sporting opportunities, where 21 Irish players are set to compete this season.
"It's a problem for the LGFA because I think the more people who go and the more younger girls see it and see the opportunity, the more (players) who will want to go," Masterson said on the RTÉ GAA Podcast.
The appeal of professional contracts will make it more difficult to entice younger players to stay at home.
"I'd say it's very hard for the girls that stay and you wouldn't begrudge any of the girls for going," Masterson said.
We need your consent to load this YouTube contentWe use YouTube to manage extra content that can set cookies on your device and collect data about your activity. Please review their details and accept them to load the content.Manage Preferences
"Ideally if you could get them all to go when they're older like Brid (Stack) and Cora Staunton, when they're at the latter end of their career, you'd love to see them do it all while they were younger in the LGFA and then head over.
"But it's becoming more and more appealing. I think people just feel it's an opportunity that's too big to pass up and I don't know if that's maybe where you start with the LGFA that you make it more appealing to stay here."
How it would be possible to incentivise players to stay within the women's game when professional opportunities are available elsewhere is unclear however, Masterson admitted.
But the biggest impact will be on those players who carry on their inter-county commitments while seeing talented team-mates departing the various panels.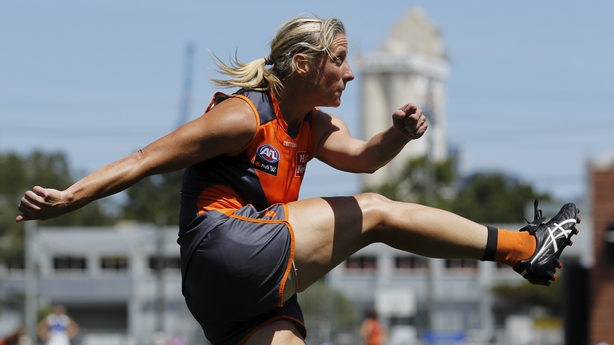 "It might be slightly different because the pool is smaller but I heard of some girls going at some stage and I know girls within a panel were really disappointed and it was a big dent to morale nearly when they initially heard it and that's never good for the game and I'm sure it's the same despite what we might hear out of the camp," she said.
"I'm sure that's a big blow to the Meath girls who are there and maybe girls who feel that they wouldn't go because they want to give it all to Meath.
"It leaves a lot of questions in terms of people's intent towards the county jersey and the pride and the love of it and I think they're hard conversations for teams to have.
"I know if I was involved in a team that was successful and we wanted to build on it, I would be bitterly disappointed to be losing girls like that and that's no disrespect to the girls who are going. You respect their decision and all that but you would be bitterly disappointed.
"You do feel if you have a bit of momentum, to lose players like that, it is huge in Ladies football. I do think it is and even, like I said, in terms of the morale of the squad.
"People may think it's going to affect worse than it does and even that alone can maybe rattle a team. I'm sure with all the talk coming out of Meath, it has to affect them."
Follow the All-Ireland LGFA final day, including a live blog of the final, Meath v Kerry, on Sunday at 4pm on the RTÉ News app and on rte.ie/sport, plus live radio commentary on RTÉ Radio 1
Listen to the RTÉ GAA Podcast at Apple Podcasts, Soundcloud, Spotify, or wherever you get your podcasts.
We need your consent to load this rte-player contentWe use rte-player to manage extra content that can set cookies on your device and collect data about your activity. Please review their details and accept them to load the content.Manage Preferences