The 2021 TG4 Senior Players' Player of the Year, Vikki Wall, is set for life Down Under with the AFLW later this year according to Eamonn Murray, and the Meath manager believes her departure will be a big loss to the game in Ireland.
Speaking at a press afternoon ahead of the Lidl National League Division One final this weekend, Murray addressed the fear of Ireland's rising talents such as Emma Duggan and Wall catching the eye of AFLW recruiters.
"Of course that's going to happen," he said, without being able to give any specifics to the claim.
"That is going to happen, yeah. I'd say we're losing Vikki now in September and I don't know how many more we'll lose. I don't know why you'd want to play that sport because it's dreadful stuff to watch. I can't understand it. There's no skill at all."
Wall was sensational for the Royal's last year when they clinched their first Senior All-Ireland title in a memorable day in Croke Park beating a five-in-a-row chasing Dublin side.
Despite her youthful age, the 23-year-old's accolades in women's Gaelic football to date would be the envy of most players in the game. Wall was named player of the match on that historic September Sunday as well as previously being crowned the 2020 TG4 Intermediate Players' Player of the year.
There's talent all around the Meath dressing room but there's no denying the presence that Wall has on the field for Murray's side and what a loss she would be to the game at home should she make the move.
"Oh huge," Murray said. "Can't do anything about it, but that's the problem we have. She's getting a good contract I'm sure over there, plus she's good at talking Irish and all that stuff. I don't begrudge it to her like."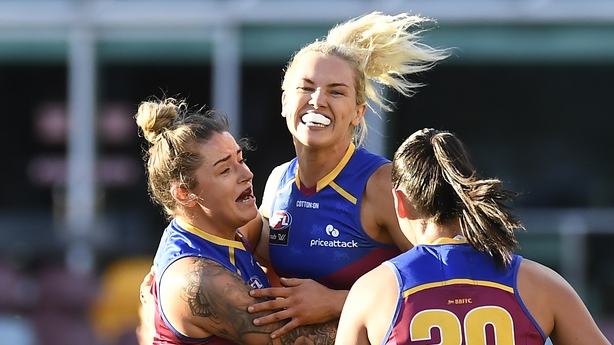 Cavan's Laura Corrigan Duryea was the first international player to be drafted to the AFLW late in 2016 and since then, household names such as Cora Staunton, Bríd Stack and Niamh McEvoy have all gone on to experience life in a professional sporting setup.
And Tipperary dual star Orla O'Dwyer was the first Irish player to be named AFLW All Australian at the W Awards night earlier this week.
While Murray does not begrudge the move, the current All-Ireland winning manager has his reservations about players taking the plunge for Aussie Rules.
"It's not good, far from it, and I think if any of you check, the players coming back, the Sinead Goldricks or the Lauren Magees or any of them, they don't exactly set the world on fire when they come back over here," he said.
"They're not going to win the championship for any team. They keep saying, 'Oh we're going out here and it's professional and we're training seven days a week'. How much training do you want like, you know?
"You certainly won't improve your skills over there. I'm not bitter about it, far from it, it's great to have a country like that that the girls can spend a few years over there and enjoy that year or two and come back," he said.
"I wouldn't be into that sport at all. The only way to watch that is on a Monday evening, watch all the games in an hour."
The details of the arrangement couldn't be confirmed by the Gowna native, but he agreed that having such a talented group of players such as Wall and her team-mates at his disposal doesn't happen often.
"I know nothing, no. She'll definitely go alright," he said.
"Oh God, yeah, these days won't last forever. You talk about Emma Duggan and how good she is but she never seems to get the limelight at all. She doesn't get player of the match in any match. No awards.
"She got an All-Star, but some people say she will get them, but she won't get them unless we can stick together. We have good teams coming up, minor teams and under-16 teams."
Under Murray's five years at the helm, Meath have won an intermediate All-Ireland in 2020, a senior All-Ireland title last year as well as rising the ranks from Division Three to One. They are certainly experiencing a special period and are the current team to beat.
"Oh I know that, it is. Very much so and we want to take advantage of that. And we will," said Murray.
This weekend Meath take on Donegal in the Lidl National League Division One final in what will be a first Division One title for either winner. Throw-in is 4pm at Croke Park, and the game is live on TG4.