For the first time since 2006, Johnny Sexton had the summer off.
Going back to 2009, the Leinster out-half either toured with Ireland or the Lions each summer, and for the few years prior to that was part of the annual Ireland 'A' jolly to the Churchill Cup.
But when he missed out on Warren Gatland's Lions squad this summer, and Ireland head coach Andy Farrell chose to use the summer Tests against the USA and Japan as a breeding ground for his future 10s, it meant Sexton's summer was free.
Having been stood down late last season because of multiple head injuries, and with Sexton turning 36 in July, the extra rest was probably no harm from a Leinster point of view.
Even better though was the fact that the veteran out-half's pre-season return wouldn't need to be delayed like is the norm for international players.
He was around for their full pre-season block, giving the new academy recruits and graduates the opportunity to train with him every day, and get a close-up experience of the Ireland captain.
Senior coach Stuart Lancaster says Sexton's presence instantly drove up the standards of the pre-season training.
"It's invaluable really, you can't put a price on learning from a player like Johnny," he said ahead of Sunday's United Rugby Championship meeting with the Dragons (live on RTÉ2 and RTÉ Player).
"It's very hard to replicate that as a coach.
"Johnny would hold then to account, and if standards weren't high enough, he definitely does that.
"So there's a standard that he sets, an expectation that means the young players learn what that level is and also they learn the subtlety of his game and the ability of him to manipulate defenders and create space and his vision to be able to see things early.
"You can talk to players about that but unless you've seen it first hand, it's very hard to coach.
"So it's been invaluable for me really."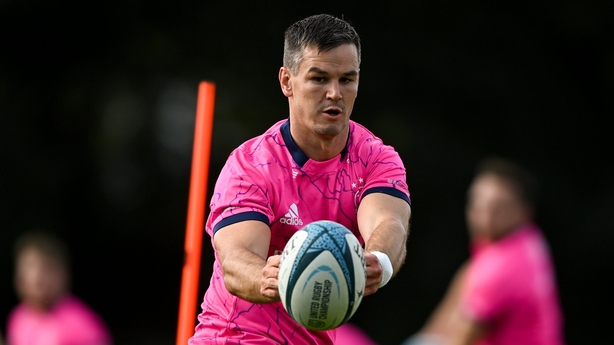 Lancaster has seen first-hand the influence that veteran players can have on the development of youth.
His 20-year-old son Dan has recently joined up with the Leicester Tigers, following an impressive U20 Six Nations campaign with England.
Listen to the RTÉ Rugby podcast on Apple Podcasts, Soundcloud, Spotify or wherever you get your podcasts.
The Leinster coach says speaking to his son has reminded him just how influential players can be on the development of talent.
"I'll give you an example. My son is just signed at Leicester, so he's with George Ford as a 10-12, and every day he's coming back saying, 'George taught me this,' or, 'I learned this from George', and it's the same with our lads.
"When you've got the likes of Johnny in there, I think when we look back in a few years time it'll be one of the best pre-seasons they've had but also I think that he's had.
"He's been able to commit to training full time, get his body in good shape, and I think you can see it in his performances," he added.
---
JAMES RYAN READY TO MOVE ON AFTER LIONS SNUB
---
Sexton is on record saying he wants to play until he is 40, and while it could well happen, his advancing years have heightened the need for a succession plan both at Leinster and with Ireland.
Ross Byrne has been a reliable deputy in recent years, while younger brother Harry Byrne is picking up the remaining scraps.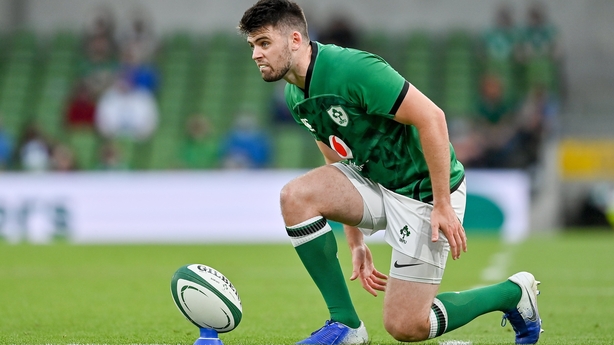 The younger Byrne made his Ireland debut during the summer, but his pre-season campaign has been stunted by injury, from which he's set to return to training this week.
Lancaster says he's confident they have the environment at Leinster where all three can carve out a steady workload.
"I think Leinster's model is very much based on young players coming through and putting pressure on senior players.
"If you're a player at Leinster, you want to be looking ahead to try and get picked in the team, but also you want to keep a close eye behind yourself because there's some talent coming through.
"Whether it's Harry behind Ross and Johnny at the moment, or Jamie Osborne, or Rob Russell or Max O'Reilly, it's across the board really.
"It's Leinster's model that makes it its ultimate strength.
"In terms of the 10 position I hold Harry and Ross and Johnny in the highest regard, they're as good as I've coached, all three of them really.
"When that happens, we have the ability and the capacity to rotate the squad to allow all three of them opportunities, and obviously it'll be up to Andy Farrell to select his squad for November."
Follow Dragons v Leinster via our live blog on RTÉ.ie/sport or the RTÉ News app, watch live on RTÉ2 and the RTÉ Player or listen to national radio commentary on RTÉ Radio 1.