Republic of Ireland defender Savannah McCarthy is hoping to cap off a whirlwind couple of months with six precious World Cup qualifying points over the next few days.
McCarthy and her Irish team-mates face Slovakia in Tallaght on Thursday with Georgia visiting five days later as the Group A campaign picks up steam in front of a crowd that officials are hoping will break the previous record attendance of 5,238 for the Irish women's national team.
A battling 1-0 loss to Sweden was followed by an important 2-1 win in Finland to start their campaign, and there is real positive momentum with the team now.
The same can be said for McCarthy who has had plenty to shout about with Ireland and her club, Galway WFC.
Having played under former managers Sue Ronan and Colin Bell, McCarthy had to wait until September of this year to earn the first call-up from current boss Vera Pauw. There was no waiting around from there though and she was brought straight into the team for the friendly win over Australia while she also played every minute of those games against Sweden and Finland.
On the club front, last week McCarthy was named as one of three nominees alongside Karen Duggan (Peamount United) and Kylie Murphy (Wexford) who will battle it out for the SSE Airtricity Women's National League Player of the Year award to be announced on 1 December.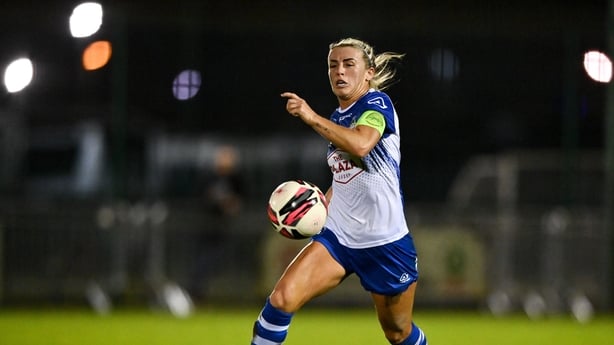 It's fair to say that McCarthy's stock has risen at a considerable rate recently.
"At the start of the season I had aims and one of those aims was to try and get myself back into the Irish squad," McCarthy said ahead of the Slovakia game.
"That starts with Galway week in, week out. Training well, playing well and hoping to get the opportunity.
"I got called up to the home-based session and it went from there. I'm just trying to grab it with both hands and enjoy being back in.
"That was my first home-based session, I went up there and it was all or nothing. Playing for my life. I was delighted to get rewarded and get called into the Australian camp."
These bright days didn't always appear to be on the horizon for the player. Injuries on the pitch and personal matters off it led to some difficult times, but the former Glasgow City player is glad to be coming out on the right side of it now.
"For me when I went to Glasgow I was there for three years and got offered another contract but at the same time my Granda was ill, he was dying so he didn't have that much time to live.
"That opportunity to stay at home and not go back, I don't regret it, but it was tough. Then my Dad was sick and there was a lot of stuff in between family wise.
"I came back and was signing for Cork City and after a few months I did the meniscus in my knee and I was out for nearly a year.
"I'd get back and I'd be doing okay and then I had an ankle injury and little niggles in between. It was a tough road.
"For me it was literally putting my head down and working hard and doing the right things right and just hoping I got that opportunity.
"Of course you always have doubts, you always think, is it going to happen for me? I'm honoured and delighted to be here."
McCarthy seems to have nailed down that position on the left of the back three that Pauw likes to use, and in doing so one of the players she is keeping out of the team is 83-times capped Diane Caldwell. McCarthy said that even though they are in competition for a starting spot, the Balbriggan veteran has still been a rock of support.
"Diane is a fantastic player and, to be honest, anybody on the team could play.
"It's obviously who Vera picks on the day but listen, she's fantastic, a great athlete. I have huge respect for her, she's a player when I was younger that I'd be looking up to. She's a great girl.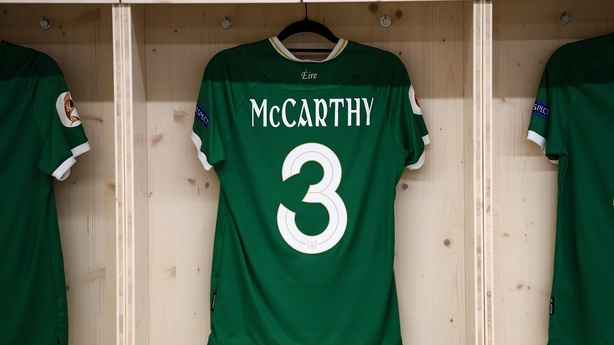 "At the end of the day it's all about the team but I remember a few years ago when I was in the seniors, I'll never forget it, Diane on the bus. We had a conversation and just the stuff she was saying to me, the encouragement, she's great to everyone, all the young girls. She's a fantastic athlete."
McCarthy's progress is inspirational for all those young players who follow the team, including those in the traveller community as she is a former Irish Traveller Pride Award winner. Her message is simple – don't be afraid to dream big.
"Trying to get the young girls in the travelling community to see that they can do the same, what I can do they can do and if you have a dream just go and follow it.
"If you have a dream, go follow it. Never let anyone tell you that you can't do it. Just work hard and I'm sure it'll happen."
And dreams of a first-ever World Cup appearance will grow stronger if Ireland can get six points over the next few days, although McCarthy insists that her focus is just on the three on offer against Slovakia.
"We won't underestimate them; they are a fantastic team and they've got really good players. It's not going to be an easy task and hopefully we'll be ready for that on the day.
"Every game we play we are getting better, better as a team, and we showed against Sweden, I thought we were brilliant. Defensively we were great.
"Bringing that into Finland away was special.
"For us it's just taking it game by game," she responded when asked were six points a necessity. "All focus is on the Slovakia game.
"We won't be underestimating them but at the same time we do want and go and win it.
"They're a fantastic team and we know what they're capable of. They have a lot of threats and we're just looking forward to the game."
Follow Republic of Ireland v Slovakia this evening via our liveblog on RTÉ.ie/sport and the RTÉ News app, or watch live on RTÉ 2 and the RTÉ Player (6.30pm)