VENUE
Saturday 9 October, Baku Olimpiya Stadium, 5pm (Irish time)
TV
Live coverage on RTÉ2 and RTÉ Player from 4.00pm
ONLINE
Live blog on RTÉ.ie and the RTÉ News Now app from 4.15pm
RADIO
Live commentary on RTÉ Radio One.
We need your consent to load this SoundCloud contentWe use SoundCloud to manage extra content that can set cookies on your device and collect data about your activity. Please review their details and accept them to load the content.Manage Preferences
Transition is fine - but this is for winning
In the aftermath of the home draw with Azerbaijan, Stephen Kenny re-framed the 2022 qualification campaign as a transitional one of building for the future. Sceptics might point out that managers rarely declare this at the outset of a qualification campaign and instead invariably try to impose this narrative when the prospects of progression have already turned to ash.
Steve Staunton's supposed four-year plan started receiving airplay from the moment Ireland lost in Prague in September '07, a result which finally shut the door on our Euro 2008 chances (which had been actually revived after a pair of home wins against Wales and Slovakia in March). We weren't offered a chance to glimpse the second half of the gaffer's four-year plan in action.
Nonetheless, it can hardly be denied that Kenny has gone all-in with the new generation, handing 10 players debuts as well as relying on the younger of those who'd been handed their start in McCarthy's year in charge. In that respect, Kenny can plausibly plead the case for a transitional campaign.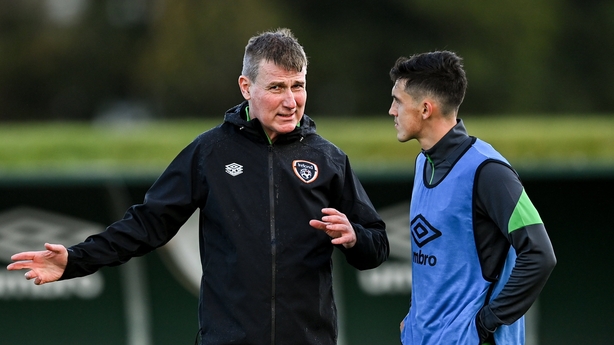 Ireland have quickly gone from a team where the preponderance of players were hovering around 30 or over to one where many are under 23. When Ireland last won a significant competitive game - 1-0 against Georgia in March 2019 - the average age of the starting line-up was just under 30 and the youngest starter was Jeff Hendrick at 27.
By contrast, for the two most recent competitive games, the average age was around 25 and the teams have included a few teenagers (Bazunu, Omobamidele, Parrott) and a couple just out of their teens (Idah, Connolly).
This dramatic gear change hints at the problem of an absent generation in Irish football. Irish Sun football writer Neil O'Riordan highlighted it this year when pointing that only two Dubliners - the capital being traditionally the engine room of Irish football - born between 1993 and 1998 had been capped at senior level for Ireland. Oddly enough, this is less than the three born in the month of January 1992 alone - Brady, Doherty, Hendrick. The relative dearth of talent in that age-group, which should now be hitting its peak, is the primary reason for Ireland's poor run since 2017.
---
Dead rubbers have rarely made us feel so alive
---
None of this should shield Kenny unduly from criticism for Ireland's record in Group A. Regardless of the circumstances, two points from five games is certainly pushing the boundaries of what's considered acceptable. In particular, his in-game decisions during the 1-0 loss to Luxembourg - the most damaging result of his reign - have been heavily faulted, when Ireland struggled to cope with the visitors' pressing game and the manager reacted to Matt Doherty's injury by sticking to the 3-5-2 shape and bizarrely switching Alan Browne to wing-back.
It is the games against the fourth and fifth seeds that have really damaged Kenny's standing thus far. If Ireland win both of their away games against Azerbaijan and Luxembourg, then the FAI will likely leave him in place for the Nations League next year.
Should they fail to win either and Ireland - barring a miracle result against Portugal - and complete an entire qualification campaign without winning a game for the first time since Euro 72, then the manager's position will likely come under grave jeopardy.
This dead rubber is one for winning.
Goals still a problem
Despite all the bullish talk of a new approach, Ireland's goals in the most recent international window could have been scored under any previous regime.
John Egan's glancing header gave us a shock lead in Portugal, big Shane Duffy's forehead bailed us out, once again, against Azerbaijan.
During the height of our goal drought in late 2020, Daryl Horgan suggested that maybe the ball "will hit someone on the a**e and go in." The late equaliser against Serbia, while it may not have entailed that precise body part, probably looked roughly like what he had in mind.
After over a year of Kenny in charge, the harum-scarum, lob-it-into-the-mixer approach remains our most reliable source of goals.
Anthony Pyne detailed during the week how Ireland's travails on the goals front pre-date the current manager.
Ireland scored a dozen goals in the 2018 World Cup qualifiers, the number and rate of goals dwindling steadily as the campaign wore on. In the dying embers of the Martin O'Neill regime - aka, the inaugural Nations League series in late 2018 - Ireland managed just one goal in four games, a consolation effort from Shaun Williams against Wales.
In the Euro 2020 campaign, the Boys in Green scored just seven goals in eight matches, only Gibraltar scoring fewer. The trend has deepened and worsened since Kenny has taken charge.
Worse again, Ireland are conceding more than before. A pragmatist might observe that Ireland's more expansive, attacking play has failed to yield much dividend in the opposing third, while causing the team to concede a greater number of goal-scoring opportunities at their own end.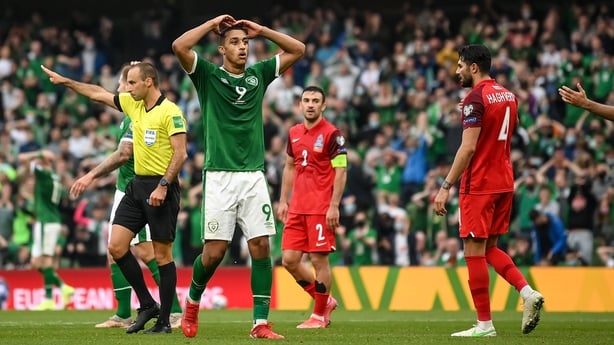 On the strikers' front, Kenny has backed the youthful pair of Adam Idah and Aaron Connolly to come good, though he did acknowledge that the latter's career has "sort of stood still" since his stunning breakout against Spurs in late '19.
Callum Robinson is the most in-form striker with five goals for West Brom and may be the best bet up front, presuming he hasn't been too shaken by the going-over he received on Liveline.
Squad issues
Seamus Coleman, terrific against Portugal but rather less effective against Azerbaijan, missed the Serbia draw and is out this time too. John Egan will take possession of the armband.
Alan Browne and Jayson Molumby are missing through suspension. Ryan Manning was withdrawn yesterday, with the uncapped Liam Scales being sent for once again.
Jason Knight, who missed last month's games through injury (infamously picked up in a training ground clash with his club manager Wayne Rooney), was originally available but emerged as a doubt on Friday alongside Adam Idah after both were confined to their room with a high temperature.
News from Ireland camp is that Adam Idah and Jason Knight both missed training in Baku last night as they felt unwell with a fever and high temperature. However it's not believed to be a Covid issue as they each returned negative PCR tests.

— Tony O'Donoghue (@Corktod) October 8, 2021
Refresh yourself on Azerbaijan
RTÉ Sport's Raf Diallo spoke to Baku-based football journalist Farid Akhundov ahead of the home game.
We need your consent to load this YouTube contentWe use YouTube to manage extra content that can set cookies on your device and collect data about your activity. Please review their details and accept them to load the content.Manage Preferences
History corner: Our dead rubber past
As it stands, it's not technically a mathematical impossibility that Ireland could reach the play-offs. We need the Oldham 1993 scenario - as the footballing anoraks will recognise it - to occur, whereby we win our remaining three matches, while the Serbs somehow lose theirs. It's not a realistic proposition - and probably from either direction.
It's a testament to previous generations of Irish footballers - often maligned - that we haven't often been condemned to participate in a series of dead rubbers at the close of a qualification campaign.
Only three times since the start of the 1980s have Ireland's prospects been scotched long before the programme of games was complete.
There was World Cup '86, which concluded with the infamous 4-1 home loss to Denmark in front of a paltry Lansdowne Road crowd. Unfortunately for Eoin Hand, who almost brought Ireland to the 1982 World Cup, the game has become paradoxically famous for the low numbers enticed to attend and is now frequently used as the starting point in documentaries hailing his successor.
The RTÉ continuity announcer is also reputed to have interjected into the end credits with: "Next up, we've more comedy with Cheers."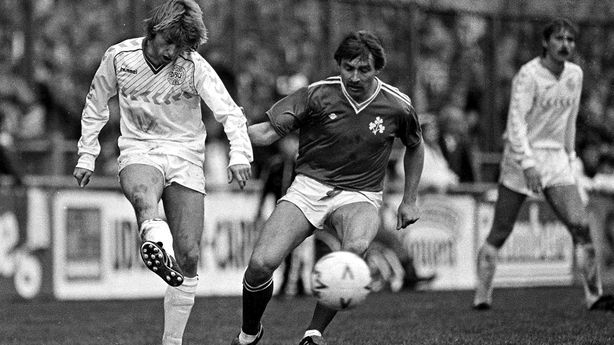 There was the torrid Euro 2008 campaign, mainly remembered for the 5-2 scutching in Cyprus. With our qualification prospects already blown up, the campaign concluded with a creditable but low-stakes 0-0 draw at home to Germany and a rather less credible 1-1 draw, salvaged late, at home to Cyprus. Staunton was asked to leave his position after that and Don Givens presided over a 2-2 draw against a shambolic Welsh team in Cardiff.
The incumbent manager also failed to see out the most recent campaign where dead rubbers were forced. The day after Austria put Ireland out of their misery in September '13, Giovanni Trapattoni posted his resignation letter and the reins were handed to Noel King were the closing two games. He promptly brought back Andy Reid from exile and almost fell out with Tony O'Donoghue, presiding over a 3-1 win over Kazakhstan for his trouble. Not to be sniffed at from this remove.
Verdict:
Azerbaijan 1-2 Republic of Ireland
The same scoreline we plumped for ahead of the home-game and it didn't quite work out like that, although it would have had Robinson horsed home that chance in the dying moments.
Nonetheless, Kenny's team has consistently played with greater flair and freedom away from home. On that basis, and aware things could go another way, we'll plump for the same score again.
Follow Azerbaijan v Ireland with our live blog on RTÉ Sport Online and the RTÉ News app, watch live on RTÉ2 and RTÉ Player from 4pm and listen to live commentary on Saturday Sport on RTÉ Radio 1.
Listen to the RTÉ Soccer podcast on Apple Podcasts, SoundCloud, Spotify or wherever you get your podcasts.