The Stephen Kenny project may not yet be a success in results terms but in as far as generating interest and intrigue around the national team, it has been an unqualified triumph.
Three years ago, in Cardiff, Ireland embarked on their Nations League journey - so far a grueling and joyless one, interrupted by a number of tyre punctures - to the sound of resounding apathy.
Martin O'Neill had been left in place after the 5-1 loss to Denmark ten months earlier and Ireland hadn't had a competitive game in the meantime. Ho-hum, here we go again, sighed the weary fanbase, except this time with even fewer grounds for optimism than before.
The final months of 2018 may have marked the high-point of public indifference to the national team. Anyone who had the misfortune to attend the goalless draw with Northern Ireland in November of that year will be understandably reluctant to revert to the Trap/O'Neill template.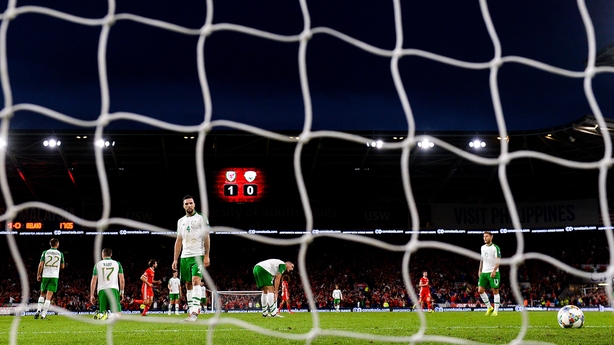 It possibly didn't help the football family's mood that the Irish rugby team were devouring all before them at the time. We learned from Champagne Football about how cheesed off the FAI board were in the aftermath of Ireland beating the All Blacks that November. Their problems on that front aren't quite so acute in 2021.
After the 4-1 result in Wales, Miguel Delaney laid bare the situation in the London Independent, writing that a "broken domestic game and poor management taking Ireland back to the dark days of the 1970s" and prophesying that "the next two to six years could be rough."
Indeed, they have been rough. Since the beginning of 2018, Ireland have won three of 24 competitive matches, two of them against Gibraltar, making it unquestionably the worst era for the national team since the four year stretch between 1968 and 1971 when they failed to win a match of any sort.
Ireland are in sight of their first winless qualification campaign since Euro 72, when our group-mates were Italy, Sweden and Austria.
With Ireland trundling towards the exit door, one would assume the public would greet each international break with a loud snore.
The last qualification campaign in which Ireland were condemned to participate in dead rubbers was at the end of the 2014 World Cup preliminaries and public interest appeared rather slight.
Only 21,700 doughty regulars were attracted into Lansdowne Road for the 3-1 win over Kazakhstan in October 2013 and they managed to miss the most interesting thing about the evening, namely, Noel King attempting to walk out on Tony O'Donoghue in the post-match interview.
Yet here we are in 2021, long out of contention, and it appears that people have never been so charged up.
Every game is a referendum. Whatever else Irish fans are feeling now, we're not detecting indifference.
According to a recent poll, Stephen Kenny is enjoying almost Vladimir Putin level approval ratings despite the fact that Ireland are bound for their earliest formal exit from a competition in half a century.
The startling disconnect between the manager's approval ratings and the results on the pitch are surely baffling - and irritating - his predecessors. Martin O'Neill was never slow to nurse a grievance and he's no doubt totting all the big wins he pulled off - Germany, Italy, Bosnia, Austria, Wales - and lamenting, with a shake of the head, that he got dogs abuse through it all.
While walking his own dog with Gary Neville recently, Roy Keane labelled O'Neill's sacking "a disgrace, really. Because they replaced Martin with Mick McCarthy and then Stephen Kenny," his tone suggesting he regards that particularly story as one of increasing deterioration.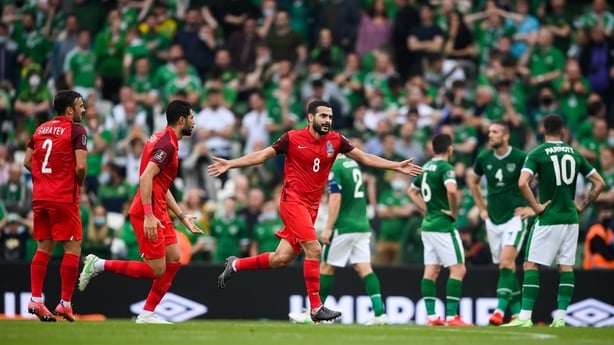 McCarthy is more of a charming diplomat but he was probably bemused that his reasonably respectable effort at qualifying for Euro 2020 via the traditional route received such a hostile verdict.
If nothing else, it indicates how keenly people yearned for change after years of primitive fare.
Irish fans are willing to tolerate taking one point from six in home games against Luxembourg and Azerbaijan in exchange for at least the promise of some silken play.
Stephen Kenny was touching on some deep impulses in the Irish psyche when he spoke of weaning us away from 'the British style of play'. (A project embarked upon, ironically, at a time when the England team were finally starting to pull up trees at international level). Like many an Irish revolutionary before him, he looked towards the continent.
The much-discussed culture war was inevitable from that moment - perhaps it was inevitable once the FAI took the gargantuan leap of promoting a League of Ireland winning manager to the post of senior boss.
We've looked at the partisans in that culture war before. That war is still raging, every international match presaging another skirmish. At this stage, close observers would able to guess a person's stance on the Kenny debate from their politics.
It's telling that several members of the ex-players caucus - those who soldiered in previous campaigns under more pragmatic regimes - have voiced scepticism about the Kenny project.
Richard Dunne has been the most pointed and sharpest critic, saying Ireland's new approach plays into our opponents' hands and is a recipe for sterility and a lack of penetration.
"We can't pretend we're now a footballing team because the goalkeeper rolls it out to the centre-backs and they play it amongst themselves," he said after the defeat to Luxembourg.
The wildly differing narratives that were spun after the home draw against Serbia were a sight to behold. The home crowd were buzzing after the late equaliser and many hailed the result and performance as evidence that the Kenny way was working.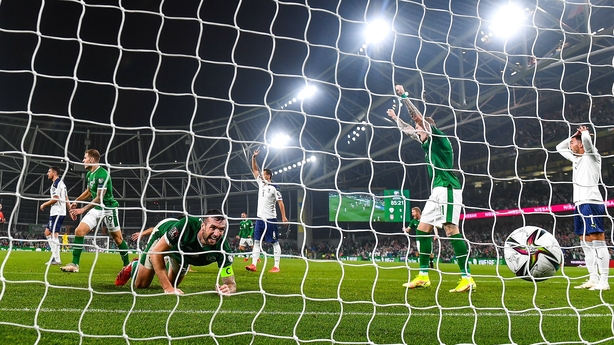 Others thought it was a shambles, with only a wondrous performance from our teenage goalkeeper preventing the Serbians from running riot. Ireland's harum-scarum equaliser was hardly a tribute to continental sophistication and the most visible point of difference in the performance from the O'Neill/McCarthy era was that the team gave up more gilt-edged chances.
A match away from home against unfashionable opposition with the prospect of qualification already gone by the wayside should be tremendously difficult to hype.
And yet such is the level of ferment around the Republic of Ireland team at present, that many will be hooked on the result.
Saturday represents Ireland's best hope for avoiding the spectre of a winless campaign. A fate made worse by the prospect of 2022 consisting of nothing bar a couple of March friendlies and six Nations League games as we watch on from afar for the November/December Qatar World Cup.
While we could only rustle up a point at home to the Azerbaijanis, and needed Shane Duffy's bullet forehead to help us do that - oh the sweet, exotic joys of the continental approach - the evidence of the last 13 months is that Kenny's Ireland play considerably better away from home, as was shown in Bratislava and Faro.
The believers are hoping it will come together and that the Kenny era is merely aping the trajectory of Michael O'Neill's reign in Northern Ireland.
O'Neill was another manager who graduated to international football immediately after conquering the League of Ireland, enduring a wretched first campaign in charge, which included losses to Luxembourg and Azerbaijan. Two autumns later, O'Neill guided Northern Ireland to top spot in the group and their first major tournament finals in 30 years.
If worst comes to the worst and Ireland do lose in Baku on Saturday, one imagines that Kenny will be forced to lean hard on that precedent.
He may not have been able to generate too many positive results but at least Kenny hasn't spent his time in charge stirring up apathy.
Follow Azerbaijan v Republic of Ireland via our liveblog on RTÉ.ie/sport and the RTÉ News app, watch live on RTÉ 2 and the RTÉ Player, or listen to commentary on RTÉ Radio 1's Saturday Sport