For the Irish footballers who go abroad to try and build a career, the UK has tended to be the main destination.
Whether it be in England's top flight or north of Hadrian's Wall in Scotland, clubs at all levels have had, and continue to hire, Irish talent.
What is less common however, is the prospect of moving further afield to the leagues on the European continent.
There are high-profile exceptions of course. Liam Brady's decade in Italy, including trophy wins with Juventus, stands out particularly for the longevity. Michael Robinson, who died in April, not only played for Osasuna but spent the rest of his life living in Spain as he went on to become a highly respected broadcaster within the Spanish sports media. 
Robbie Keane, of course had a short stint with Inter Milan 20 years ago, Aiden McGeady spent time at Spartak Moscow and Cillian Sheridan has traversed many countries as a professional, while current Republic of Ireland and Shamrock Rovers midfielder Jack Byrne is another who enjoyed a promising loan spell with SC Cambuur in the Netherlands.
There are other notable examples, while some other Irishmen came close to moving to the continent like Niall Quinn, who still has some regrets that a deal with Sporting Lisbon fell through (before Phil Babb made the move later), Gary Breen and Richard Dunne, who attracted the interest of Inter Milan and Malaga respectively.
But let's hear from some of those who did experience life further afield. The first two in our new series were Frank Stapleton who spoke to us about his time at Ajax and Michael Doyle who played for AGF Aarhus with the late Liam Miller.
This time, it;s the turn of Don Givens who held the crown of Ireland record goalscorer for a number of years.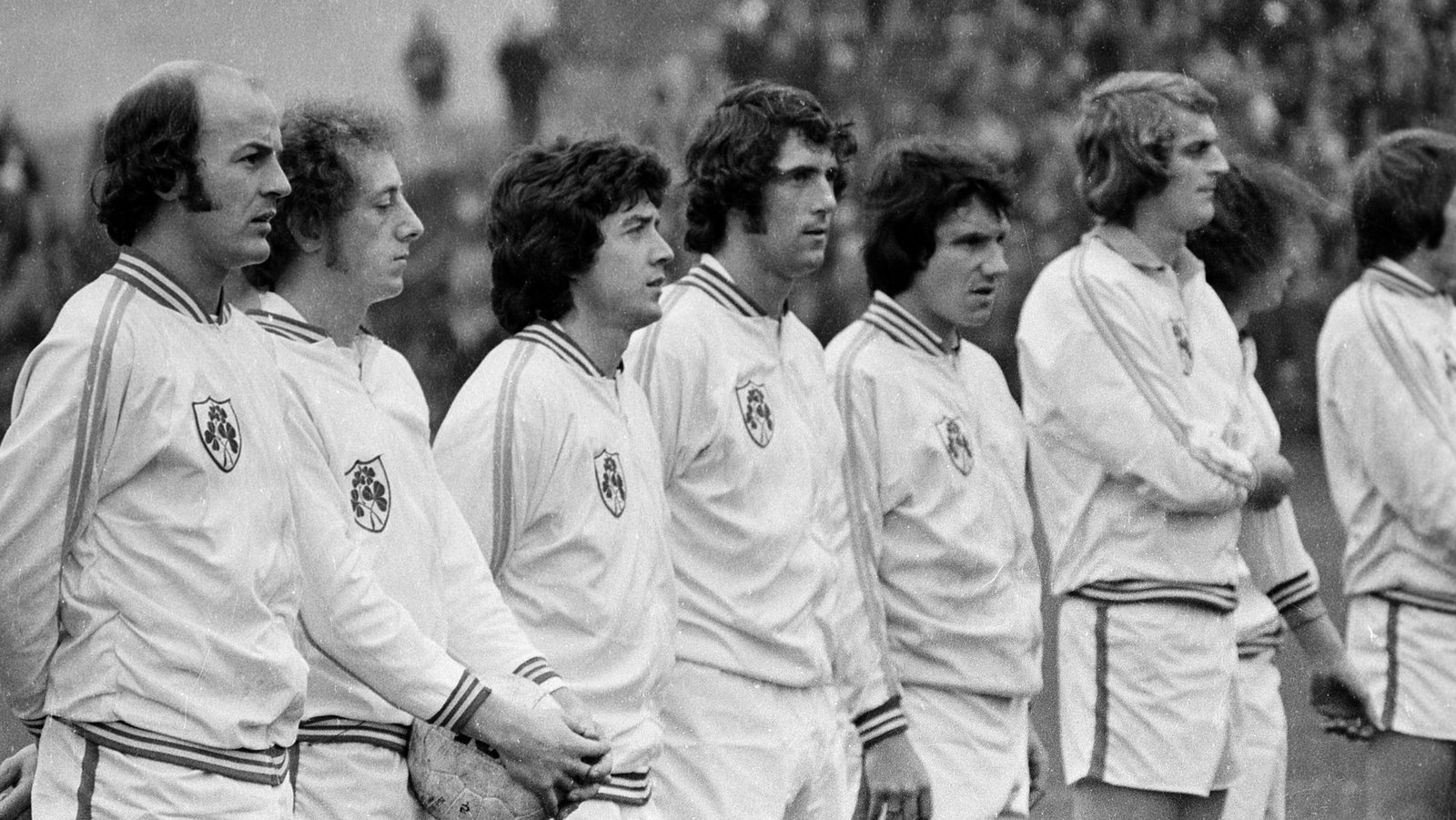 As an island blessed with our abundance of lakes, rivers and beautifully undulating landscapes, there is a lot for us to appreciate about Switzerland.
For anyone who has ever had the chance to venture into the Swiss countryside, the natural beauty is stunning and well worth a visit.
Speaking of the Alpine nation's lakes, the two largest are Lake Geneva and Constance. But the largest Swiss lake that is located entirely within the country's borders is Lac de Neuchâtel which is to be found in French-speaking western part. In terms of surface area, it is slightly larger than Lough Corrib in Connacht.
And it's along its shores that Republic of Ireland's former record goalscorer Don Givens spent the final six seasons of his playing career between 1981 and 1987.
The Limerick native, who scored that famous hat-trick against the Soviet Union in 1974 at Dalymount Park, had spent his club career at Manchester United, Luton Town, Queens Park Rangers, Birmingham City and a loan spell at Bournemouth.
We need your consent to load this SoundCloud contentWe use SoundCloud to manage extra content that can set cookies on your device and collect data about your activity. Please review their details and accept them to load the content.Manage Preferences
By the time he got to Sheffield United in 1980-81, he was 31 and coming towards the end of his international career, while the Blades were struggling in the old English third division.
Sheffield United, who were in freefall, would eventually slip down to the fourth tier with Givens almost saving the club with a last-minute penalty against Walsall on the final day. Unfortunately, for him and the club, it did not go in.
"Just before, I was at Birmingham and then I went to Sheffield United right at the end season – actually [1966 World Cup winner] Martin Peters was the manager at Sheffield United," Givens tells RTÉ Sport. 
"And I went there with about 10 games to go. There was an agreement that whatever Sheffield United paid Birmingham for me, that I was free [to go] at the end.

"So when I got there, a chap who had been chief scout (and later manager) at Luton when I was there, a guy called Harry Haslam, was now chief scout at Sheffield United.
"I just started chatting with him one day and he said to me, 'What are you thinking of doing at the end of the season?'
"I said to him I was thinking of trying abroad because I don't fancy dropping down to the lower divisions and getting kicked (laughs).
"So he said to me, 'I've got a contact in Switzerland for you' and that's where it really rolled from and then come the end of the season, I went out there with him to Neuchâtel and saw them play their last game of the season which had qualified them for the UEFA Cup. They won that game and that was a bonus, if you like."
While football had a long history dating back to the early 1900s in the small city of Neuchâtel, the club itself was relatively new.  
Formed from a merger between two pre-existing local teams in 1970, Neuchâtel Xamax - to give the club its full name at the time - had started to hold their own at the start of the '80s.
But it was very much part-time operation and Givens would be the only full-time player when he joined.
"I was the only full-timer, so we used to train at 5 o'clock when the boys would finish work," he says.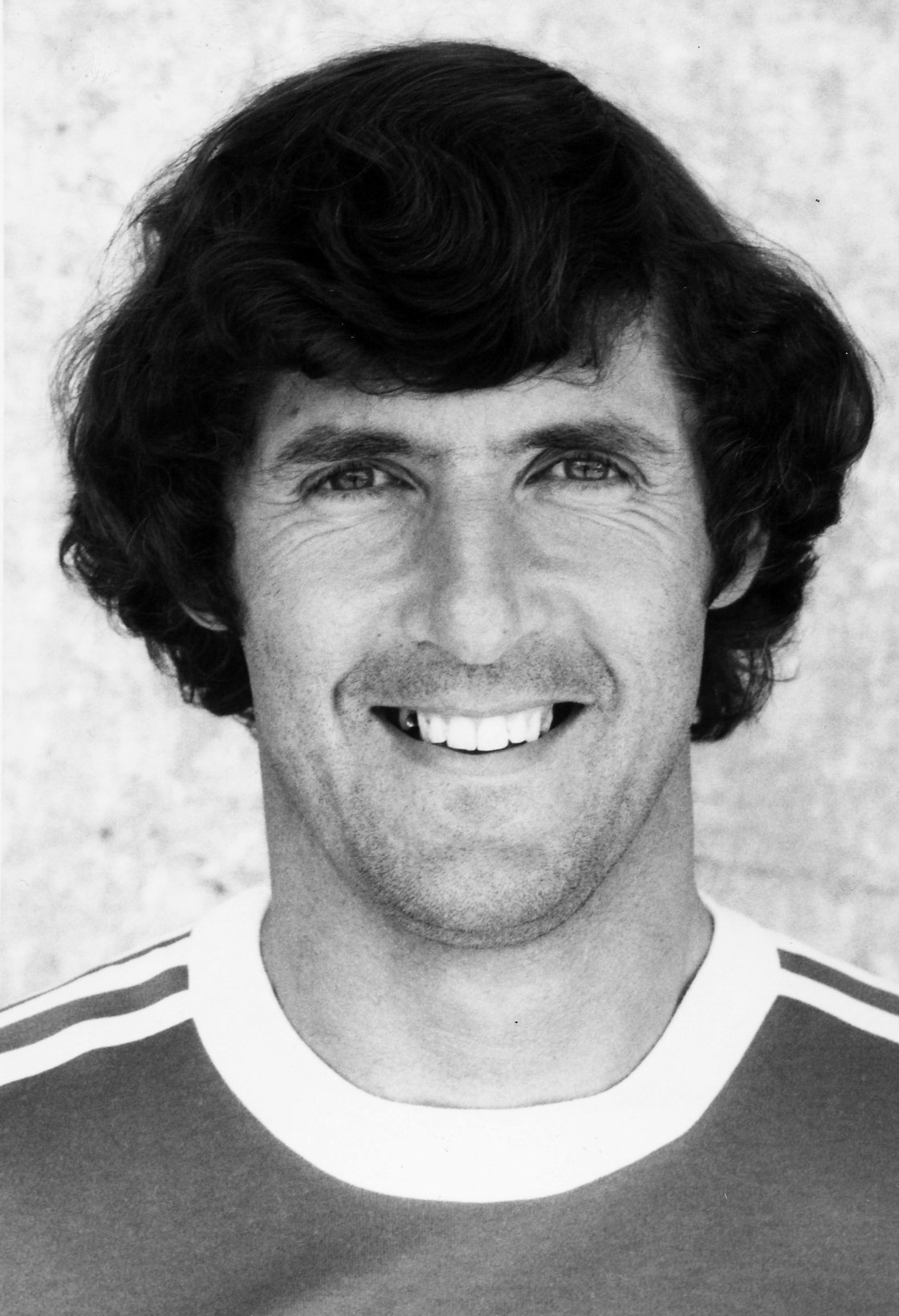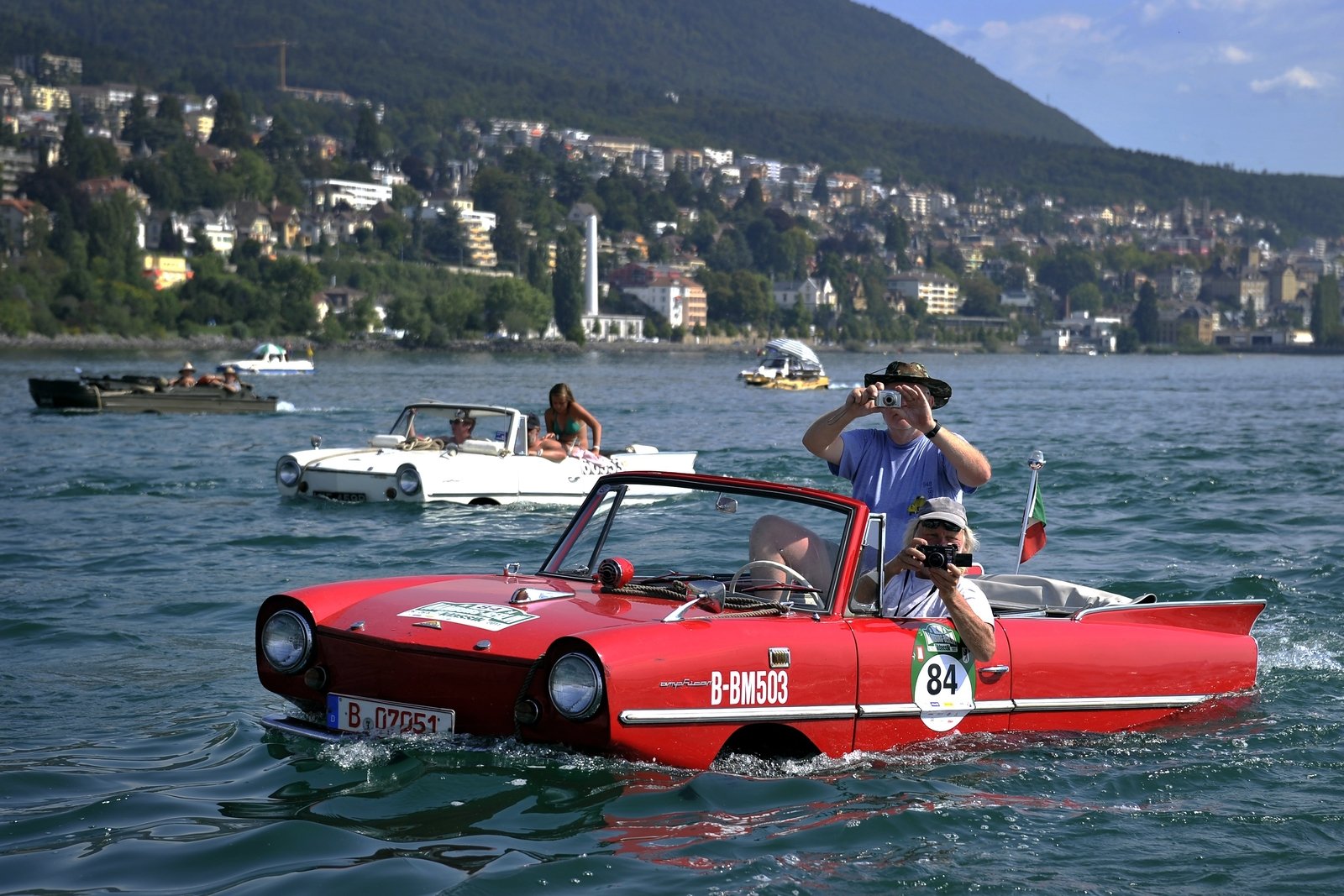 "They might be working in the bank or whatever and then they'd come up to the training ground. I was the only one without a [day] job but the club was very, very friendly and had a chairman who unfortunately died a couple of years ago."

Gilbert Facchinetti, who passed away in July 2018, had been a part-time player himself including for one of the two teams that would later merge to form the club.
He remained Neuchâtel Xamax club president until 2003 before taking on a honorary status. 
"He was a fantastic guy. Whatever he said, he just shook hands and that shaking of hands meant you could count on whatever [was agreed]. He really was an exceptional guy. I don't think I even signed a contract out there," Givens adds.
With life comfortable within the club, needless to say, the surrounding area around the city and the lake were very much to Givens' liking.
"For all the time I spent there, I felt like I was on holidays because it was lovely," he recalls.
"It's got the mountains behind the lake and it's just a lovely place. So it wasn't difficult to get used to that."
One challenge was the language. Switzerland is a multi-lingual nation with its French, German and Italian-speaking zones.
But French, naturally, was the main focus for Givens to get to grips with in the region he was based in - a language he can still dust off to this day when required.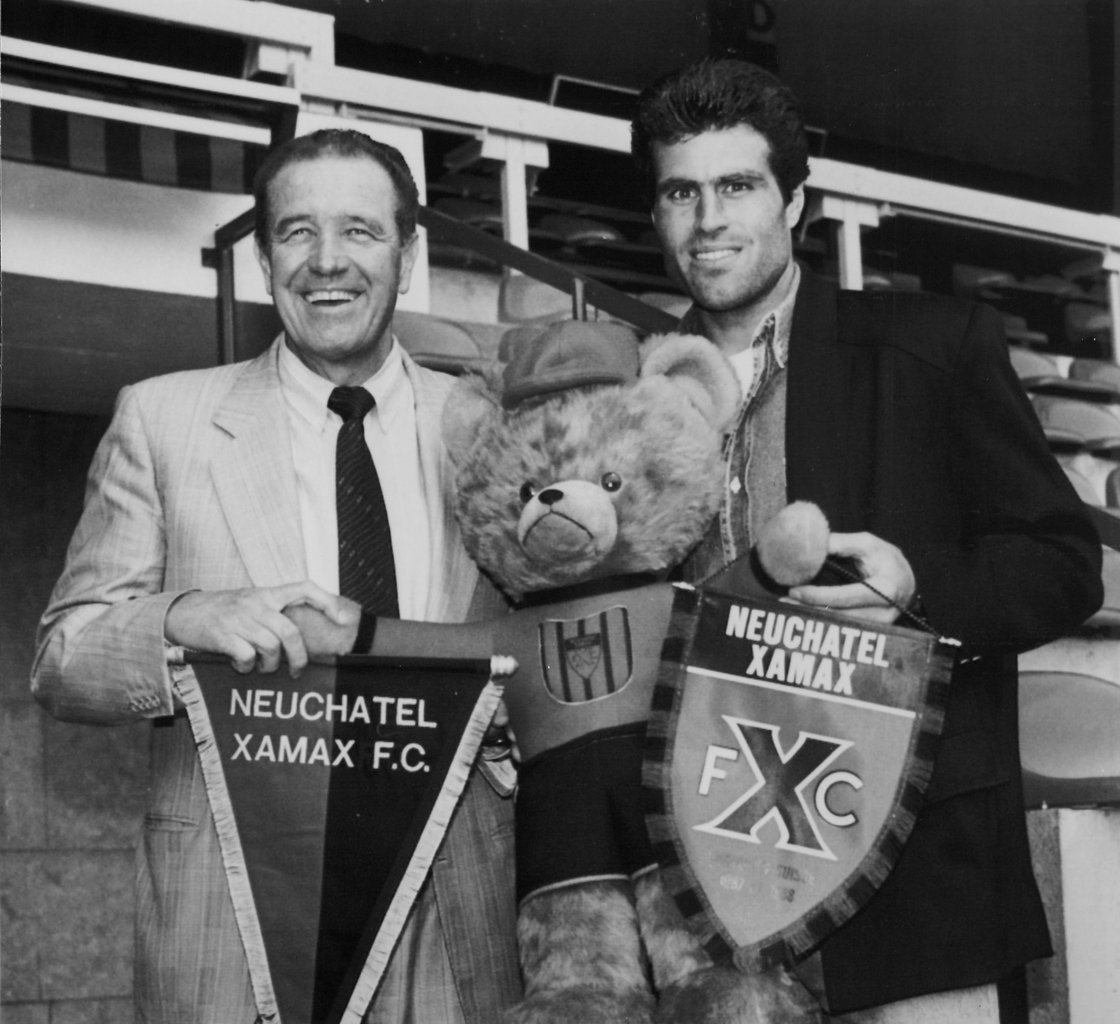 "One [language] was going to be difficult enough," he chuckles.
"I had done French at school and I wasn't bad at it but I didn't even go in for the exam for the inter cert.
"So I got some French lessons one day a week with this ex-teacher. It was alright because we're very lucky that wherever you go, someone will speak English." 
Helpfully football being a universal language and the ability to pick things up by immersing with his team-mates also aided matters.
"You kind of listen in the dressing room and it sinks in and as I say, there was probably three or four in the team who had really good English so you could always slide into that when you were in doubt," he says.
When it comes to languages, former Arsenal manager Arsene Wenger would stand out as a coach with a grasp of numerous tongues.
And it was his Strasbourg mentor Gilbert Gress who would manage Neuchâtel Xamax for Givens' spell at the club, having been appointed in '81.
The 78-year-old would eventually turn the club into Swiss title winners by the time Givens' time there would come to a close, as well as guiding them to cup finals and European runs.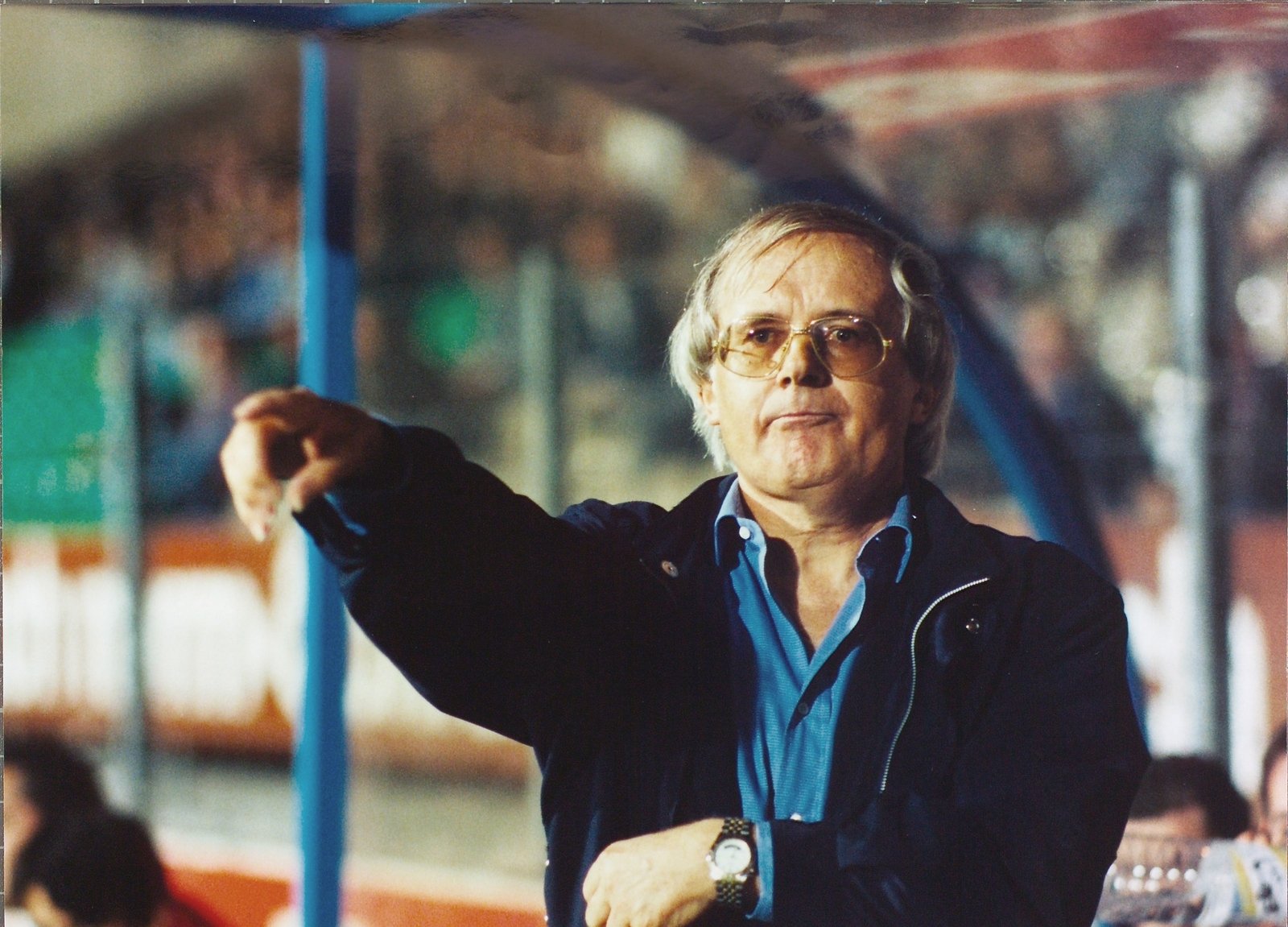 "I thought he was very, very good," he says of Gress' driving up of standards off the pitch.
"A lot of the lads were, in that first season particularly, they were coming from work and they weren't always enamoured with the training that we had.
"Because he worked us hard. I mean, I was 32, 33 and I was sort of feeling it as well. But I could see where he was going. I could really see where he was going."
Before the trophies arrived, Gress' methods began to bear fruit in his first season in charge when Neuchâtel would make a run to the 1981-82 UEFA Cup quarter-finals which would see Givens essentially end the career of one of world football's most iconic names. But more on that shortly! 
In a competition where Givens' home town club Limerick (known as Limerick United at that time) were playing UEFA Cup football against Southampton in the first round, Neuchâtel Xamax would navigate their way past veritable strong clubs like Sparta Prague, Malmo and Sporting Lisbon to get to the quarter-finals.
"We went to Lisbon and our goalkeeper had the game of his life and we got out with a no score draw and then we won 1-0 at home," he recalls.
"The place was beginning to buzz because it had never been into Europe before and suddenly, we're in a quarter-final."
A continental giant of the era now stood in the way. Hamburg would win the German league and European Cup double the following year and before then, would also end the 1981-82 season as Bundesliga champions. Lest, we forget, former Ballon d'Or winner Kevin Keegan had previously featured for them as they won the league as recently as 1979.
While Keegan was no longer at Hamburg by the time 1982 came around, the German side had a certain Franz Beckenbauer within their ranks.
Albeit he may have been towards the end of his career and had already spent three years at the New York Cosmos until 1980 after his Bayern Munich heyday, but Der Kaiser's club and international reputation went well before him.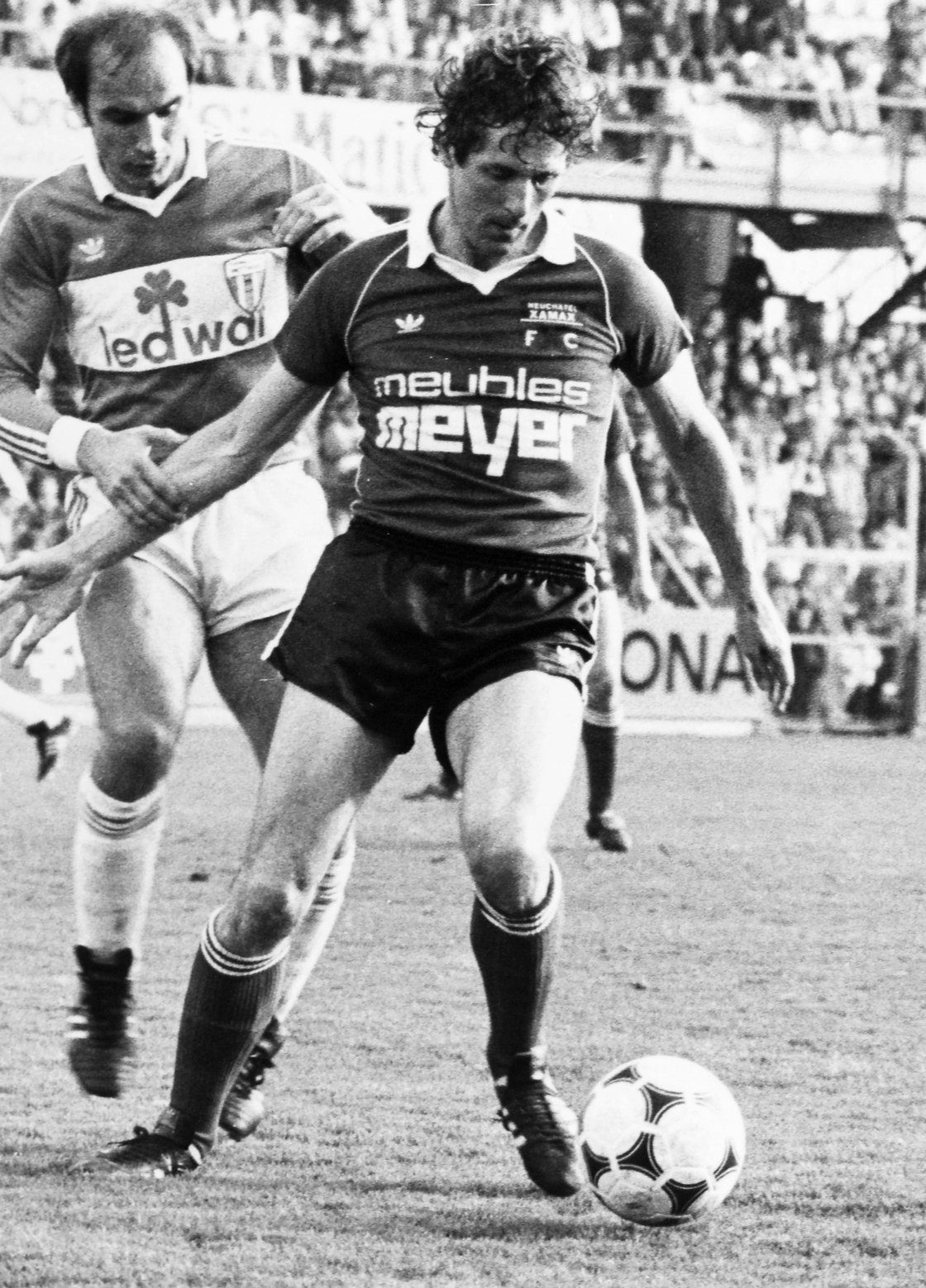 The legendary libero had already won everything there was to win and had peerless experience. Gress however, was not to be daunted.
"But the coach really believed that we could win the cup," says Givens. 
"I thought at the time, he was kind of dreaming a little bit. But he pushed everybody to the limit. Everybody got pushed to the limit. He was fantastic. A lot of those boys were part-time and he got the most out of them. So I liked him a lot."
And it so nearly paid off for Neuchâtel. They would lose narrowly 3-2 in Hamburg with the German giants surviving the Swiss leg of the tie with a goalless draw.
The away defeat in Germany however was momentous for Givens and presumably one of the rare games Beckenbauer would rather forget in an otherwise illustrious playing career.
Take a moment to watch the footage of his goal first (50 seconds in below). A poor header back from Beckenbauer would fall sweetly for Givens.  
We need your consent to load this YouTube contentWe use YouTube to manage extra content that can set cookies on your device and collect data about your activity. Please review their details and accept them to load the content.Manage Preferences
The Irishman then skins the World Cup winner along the left channel, leaving Der Kaiser (German for Emperor) in his wake before firing a shot expertly beyond the goalkeeper. While it wasn't a case of an Emperor left with no clothes, he had been well and truly skinned!
As it would transpire, that tie proved to be curtain call for Beckenbauer's club career. Subbed off at half-time of that game, he would not play again in the UEFA Cup as Hamburg reached the final, while records show him making only two more Bundesliga appearances in score draws against Stuttgart (31 March) and Karlsuher (on the final day of May '82) after that 3 March encounter with Givens and Neuchâtel Xamax.
"I didn't know it at the time. I knew he'd gone off," says Givens, whose positioning as the left-sided attacker proved crucial in making that moment happen.
"But funnily enough, the last thing the coach said to me when I'd got out onto the pitch at Hamburg, he said, ''If you get one on one against Beckenbauer, take him on.'
"And as it happened, the goalkeeper kicked it out and Beckenbauer headed it – not very well but headed it to me about 30 yards out and then I just went past him, skinned him and scored.
"But the big thing, I think, from [Gress], wherever we went we played three up front. The coach always played three up front so we always had a chance."
Funnily enough, Givens' later career in Switzerland would see him adopt the position made famous by Beckenbauer, converting himself from a striker to a libero or sweeper.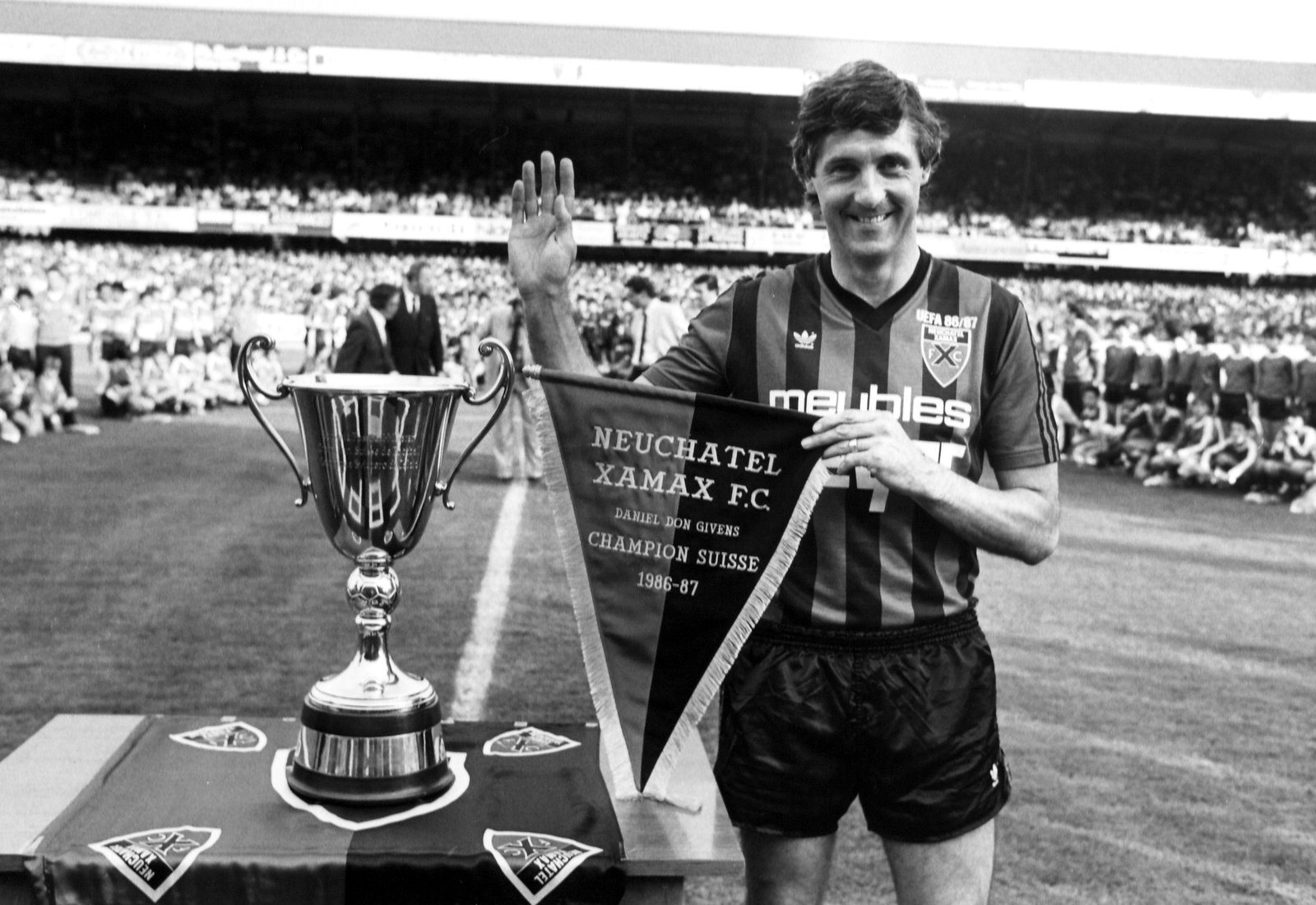 As he recalls, the build-up play in Swiss football at the time was slower than in England (although that applied across Europe in truth) which made that transition possible and contributed to finally getting their hands on a trophy.
In Givens' sixth and final year as a Neuchâtel Xamax player and after an agonising loss in the Swiss Cup final the year before to an FC Aarau side managed by a future coaching great Ottmar Hitzfeld, he would captain the club to the first league title, the first of an eventual two in a row for the club, aged 36.
"It was a really good period, even though one of my hips was really struggling a bit at the end," he says.
"But I missed hardly any games and the club were quite happy with what I was doing.
"I had agreed a contract just for two years and then when it went into the third year, the chairman came to me and said, 'Will you stay for another year?'
"At that time, I was playing up front and I knew how important they felt that their foreign player was and I thought I wasn't sure if I could make another season chasing up front.
"I said to them, 'No, I'll leave after this. I don't want to ruin what I've had'. So [Facchinetti] said, 'OK'.
"Then they decided to go looking for another foreign player and they found [Jean-Francois] Larios, who was an ex-Saint Etienne player who played with Michel Platini.
"He came with an injury and so come the end of the season, the chairman called me in and said, 'Would you stay on for three months?'
"The family were coming home and I was thinking, 'I'm only going home to finish [my career], so why not take another little bit?' And I was enjoying it anyway.
"At that time then, I got changed to play sweeper, the libero, and I can tell you something, you could play with a cup of tea in your hand!
"The good thing about that was later on we got Uli Stielike from Real Madrid who was their sweeper at the time. But he played in the middle of the field for us.
"So the good thing was that if I was feeling good, I could go [forward] and he would just slot back in."   
While Givens would retire before Neuchâtel's successful title defence of 1987-88, his love affair with the club would not end there.
He would return in the 1990s after future Crystal Palace, Switzerland and England manager Roy Hodgson's time at Neuchâtel to put the building blocks on a coaching career that would later see him take charge of the Ireland Under-21s. He even temporarily became Neuchâtel Xamax manager for a time in 1994.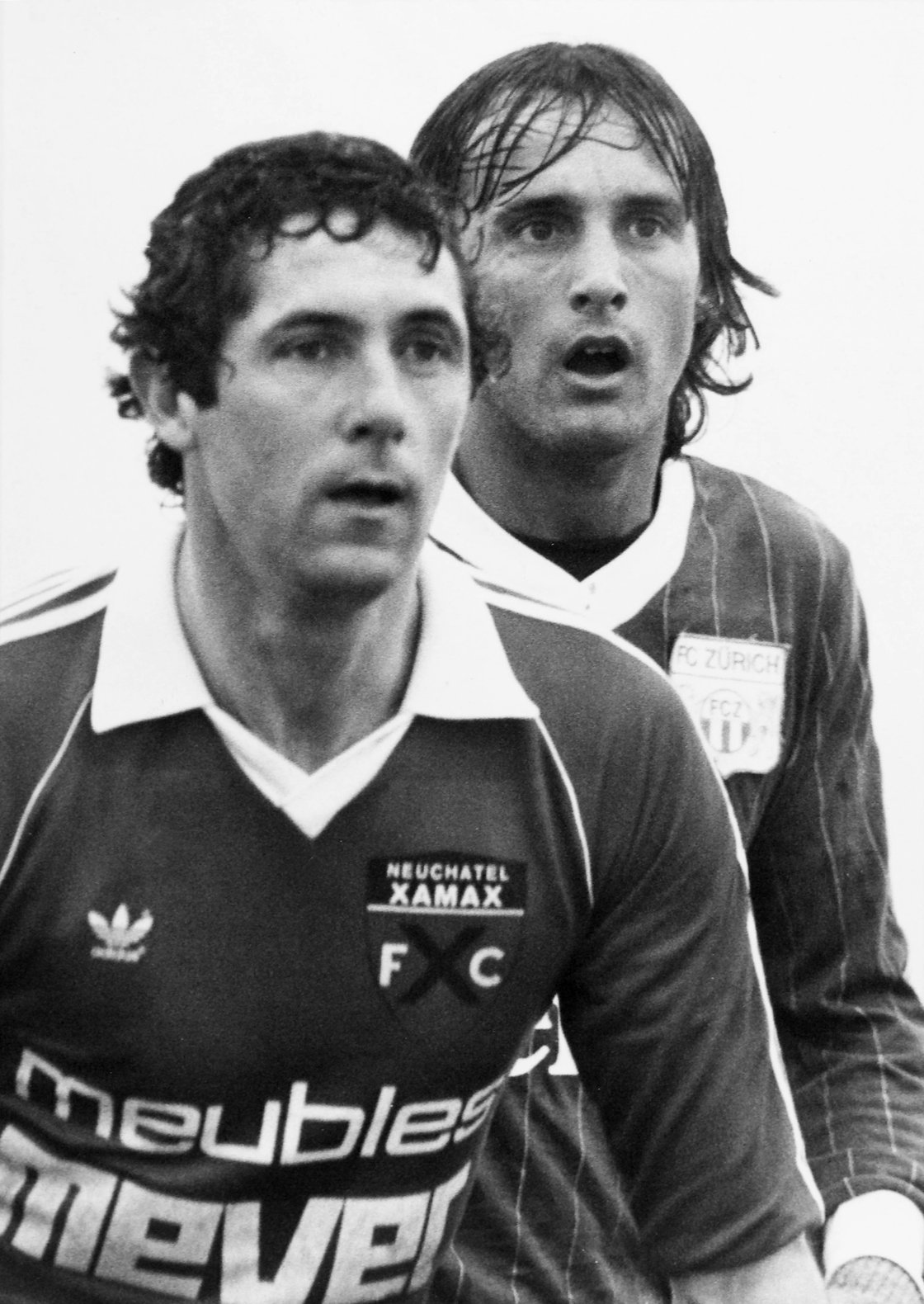 "They phoned me after a while and asked would I come back," the 70-year-old explains.

"So I went back and I looked after the reserves and was assistant to the manager (Stielike coincidentally).
"I did all the coaching badges out there which was easy enough at that time because by that time I'd learned French.
"So I did all the coaching courses right up to the one before the [UEFA Pro Licence]. I eventually did the other one in the FAI.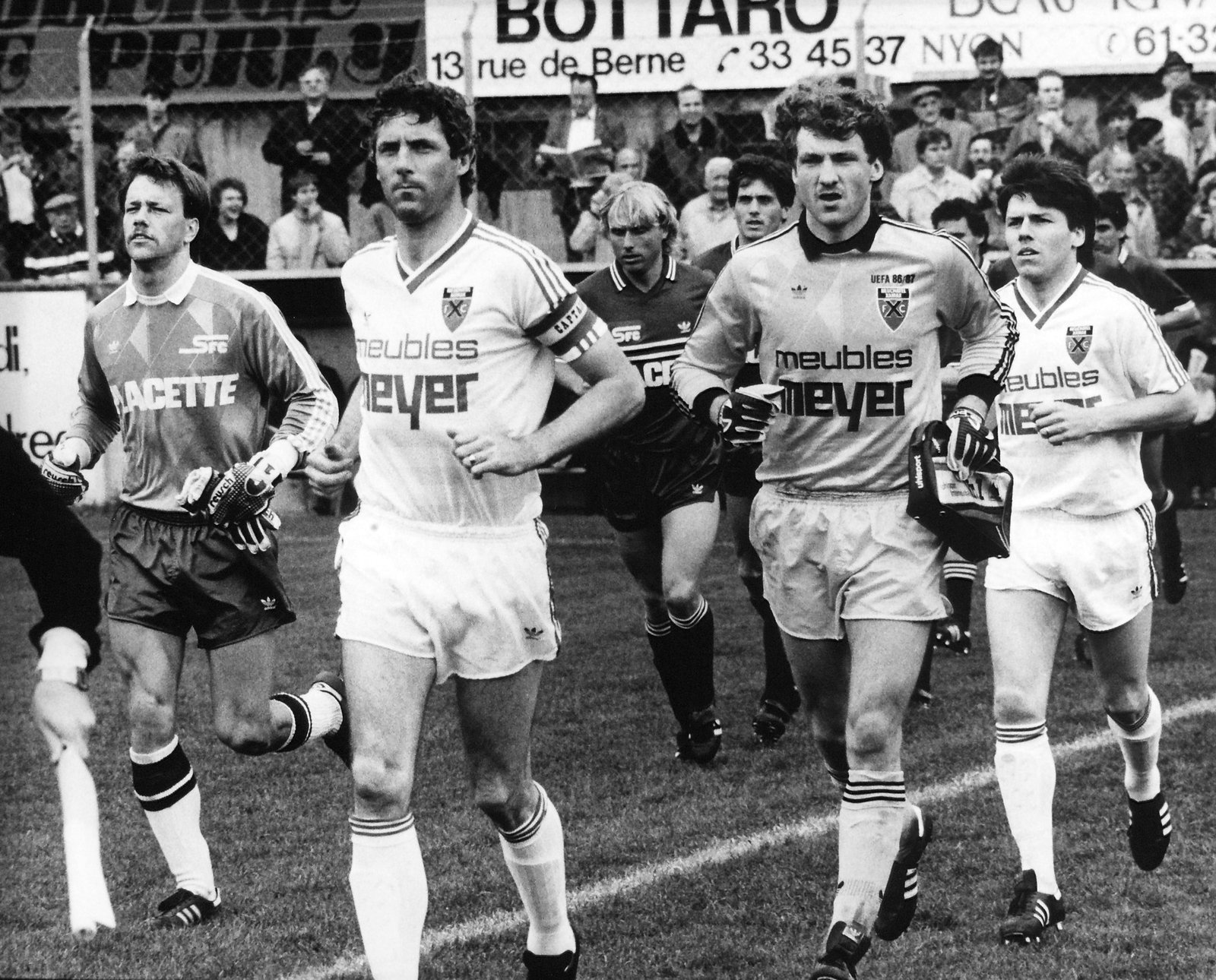 "Stielike was in charge of the team and then things started to go badly for him and with me being there, I was offered the job to take the team."
Still regarded as a bona fide Neuchâtel Xamax club legend, Givens has not been back too often since he left but still keeps in touch from afar from time to time.
And for Irish players who might consider the option of doing what he and a select few others have done by going further afield than our shores or the UK, he feels the continental experience "can broaden your horizons as regards football".
"And then if you want to stay in football later on, you've got that experience that you've been through.".