The news that Limerick FC are heading for extinction has come as little surprise.
Many will ask how it came to this, with the answer not found within the overall crisis in Irish football, but more within the dysfunctional nature of the club and how it was run.
Since entering senior football in 1937, Limerick have been known as "United", "City", "37" and the hope is there will be another guise to come in 2021.
This time, they have blown one of their best chances of genuine success.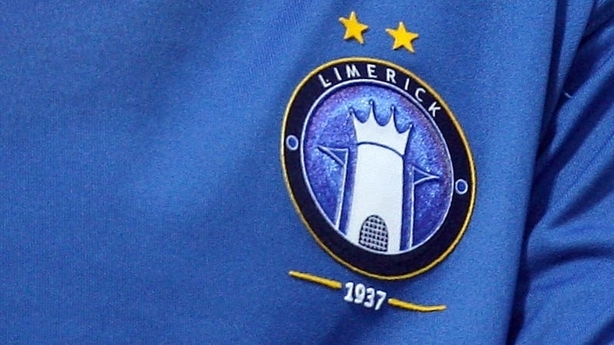 Businessman Pat O'Sullivan became involved with Limerick in 2009 after several years of struggle. In early 2010, he took control of the club and planned huge investment, with the aim of promoting a positive ideal and image of the city.
He said: "My reason for saving Limerick soccer was driven by a number of factors, including using sport to change the perception of Limerick at the time, which had significant ongoing anti-social issues."
It was an admirable stance and he backed it up.
Promotion was soon achieved and a managerial change followed with Stuart Taylor, who has since carved out a career in England as part of Paul Lambert's staff at Stoke City and now Ipswich Town, appointed manager.
The likes of Phil Brown, Les Ferdinand and ex-England boss Peter Taylor had been linked to the role.
A number of players from the UK were signed to varying degrees of success, but they never troubled the top sides.
The club was considered an attractive proposition, offering full-time football and good wages in a culture not seen at many clubs in the country.
They had also moved into Thomond Park, which was mostly empty but offered a good setting to play in at least.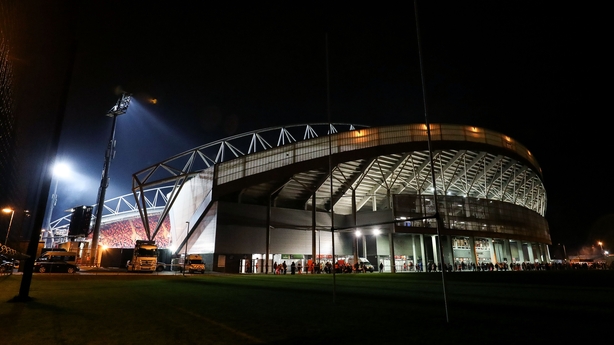 O'Sullivan also purchased a training complex in Bruff.
He said at the time: "My wife Helen has backed me on this project. She kicks every ball with me, I need her support and I get it, and that's very important for me. As appreciation of her support to me, we have called it the Kirby O'Sullivan Sports, Social and Business Park."
Taylor departed after failing to kick on in his second season, leaving the club eighth in the top flight after 18 games.
Russell maintained Limerick's place in the Premier Division but within months the budget was dramatically cut by O'Sullivan, seemingly irked by watching funds drain away for mid-table monotony.
In February 2015 he said: "The O'Sullivan family and their company, the club's main sponsor Galtee Fuels, have made it clear that they can no longer continue to fund the club to the level that they have in the past number of seasons.
"This requires that the club must now learn to live within its means. I am committed to ensuring the long-term sustainability of Limerick senior soccer, which brings many social benefits to our community."
Unsurprisingly, Limerick struggled and they went 21 games without a win.
But a stunning revival over three months, having increased the budget in the middle of the season, saw them complete a remarkable escape as they beat Sligo Rovers 3-2 on the final day of the normal league season to earn a play-off with First Division side Finn Harps.
Despite a 1-0 win in the first leg, Limerick were relegated and left everyone scratching their heads over how it came to this.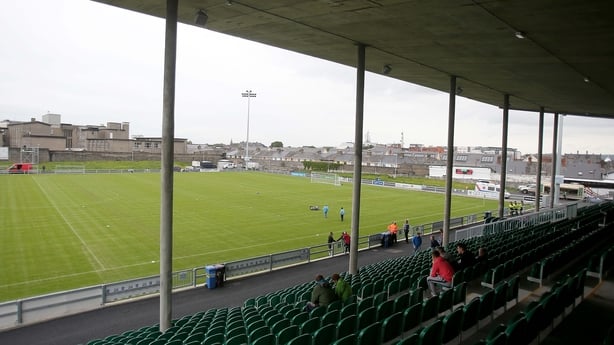 Limerick had returned to their spiritual home of the Markets Field with the assistance of JP McManus, a key move into trying to get the club back to its former glory.
Further eyebrows were raised when O'Sullivan commissioned a big budget when down in the First Division.
Paul O'Conor, Aaron Greene, Shane Duggan and Lee Lynch were among the stars in a squad that won 24 of their 28 games and lost just once as they finished 23 points ahead of second place Drogheda United. They also reached the final of the EA Sports Cup.
Limerick were back in the top flight but their footballing decisions, and spending, were erratic.
Behind the scenes, relations were reportedly becoming strained between O'Sullivan and manager Russell and he left after just six games of their return to the Premier Division.
Russell said the departure had been amicable.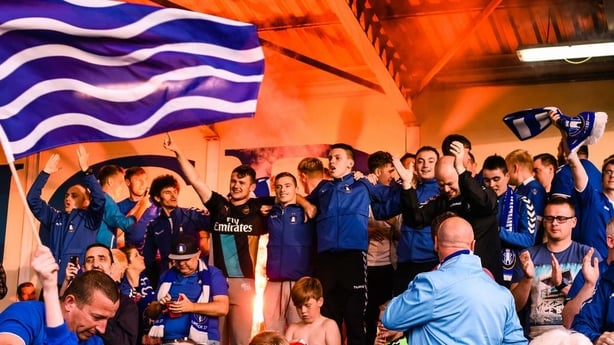 Neil McDonald, formerly Sam Allardyce's number two at Blackburn Rovers and West Ham United, came in and promised to make the Blues an "A-star club".
"I'm very, very impressed with what the club is trying to do and how it's trying to progress," said the new boss.
"I'm sure it's one of the clubs in Ireland that is on the up. I would like to be part of that to push it on to a new level - that's why I've come. I've committed myself to the club on a long-term project.
"Everybody I've spoken to and I've been involved with since I came across on Monday speaks very, very highly of the football club.
"The aspirations of where they want to get to is a great project and certainly one that I want to be heavily involved with, to leave a legacy and push the club to boundaries that they've been before."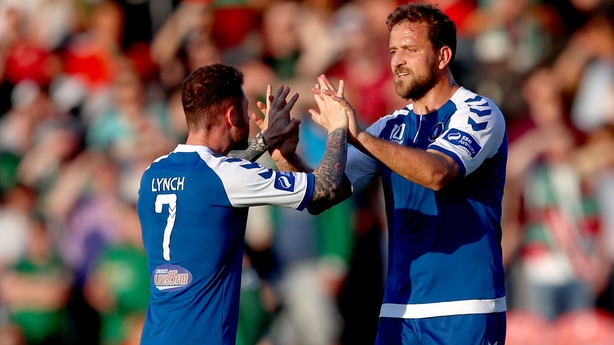 Limerick stayed up by five points and reached an FAI Cup semi-final but on the first day of 2018 pre-season, McDonald informed the club he was leaving to take up the assistant manager role with Scunthorpe United.
Tommy Barrett was promoted from Under-19 boss, and offered a steady hand, but the writing was on the wall.
O'Sullivan issued to a statement to say he wanted to secure investors or sell the club.
"At this moment in time, I am in discussion with a number of parties with a view to selling an interest in the club. That may mean 100%, but certainly, it will ensure a majority share."
He stated that the club needed €500,000 a year to fund itself.
That didn't materialise and O'Sullivan retained ownership. Wages to players and staff failed to arrive on time.
Goalkeeping coach Eddie Hickey, along with players, departed the club, saying "I was charged €240 in unpaid standing order fees last year."
"Haven't a clue"

Limerick FC owner Pat O'Sullivan said he has no idea if a possible strike action will go through because of wage issues. pic.twitter.com/eZwzhPSpu6

— RTÉ Soccer (@RTEsoccer) May 15, 2019
O'Sullivan's company, Galtee Fuels, went into liquidation, hindering him further in trying to keep the ship afloat.
The Blues were consigned to the relegation play-off with a long time left in the season and eventually relegated, which almost came as a relief given their perilous finances.
Two takeover attempts failed and another emerged with former League of Ireland manager Sean Connor representing one of them.
One potential consortium, headed by Donal Magee, missed out. He said they "have been unable to come to an amicable agreement with the club to pursue a takeover. Regrettably we feel the terms and valuation put forward to us are unworkable and our belief is that the valuation of the club is unreasonable."
O'Sullivan released a statement in April, lauding underfire FAI chief executive John Delaney.
It read: "His election to the UEFA Executive committee is a testament to the high regard he is held within the game in Europe and while this is a great honour for John, it is also recognition of the game and our National Association."
Wages again failed to materialise throughout 2019, while midfielder Sean Russell said in an interview that an operation he required on a serious knee injury could not be funded by the club. Supporters of Limerick raised over €4,000 to assist the player. Strike action was also threatened.
News of a match-fixing investigation surfaced in September and after Limerick entered examinership due to mounting debts, they were fined 26 points to end the season bottom of the First Division.
Today comes news of their demise, a process that has happened from poor decisions on and off the pitch and an apparent unwillingness to let go from O'Sullivan.
He told the Limerick Leader at today's hearing in Ennis Circuit Court that he had invested up to €7m in the club in his decade there and quickly changed his tune on the FAI from months earlier when speaking about John Delaney.
Company debts are €490,000 and a licence has not been granted to O'Sullivan to run Limerick FC in 2020. He was unable to apply due to examinership.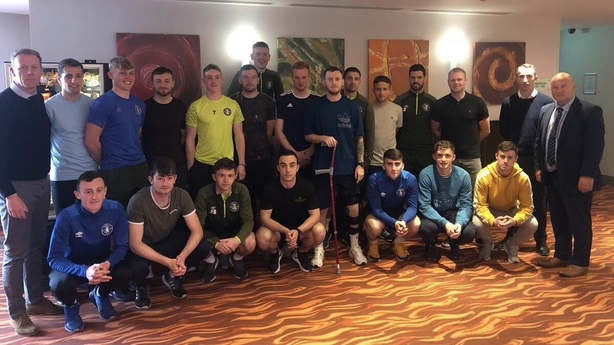 He said: "It is scandalous the way the FAI has treated me. No other club has been put through the process of having to jump all these hurdles before we get an opportunity to apply for a licence.
"The FAI have put every obstacle in the way of the club and ultimately what will happen is that the club will have to just fold and Pat O'Sullivan is out of sight and out of mind."
Out of sight will be Limerick's future in 2020 but for their fans it will be far from out of mind.
The owner added he would walk away "because it was always about how could we make Limerick better through sport".
That process started to great success but ends in the worst possible way today.