In recent years, the holder of Ireland's number 10 shirt has seemingly changed with the clocks.
As Johnny Sexton has shown with the Irish men's team, consistency at out-half binds a team together, the beating heart of the whole operation.
And while there are myriad off-the-pitch reasons why the Irish women's team are now building their way back up from the foundations, their hot-desk out-half policy in recent years can't have helped.
In his four seasons in charge, Adam Griggs could never quite settle on his number 10.
Niamh Briggs held the jersey in the New Zealander's first season in charge, but by the end of 2018 the spot had been taken by Nikki Caughey of Leinster.
When the following Six Nations came around he'd changed his mind again, with Connacht's Nicole Fowley the stand-off, before Ellen Murphy - then of Gloucester-Hartpury - came into the starting role in November.
And since the start of 2020 five more out-halves have started games for Ireland, four of whom have done so in the Six Nations.
Claire Keohane was the first-choice for the opening rounds of the 2020 championship, but when the tournament resumed following the Covid-19 lockdown later that year it was Hannah Tyrrell who had been given the job.
In 2021 Tyrrell and Stacey Flood swapped back and forth before the former's retirement last summer, while Enya Breen was also tested out in the 10 shirt for the final game of the Adam Griggs tenure against Japan in November.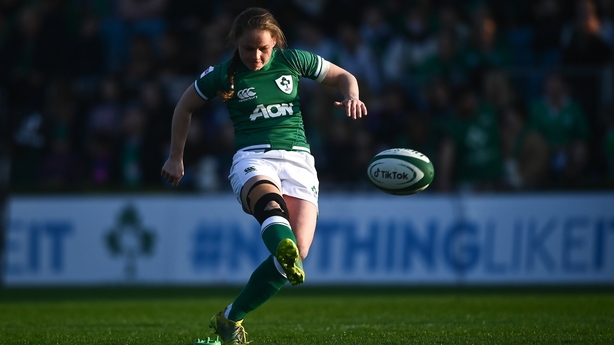 It's fair to say out-half has been a problem position for Ireland since the departure of Nora Stapleton in 2017, and just as it was for Griggs, it's the job of new head coach Greg McWilliams to find a long-term tenant in that role.
His choice - for now at least - is Nicole Cronin, an experienced Ireland international, but one whose first taste of out-half came just eight months ago.
It was Ireland's current assistant coach Briggs, then in her role as Munster assistant, who first planted the seed of Cronin playing out-half. Along with Munster head coach Matt Brown they approached the scrum-half about making the switch prior to last year's Interprovincial series.
"I wasn't overly impressed with it at the start to be honest," Cronin said this week, about her first impressions of playing 10.
"It's good, but it's difficult!"
While the Limerick woman has played rugby almost all her life, she'd only ever played number 9.
"Last week was a pretty special day to be honest. I could have been a prop last week for all I cared, getting back into the green jersey."
Having come through at Richmond and then Shannon in Limerick, Cronin advanced to UL Bohs in the All-Ireland League before making her Ireland debut at the 2017 Rugby World Cup on home soil.
She was a regular in the Irish squad over the next two-and-a-half years, winning 16 caps up to March 2020.
Last weekend's TikTok Women's Six Nations opener against Wales was Test number 17, but her first in which she wore number 10.
However, after a couple of seasons wondering if she would ever wear the green shirt again, she didn't care what number was on her back.
"Last week was a pretty special day to be honest. I could have been a prop last week for all I cared, getting back into the green jersey," the 29-year-old added.
"It was a big day, and I'm just hoping I can build on it and stay in it to be honest."
---
While the jury is out on whether or not Cronin will be the long-term option for McWilliams and Ireland, her selection does give a clear indication to the identity that he and Briggs wants this new Irish side to have.
With Cronin at out-half it has allowed Flood to shift across into the centre, giving Ireland a second playmaker in the backline, as well as a left-footed kicking option.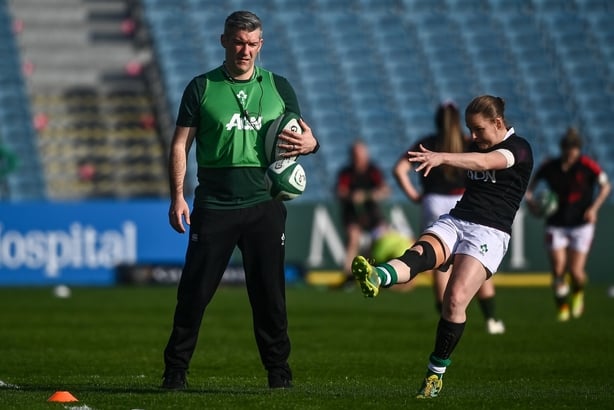 Flood, in particular, looked made for the role, with the move into the centre seemingly giving her extra space to play creatively; it was her looping pass that set Amee-Leigh Murphy Crowe down the touchline for the game's opening try, while she also created and finished the third try of the game with a neat one-two with Eimear Considine.
Speaking earlier this week, Briggs said that the test run against Wales showed there's a solid structure for both players to thrive off.
"Obviously I am pernickety and I'd like things to have been a little bit better, in terms of how sharp we were, but in terms of our phase play attack, I was so, so pleased. Nicole is still bedding into that out-half role, especially at international level," she said.
"I thought it was a really solid day's work for her first game playing there.
"The big difference is in the space and intensity, which she probably wouldn't have experienced before with the AIL and interpros. She is only going to get better and I thought she kicked exceptionally well and managed that group of forwards.
"It also just frees up someone like Stacey, who has got an incredible array of skills. And when you have players like that on both sides of the ruck, it can open up a mine of possibilities for us.
"We are only going to get better and I think that's the most exciting thing."
It's also benefitting Cronin, who is still finding her feet in the position.
"We have a playmaker on both sides of the ball now so if you're in a position that you're not getting around the corner for whatever reason then maybe Stacey steps in there. She does a mighty job to be honest," the out-half said.
---
Like most players in the Irish team Cronin comes from a multi-sport background.
"Briggsy and her are funny, they're as thick as thieves, and the two of them do a lot of work around their kicking and they've got a really clear vision."
As well as rugby, she played soccer to high level, as a midfielder she represented the Republic of Ireland at U19 level, which eventually brought her to Hutchinson Community College in Kansas after her Leaving Cert.
"I had an amazing time but I just ended up falling out of love with soccer, it was nothing to do with the States," Cronin said.
"I just, for some reason or other, came to what I'd call a full stop. I came home that summer, had a year left in my degree but it was just not for me anymore and stayed here.
"I don't have too many regrets about it, I still think it was the right decision for me."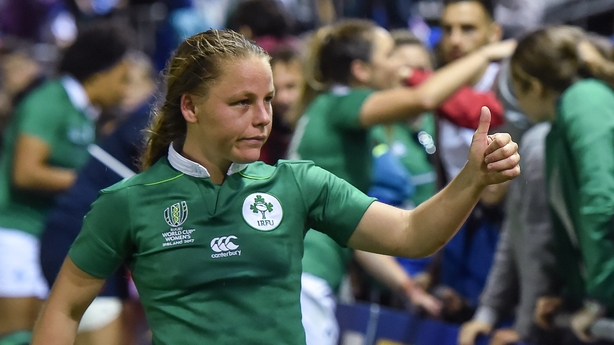 Soccer's loss has been rugby's gain, and like the many multi-sport athletes across the men's and women's team, she says her footballing experiences have helped shape her rugby game, particularly in the last year.
She said: "I never really thought soccer and rugby would work together but I think it does at out-half, it helps with how flat I can be or not be at times.
"It's definitely the quickness on it, it's not too much different to getting the ball into your feet in the middle of the park in soccer and looking to turn out. I do see a little bit of a variation in it, to be honest."
The football influence was obvious when she slotted a touchline conversion following Murphy Crowe's opening try last Saturday, a skill she's been practicing alongside Briggs, as McWilliams explains.
"Briggsy's been working with her for quite a while now," said the head coach.
"Briggsy and her are funny, they're as thick as thieves, and the two of them do a lot of work around their kicking and they've got a really clear vision.
"I was Briggsy's kicking coach when she was a player and it's just great to see her passing the baton on. I won't interfere with it, I won't say one word."
It's clear Cronin and Briggs have a tight relationship.
"Her ability to play off the cuff is probably one of the best I've seen. When I got an opportunity to go in with Munster this year, I spoke to Matt Brown about, 'Let's get her playing towards the try-line as opposed to the touchline and see how we get on."
As previously mentioned, the former Ireland captain was the one who planted the seed of Cronin switching to out-half, while the pair have been longtime team-mates at UL Bohs and Munster, even prior to Briggs becoming head coach of the club and assistant at the province.
When Briggs made her final appearance for Ireland in 2018 against England, it was Cronin who started inside her as scrum-half.
And the Ireland assistant believes their newest fly-half is as natural a player as any who have come before.
"Even when I was playing, her rugby intelligence was phenomenal," Briggs said this week.
"Not only that, her ability to play off the cuff is probably one of the best I've seen. When I got an opportunity to go in with Munster this year, I spoke to Matt Brown about, 'Let's get her playing towards the try-line as opposed to the touchline and see how we get on.'
"I'm not sure she was too happy about it at the start, but she has definitely taken to it like a duck to water.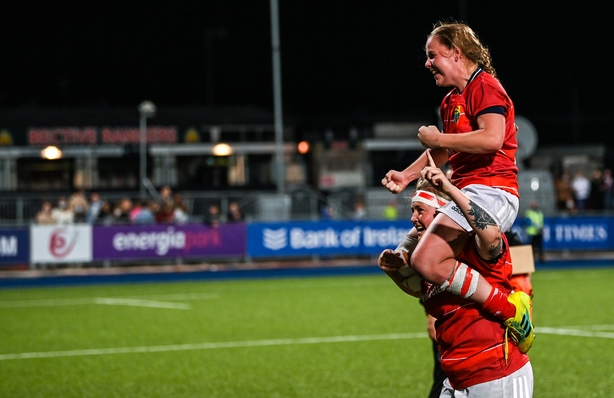 "She's learning and improving all the time, incredibly astute off the pitch in terms of wanting to get better. Forever asking questions and trying to make sure that she's continuing to develop.
"In terms of her natural rugby ability, she's probably one of the best players I've ever played with or coached, in terms of her ability to go off the cuff."
Cronin has always had a reliable rugby network to tap into, as a cousin of Munster's Neil and Leinster's Sean Cronin. But she says the most important aide in her switch from scrum-half to out-half has been Briggs.
"It makes it a little bit easier anyway, but it also has its challenges, because Niamh played there for quite a bit and she knows the ins and outs of it a whole lot better than I do, so it gets a bit pernickety at times," she said.
"It's enjoyable but it's tough. It's brilliant to have Briggsy there, she's literally led me to where I am at the moment."
---
If last Saturday's opener against Wales was a case of Cronin and Ireland being thrown in at the deep end, this afternoon's meeting with France and Paris is more comparable to being dropped in the middle of the Atlantic.
The French routinely dismantled Italy 39-6 in front of a big crowd in Grenoble last week, and take the show on the road to Stade Ernest Wallon today, home of Stade Toulousain.
While Ireland spent the majority of last week's defeat defending, they did throw caution to the wind when they got the ball, and to good effect.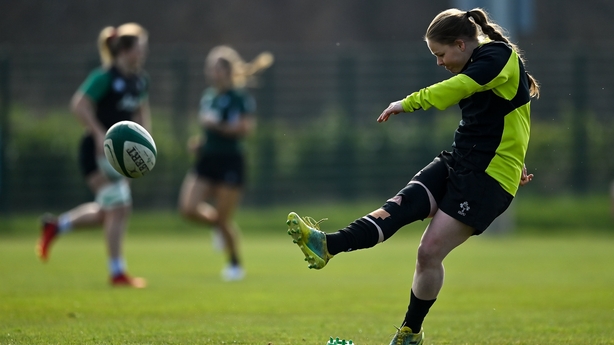 However, Cronin says this week's plan will have to be far more restrained, picking the right moments to attack the line, or alternatively sit back and play the percentages.
"I think it'll be a bit of both, but I don't envision France giving us as much time on the ball," she added.
"I will probably be a little bit deeper as opposed to playing flat. I like to play flat, but it'll have to be varied this weekend.
"I think we learned some lessons last weekend in trying to play too much ball in what we'd call the 'red zones'. No one wants to be messing around with a ball on your own five metre line.
"We have a couple of variations in what we can and can't do. We'll have to see how France set up, that will dictate what we do.
"There's kicking and running options but for me it will be very much a case of talking to Nichola (Fryday, captain) and seeing what's on. It's not a case that we'll just throw it up and lash it down the park."
Listen to the RTÉ Rugby podcast on Apple Podcasts, Soundcloud, Spotify or wherever you get your podcasts.
Watch Benetton v Connacht (Saturday 12pm), France v Ireland (Saturday 2.15pm) and Munster v Leinster (Saturday 7pm) live on RTÉ2 and RTÉ Player (also live on RTÉ Radio 1).