Ireland captain Nichola Fryday has warned her players not to be overawed in Saturday's TikTok Women's Six Nations meeting with France in Toulouse.
The skipper is the only survivor in the side from Ireland's last away game against France in the Six Nations in 2018, which was a 24-0 defeat at Saturday's venue, Stade Ernest Wallon.
France are heavy favourites to pick up where they left off in last week's 39-6 win against Italy, and were 56-15 winners in last year's meeting in Dublin.
But in spite of France's quality, the second row says Ireland cannot go into the game expecting a defeat.
"You have to respect them they're one of the best teams in the world. At the same time, you can't have that fear of them," she said from the team's base in Toulouse.
"You have to go out and put your body on the line against a team like France, and stand up to them because if you let their status affect you in any way you'll be playing in your shell, and that's not what we want.
"We want girls to stand up to them and take them on physically. With teams like England and France that's what you have to do to make it a good contest."
When asked if Ireland can win, Fryday replied: "Every team has that belief in them.
"You don't go out thinking you are going to lose a match; that is the way you are driven as athletes. You want to win matches; you want to stand up to the bigger teams in Europe as the perceived underdog.
Ireland will not fear hot favorites France in tomorrow's #SixNations clash, insists captain Nichola Fryday #TikTokW6N pic.twitter.com/vbBq1fbxxt

— RTÉ Rugby (@RTErugby) April 1, 2022
"If we can get what we can bring to the table right tomorrow and really impose ourselves physically on them as well, it will be a tight game.
"I said from the start this Six Nations will be one of the closest in comparison to previous years as the quality across all six teams is really high. So, you would like to think you will see these shock wins come to fruition. If we go out and play the game we want to play, it will be a good day for us.
"They are athletes and we are athletes. That is the way you have to look at it. They're human at the end of the day; they're not superior humans.
"Yes, they're extremely good rugby players and an extremely good team but at the end of the day they are humans."
With Ireland's 2020 away trip to France cancelled due to the Covid-19 pandemic, it's four years since their last away day in France.
None of that day's starting team are involved on Saturday, while Fryday is the only member of that matchday squad who will, having come on as a replacement.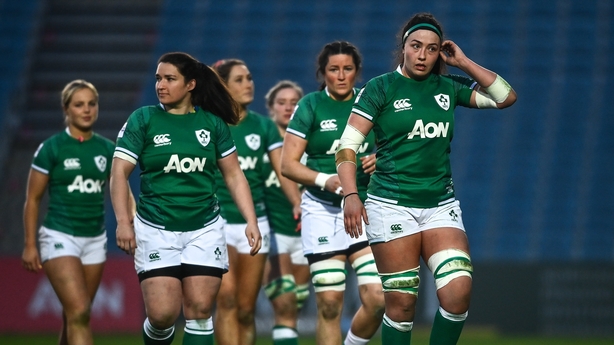 It only highlights the relative lack of Test experience the current Irish squad has and with a large, loud crowd expected for the game at Stade Ernest Wallon, the captain says they need to soak up the occasion, while not being overawed.
"You have to enjoy these moments in rugby," said Fryday.
"It's going to be an incredible atmosphere in Toulouse but at the same time we can't let the occasion override everything else.
"We still want to go out on the pitch and perform, and implement what we want to do. That's going to be the key thing for us, but I do think the girls should enjoy these moments, because in Test rugby these are the moments you look back on.
"I remember the last time I played here, it was in Toulouse and it's one of those matches that sticks out for me, the atmosphere, the crowd.
"They'll look back on this as a huge memory, so embrace it. But at the same time, we still have a job we want to do.
"The way we look at this squad is that we're like a family. You can be in your toughest times and you fall back on your family.
"We're a tight unit, so when we're in those hard times we can really lean on each other and try push through together. If you don't have that, it makes the job a lot harder.
"It's really important we have that unity across the squad whenever we play games like this."
Listen to the RTÉ Rugby podcast on Apple Podcasts, Soundcloud, Spotify or wherever you get your podcasts.
Watch Benetton v Connacht (Saturday 12pm), France v Ireland (Saturday 2.15pm) and Munster v Leinster (Saturday 7pm) live on RTÉ2 and RTÉ Player (also live on RTÉ Radio 1).