Ireland head coach Greg McWilliams said that changing up his team after just one game would have sent the wrong message to his players.
McWilliams, who took over at the end of last year, has selected the same match-day squad for the second game of the TikTok Women's Six Nations against France on Saturday (2.15pm, live on RTÉ).
That means that wing Beibhinn Parsons, described by McWilliams as "our most exciting player", has to contend herself with a place among the replacements.
"It's really important that you give players an opportunity to rectify and improve," said McWilliams, whose side lost 27-19 to Wales last weekend.
"I think it shows confidence in the group. It shows that there is good cohesion. It was a tough call, decision from the group, from the players that we go again with the same, that everyone deserved that.
"Sometimes as a coach, you make one or two changes to a team, particularly, my first game in charge to my second, that can sometimes just send the wrong picture so I fully trust the group that we have to go again."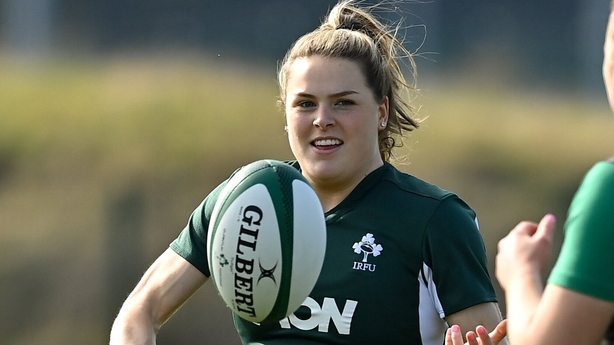 McWilliams confirmed that Parsons, who has scored seven Six Nations tries, is fully fit and will feature at some point against Les Bleues, who beat Italy 39-6 last Saturday.
"Look, I had a chat with Beibhinn on Monday," added the former USA Eagles assistant.
"She's been ridiculous. She's fully fit, she's raring to go, but as a group we thought it was best to keep the same 23 with Bei on the bench to come off and to do some damage.
"It's hard for her, because if you did replace one of the back three with Bei and that was your only change from the team that played against Wales, it's as if that one player did something that meant that things didn't go her way.
"So I think it's important that you put faith in the 15, and Bei understands that completely.
"We're about the team and about the squad, and Bei is just one player within the larger group of 26 for this game against France.
"But she is without question, I believe, our most exciting player and she has a massive role to play with us moving forward. Not just for this Six Nations, but after the World Cup at Sevens she's going to heavily involved with us."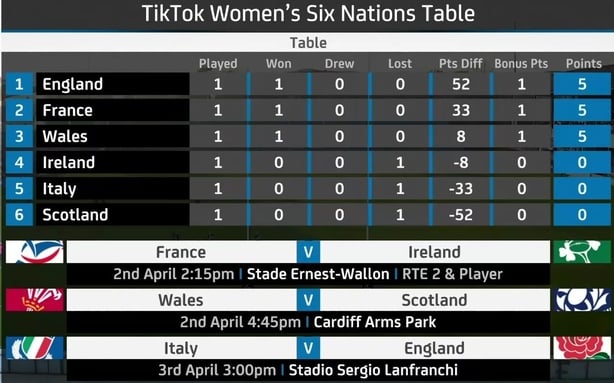 France are 24-point favourites to beat Ireland at the Stade Ernest-Wallon in Toulouse but McWilliams believes his team can cause an upset against the side that won last season's fixture 56-15 in Dublin.
"We learned a lot against Wales," he added.
"There's a certain amount of moxie that you need to play this game and it's important that we understand that you need to have that as well as having the smarts.
"You need to be able to go into those physical cauldrons and compete. The group are aware of the areas we are working on, they have applied themselves brilliantly this week.
"Now we have to go out to France and test ourselves against what is a formidable opposition but somebody who I think is there for the taking if we can bring what we want to the game."
Listen to the RTÉ Rugby podcast on Apple Podcasts, Soundcloud, Spotify or wherever you get your podcasts.
Watch Benetton v Connacht (Saturday 12pm), France v Ireland (Saturday 2.15pm) and Munster v Leinster (Saturday 7pm) live on RTÉ2 and RTÉ Player (also live on RTÉ Radio 1).