Both teams' discipline is one of the main talking points following Ireland's bonus-point win over England in Twickenham.
Ireland repeatedly gave England access and territory and almost doubled their average penalty concession with 15 conceded.
Although the penalty count went in England's favour, the biggest talking point of the game came after just 82 seconds of play when Charlie Ewels was red-carded for a late and upright hit on James Ryan.
Referee Mathieu Raynal had no choice but to send Ewels off.
Unfortunately, these calls still split opinion, although it's the minority that disagree with the referee's decision in this instance.
It seems that most rugby supporters and players are now realising that these hits, accidental or not, are damaging to players' health and they have to be sanctioned correctly.
After just 82 seconds, England are down to 14 men. Charlie Ewels receives a red card for this challenge on James Ryan.
📺 Watch live: https://t.co/CStwnXf2cB
📱 Live updates: https://t.co/d6o7sgXOGp
📻 Live radio commentary: https://t.co/wUq1XxhF4x #ENGIRE #RTERugby #SixNations pic.twitter.com/8CXKvWjy1a

— RTÉ Rugby (@RTErugby) March 12, 2022
Nobody is suggesting that Ewels went in with the intention of clashing heads with Ryan.
However, the intent was there from England to use a high tackle focus to limit Ireland's offloading game.
Eddie Jones and his coaching staff are entitled to focus on the ball in the tackle in an attempt to slow Ireland's pace down.
The visitors started the game at a frantic speed full of offloading and extra passes. Something had to be done to slow their pace, ruck ball and attacking intent.
You run the risk of making a mistake when going in for a higher tackle and the Bath lock learned a lesson on Saturday.
If the referee gave him the benefit of the doubt and didn't give a red card, it would completely disregard the safety of the players.
Ryan lost control of his own body before he even hit the ground. He was clearly in trouble the minute Ewels made contact with his head.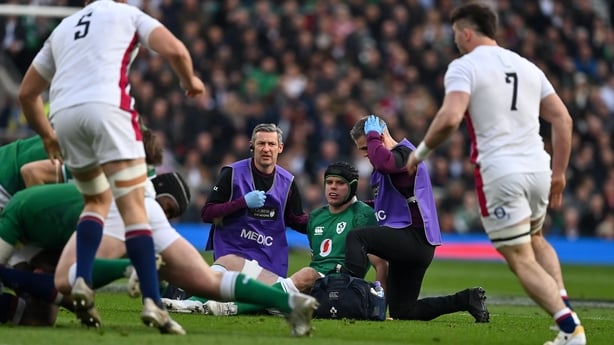 These are the moments that World Rugby are trying to reduce. When you see someone like Ryan missing out on yet another Six Nations game due to concussion, you have to start taking head contacts seriously.
They are not part of a rugby tackle and you cannot excuse it due to rugby being a contact sport.
The strength and conditioning of these players is so advanced now that you're dealing with very powerful players moving at high velocities.
Ryan burst on to the international rugby scene at a young age. His potential was and still is frightening. To put it into perspective, he's played 42 times for Ireland and 53 times for Leinster.
He was capped by Ireland before he even played with Leinster. These players don't come around too often, and yet his concussion history is taking over as the talking point in his conversations.
The 25-year-old left the field with a concussion having done little more than pass the ball to Johnny Sexton and brace for contact. He was then hit in the head despite standing mostly upright, at 6ft 7in.
There can't be any logical reasoning behind the argument that this didn't deserve a red card.
If you are in any doubt about the sanction then you're still part of the problem in rugby.
We need your consent to load this YouTube contentWe use YouTube to manage extra content that can set cookies on your device and collect data about your activity. Please review their details and accept them to load the content.Manage Preferences
You might not like the fact that your team has lost a player due to an accidental clash of heads, but it doesn't make it right and it doesn't minimise the risk to Ryan or any other players health.
If you've ever had a concussion, from playing sport or not, you would take these high tackles a lot more seriously.
If you're lucky enough to not have experience with concussions, you should listen to the experts or those with experience and realise that they are a very serious issue, not to be ignored due to the potential for ruining a spectacle.
Unfortunately, most people that have played a contact sport for a few years or more will have experience with head contacts.
I know from playing sport, being around dressing rooms and suffering a couple of concussions myself that people generally don't take the impact of concussion seriously until they realise the lasting effects they can have: unexplained headaches, fogginess and lethargy can go on for weeks.
They can go on for longer if you're unlucky. It's not something to mess around with.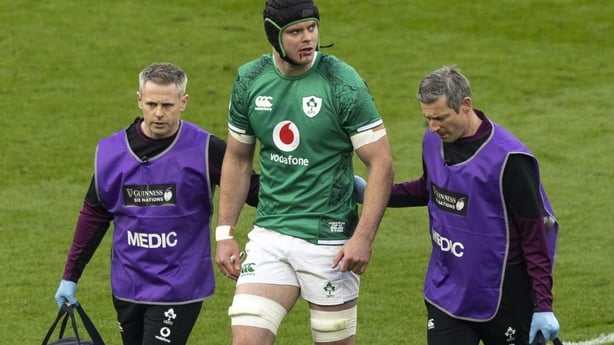 Experiencing a concussion doesn't give me or anyone else the right to comment too much on the effects of head trauma, but it certainly gives you a different perspective when analysing the situation and the degree of seriousness that world rugby are dealing with regarding these head contacts.
The Ewels and Ryan collision is mostly a closed book. Most people could see the impact that the slightly late and upright tackle had on Ryan.
He had to leave the field and has since been left out of the Irish squad for the final round next weekend. This is a blow for Ireland but more so for Ryan himself.
The injury adds to the seriousness of the tackle and probably has an effect on our thought process when deciding if the red card was justified or not.
However, what happens if Ryan took less contact? It's still a contact to the head but might not make him lose consciousness or control of his body.
"England already had the underdog mentality going into the game and having to do it with 14 players made them even more dogged"
Does that minimise the seriousness of the situation? What happens if he takes another knock soon after? The injury shouldn't make this tackle more or less serious.
The laws surrounding the contact area are there to make the game safer. The referee can't make a decision based on the degree of injury because a lot of that is unknown, particularly with head injuries.
The idea behind stamping out these contacts regardless of injury is to change the habits of players and coaches. If we allow these contacts to continue, we are putting more players at risk of injury and potentially longer-term danger.
---
Widening the net: Irish rugby striving to diversify talent pool
---
Yes, red cards can have a negative impact on the game.
They're supposed to penalise the team for careless or foul play. Like everyone, I'd like to see how the game would have played out with 15 players on each side but England's reaction to the red card really made the game what it was.
They already had the underdog mentality going into the game and having to do it with 14 players made them even more dogged.
Both teams will have learned a lot from that bruising encounter. It's definitely a rugby match that will be remembered.
Follow Ireland v Scotland via our live blog on rte.ie/sport and on the RTÉ News App or listen to live radio coverage on RTÉ Radio 1. Highlights on Against the Head, Monday 8pm.