When Italian rugby fans look back on their most famous days, 22 March 1997 in Grenoble stands out.
That day in the final of the 1995–1997 FIRA Trophy, the Azzurri defeated a France team featuring eight of the starters and two of the replacements that had just secured the Five Nations Grand Slam a week earlier against Scotland.
That 40-32 victory in a match refereed by Limerick native David McHugh played a key role in paving the way for Italy's accession into what would then become the Six Nations three years later.
An important part of Italy's half back partnership alongside Diego Dominguez that day and for a few years thereafter was Alessandro Troncon, who is now on the coaching staff at Guinness Pro14 side Zebre.
The significance of the occasion on French soil is not lost on the scrum-half as he reflects 23 years on.
"It's part of this route: we had often beaten Ireland and Scotland and with France there has always been a very big rivalry," Troncon told RTÉ Sport prior to the now postponed 2020 Six Nations game against Ireland.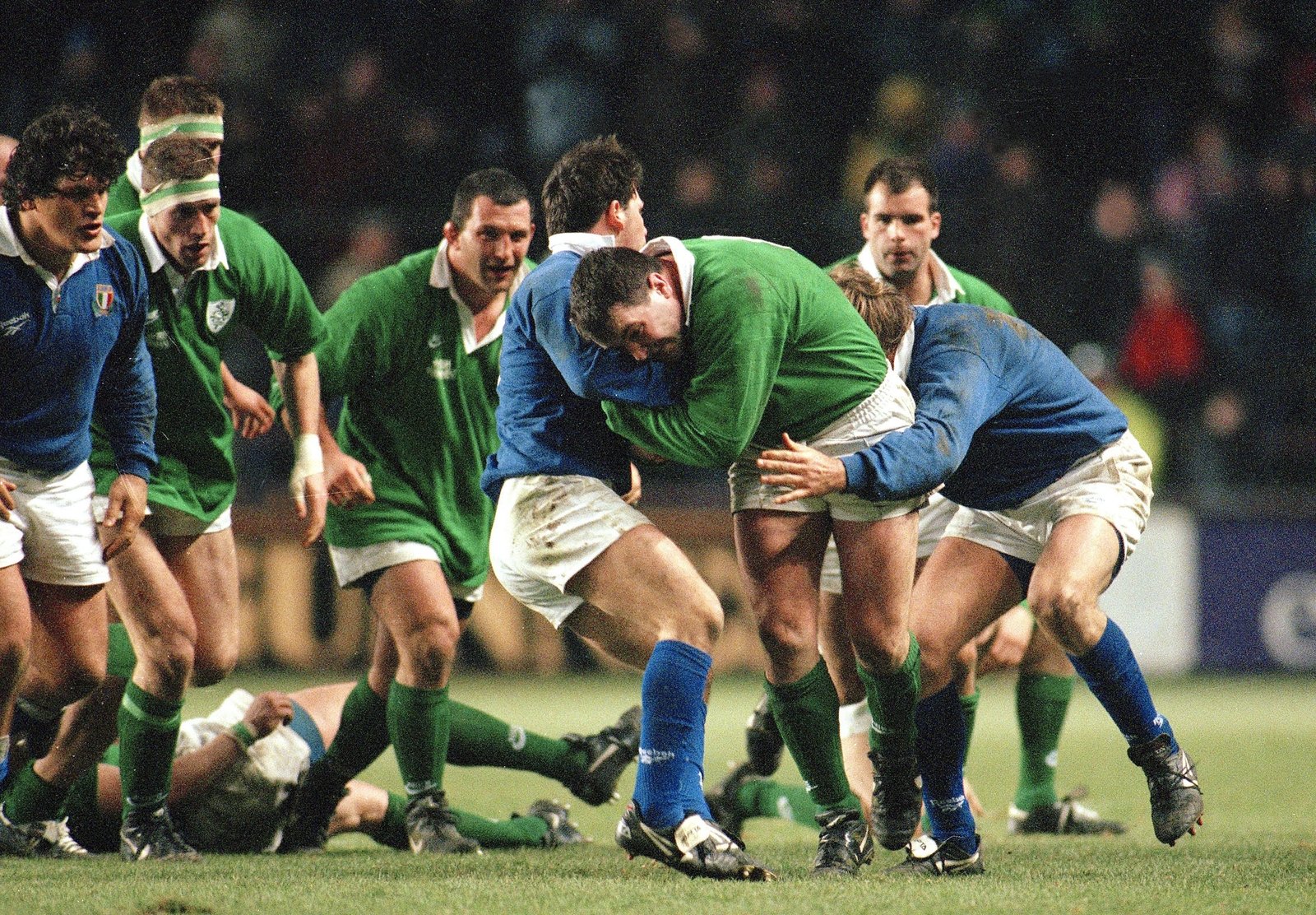 "Until then France had always played with France A against us and it was the first time they played with the first team. It was the France that had won the Grand Slam the week before and we won against that France even if they lacked some important players."
As Troncon alluded to, Italy had a good record against Ireland during the 1990s. Indeed, from 1995 to 1997, they won three of the head-to-heads in a row, twice on home soil which sandwiched a 37-29 victory at Lansdowne Road in January '97. Coupled with the aforementioned victory over France and then a win over Scotland (1998), Italy's progress towards tier one status was clear.
For Troncon, much of the credit for moulding a strong generation of Italian talent is down to their French head coach Georges Coste who was in charge from 1993 to 1999.
"At that time Italy had somewhat anticipated the era of professionalism," says the 46-year-old Treviso native.
"Thanks to the union and our coach Georges Coste, we had a very competitive team and when we played against national teams that were so high-profile, we were extremely motivated to show that we could compete at that level."
Of the landmark Lansdowne Road achievement, he adds: "That team had achieved an important awareness of its potential and consequently we went on the pitch every match to play and win, because winning is an art: you learn to win by winning.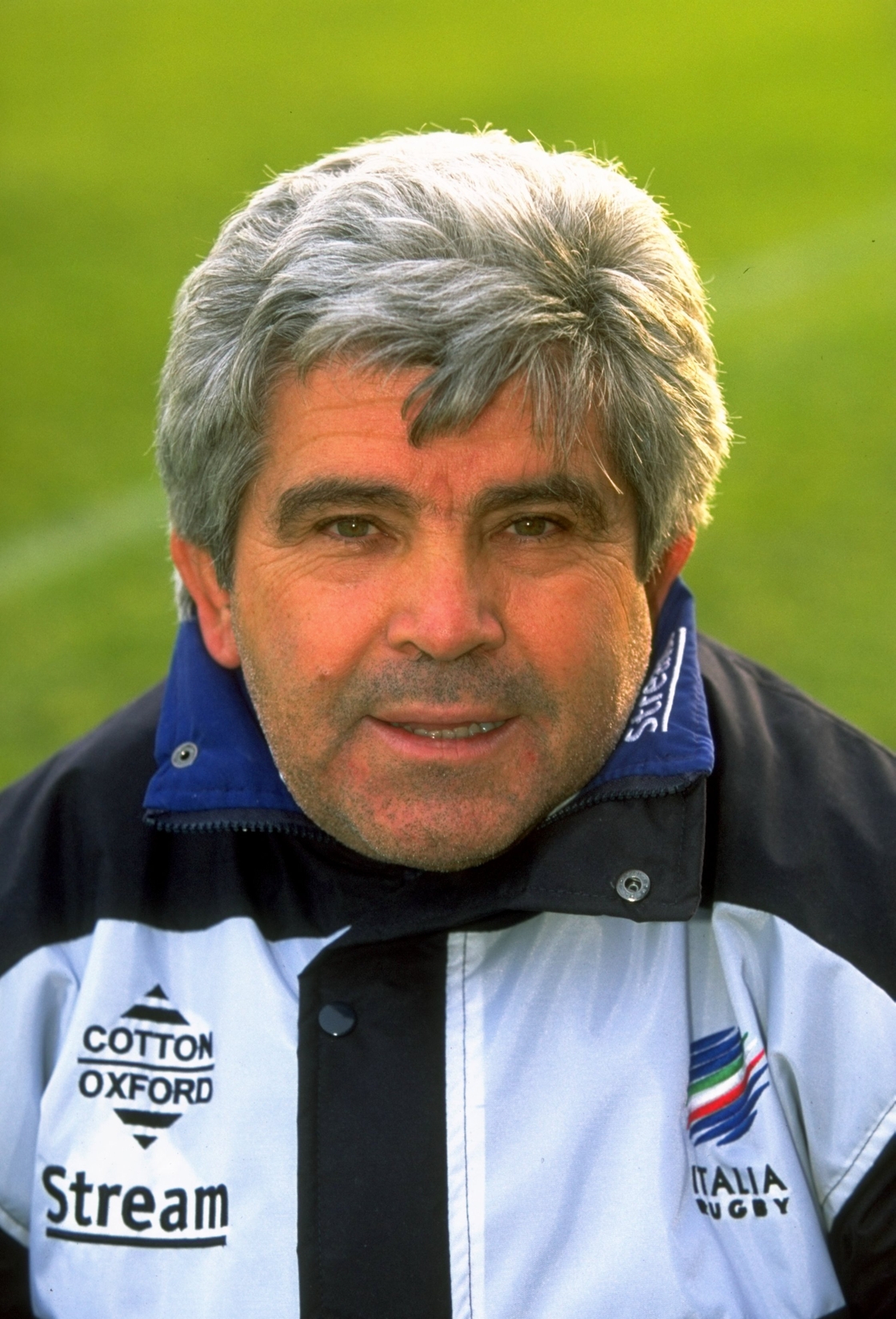 "It was our attitude and awareness of our potential that did all this, as well as the quality of the team."

All roads led to 5 February 2000 when Troncon and co would make their Six Nations bow against Scotland on an emotional day at Rome's Stadio Flaminio.
But the sand was shifting somewhat under the national team's feet just before entering the northern hemisphere's premiere international competition.
The golden generation of the 1990s that had carried Italy through famous wins were coming towards the end of their careers and Costes had departed to be replaced by New Zealander Brad Johnstone after the 1999 World Cup for a subsequent two-and-a-half year spell.
"Certainly a lot had changed, but so had our team because in 1999 there was a generational change - for four to five years there was a generation missing and in 2003 thanks to John Kirwan there was the entry of a new generation like Perugini, Parisse, Ongaro, Castrogiovanni, and Masi that carried Italy forward until five or six years ago," says Troncon.
We need your consent to load this YouTube contentWe use YouTube to manage extra content that can set cookies on your device and collect data about your activity. Please review their details and accept them to load the content.Manage Preferences
"We had changed coach [in '99] and it was a bit of a transition. The only three left from the previous team were me, Diego, [Massimo] Giovanelli and Carlo Checchinato."
Yet despite the lustre of the '90s fading, it almost felt like destiny that Italy would beat the Scots in that 2000 Six Nations opener.
Giampiero de Carli would score their try that day but fly-half Dominguez would play the most crucial role with six penalties and three drop goals.
"We had a team in complete revolution from the players' point of view and from the technical point of view because we had changed coach, with Brad Johnstone at the time. It wasn't the best team to start the Six Nations, but it was written somewhere that we had to win that game and so it was," says Troncon.
"Although we weren't the strongest Italy, we were lucky enough to have a team full of enthusiasm and important players in key roles like Diego Dominguez who was able to close those technical gaps that allowed us to bring home the result.
"It was fate, it was written somewhere that we would win. The atmosphere was clearly something indescribable, it's difficult to describe it, you have to live it. It's a day that will remain imprinted in the history of Italian rugby and in my head.
"I wasn't nervous, we were all determined. It's those situations where it has to be like that because 22 people decided it had to be like that."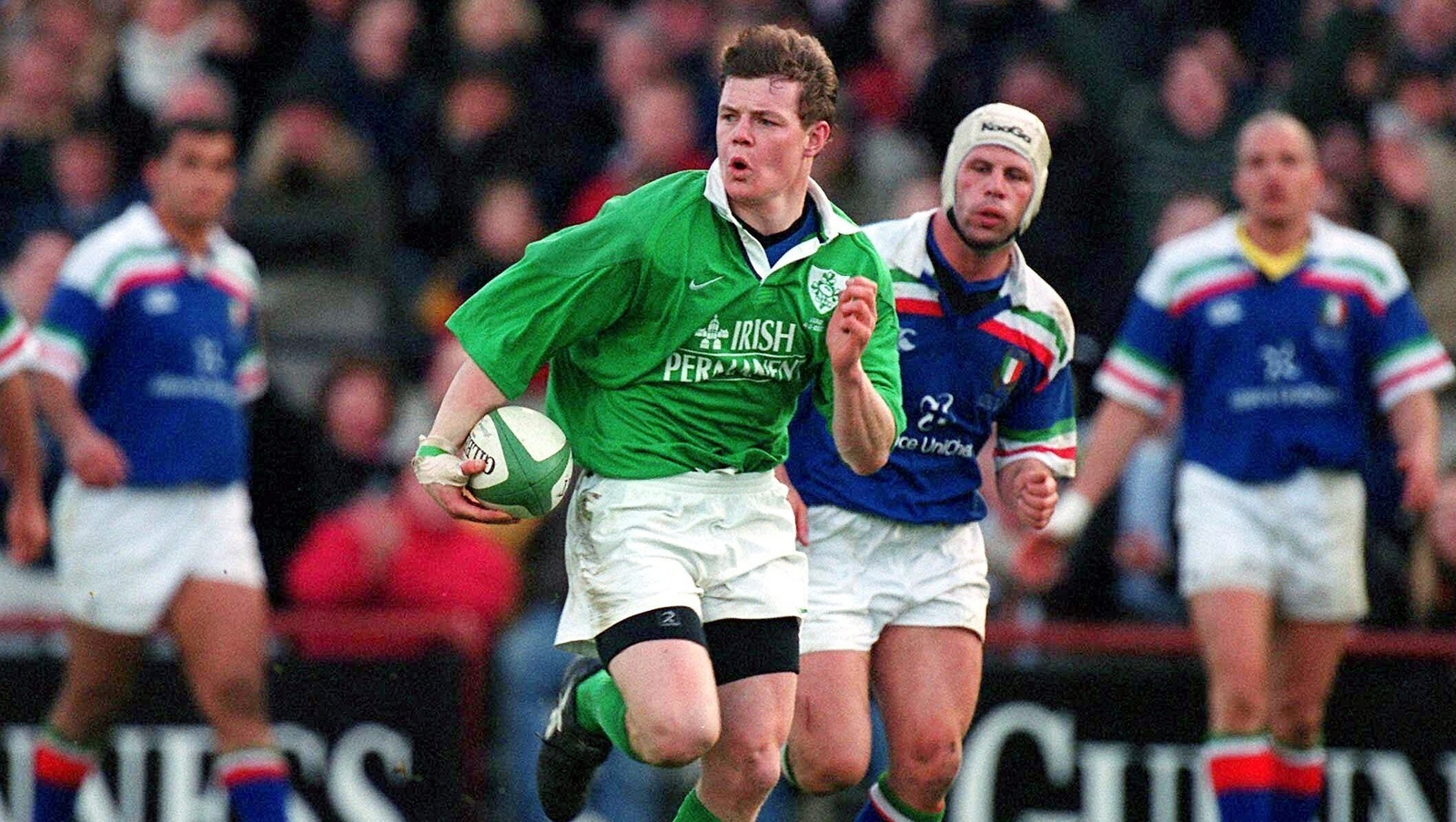 After that emotional rollercoaster, the remainder of that maiden Six Nations campaign tailed off when it came to results.
Wales would see off the Azzurri by a 31-point margin two weeks later in Cardiff, before Italy arrived at the old Lansdowne to face an Irish side going through a transition of its own three years on from losing to the visitors.
It was the start of a new era for Ireland as Brian O'Driscoll, Ronan O'Gara, Peter Stringer (more on the Munster man later) and Shane Horgan experienced their first Six Nations campaigns.
Indeed, it was two weeks before O'Driscoll would go to Paris and score that famous hat-trick of tries against the French.
He would warm up for that with a try against Italy first though, while Keith Wood, Kieron Dawson, Girvan Demspey and a pair of efforts from Shane Horgan as well as 24 from the boot of O'Gara would see Ireland run out 60-13 winners.
For Troncon, it was certainly a step up from the Irish sides he had faced in the 1995-97 span.
We need your consent to load this YouTube contentWe use YouTube to manage extra content that can set cookies on your device and collect data about your activity. Please review their details and accept them to load the content.Manage Preferences
-"Ireland subsequently had generations with probably better performing players and it was a team that changed something in its system to become one of the most competitive in the world, again because of that evolution in rugby that was taking place and is still taking place today," he explains.
"Ireland has kept up with the times, changed the system of player training, adapted to the present and has produced and still produces high quality players.
"The Irish were good because they understood a path they had to take and still Ireland is an example and a reference that we try to emulate. Rugby is, fortunately, a team sport, so O'Driscoll and O'Gara were very important players but they played in a high level context and it was exciting to play against players of that caliber."
Italian rugby journalist Paolo Pacitti tells RTÉ Sport that he feels Ireland's third loss against Italy in Bologna was a spark.
"The change came after the third defeat [to Italy]," the L'Aquila-based rugby writer says.
"After that players like O'Driscoll, D'Arcy, Horgan, O'Gara, Stringer that played in the Under-19s in the past came over, because you saw the Under-19s having great success [while] the first team was suffering defeat against Italy.
"That was our perception that in two, three or four years, we should arrive there with some problems in finding the real benchmark with the Ireland team."
The following year, Ireland would win 44-21 on our first Six Nations visit to Rome. Troncon would see red four minutes from the end after punching opposite number Stringer – not that there were hard feelings between the number nines after the game.
"Peter Stringer was one of Ireland's strongest number nine players and was also a very strong player in the world. I always respected him a lot and the incident was more out of personal frustration - I had nothing against him," he explains.
"After the match I apologised to him. It was an impulsive reaction because I'm a very competitive person."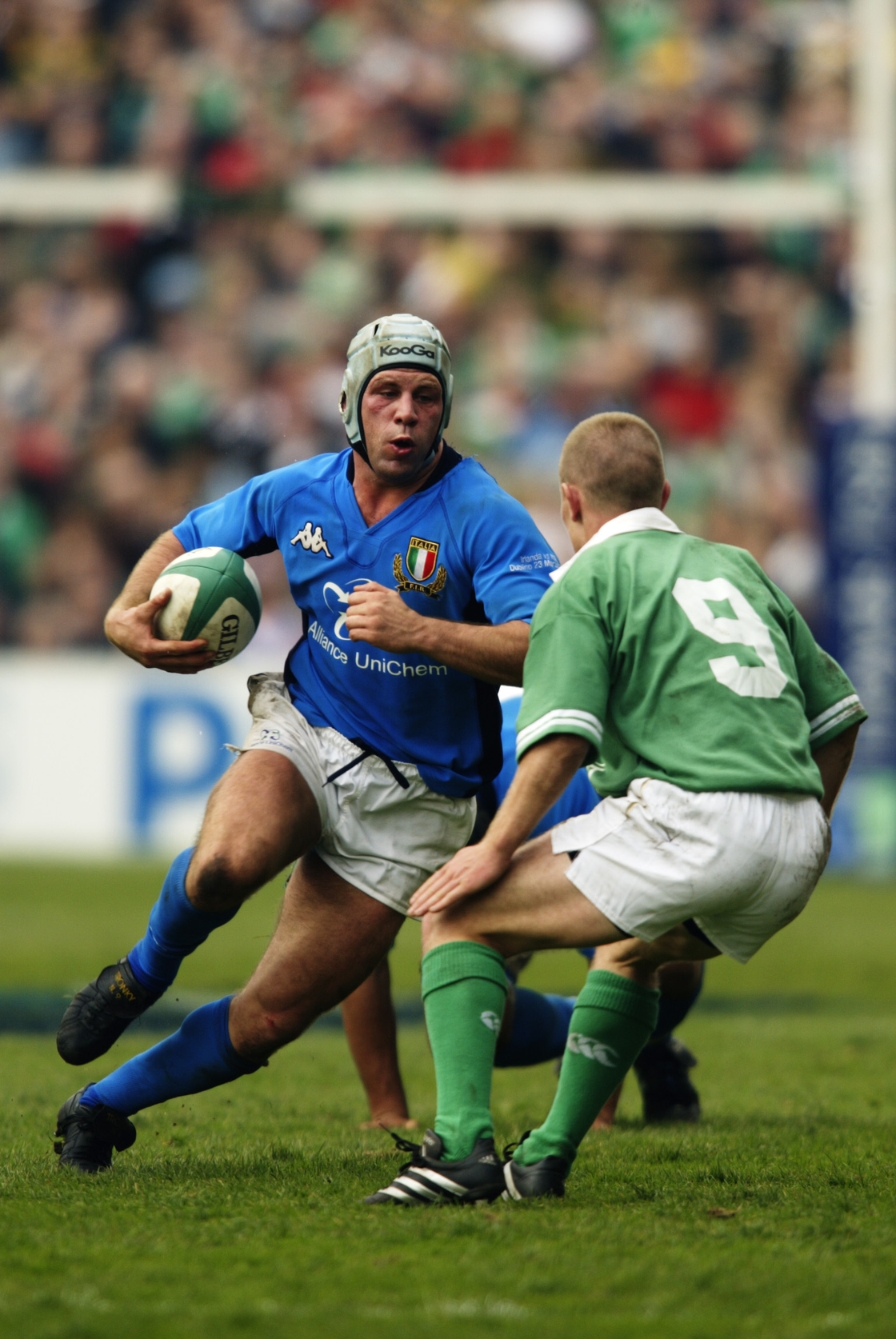 That competitiveness was channelled perfectly in Italy's final Six Nations encounter of 2000 11 months previously against France.
Troncon would weigh in with two tries, although the French would run out 42-31 winners at the Stade de France.
"I haven't a great memory of those two tries," he admits.
"It was the time when I played with Clermont and it was a very good rugby period in my life. It's always nice to score two tries against France, especially at a time when I was playing in France."
Troncon would end his playing career as an international centurion in 2007, surpassing the 100-cap mark and since then has embarked on a coaching career that has seen him work at both club and international level.
Presently, the former scrum-half lends his expertise to the half-backs of Zebre and describes working with Italy Under-20s previously as "one of the most formative experiences" he has had.
"It was a great experience, rugby is constantly evolving, but especially at U20 level the game is very high," he says.
"Working with number nine and number 10 at a youth level is great because the players have the basics at that level but they still lack those references that a player who has played that role all his life can transmit."
We need your consent to load this YouTube contentWe use YouTube to manage extra content that can set cookies on your device and collect data about your activity. Please review their details and accept them to load the content.Manage Preferences
While his own playing experience was as a nine, he did learn plenty from outstanding tens at a similar age. When he first started out at his local club Treviso in the early 1990s, Australian 1991 World Cup winner Michael Lynagh was at the club and had a great influence on him.
"He helped me a lot on the pitch especially for me as a 19 or 20-year-old. It certainly helped me to understand how important it was to understand the game and anticipate everything you can control on a rugby field," he says.
And of course there is the aforementioned Dominguez who soldiered alongside Troncon for years during Italy's best days.
"I still keep in touch with Diego. With him there was a fairly immediate understanding, but on the other hand it is not difficult to have an understanding with those who know rugby," he says.
"His greatest quality, like all great players, is to anticipate what happens on the pitch. For a fly-half anticipating what is the evolution of the game in a match is a priority because it can put the opponent in trouble. For the economy of a team and its development, having players in key roles who have this ability is important. Diego is special because he lasted so long."
Having played in France, where the 'Petit General' style of dominant scrum half has thrived, Troncon has taken an interest in the evolution of the position vis a vis the relationship with the fly half and even sees space for a "third playmaker who can be a centre or a full-back depending on the quality of the players available".
Similarly, when it comes to in-play kicking duties, Ireland and Munster scrum half Conor Murray is one who has caught his eye in recent years.
"Certainly, today the kick game has become a priority and extremely important in order to vary at strategic and tactical level and to respond to current defensive systems," he says.
"Conor Murray is certainly in this aspect one of the best interpreters, therefore he can be an example for the young scrum-halves."