Winning any game away from home in the Six Nations is tough, but when you give the opposition the start Ireland gave Scotland it makes it nigh impossible.
It's natural after a defeat to look at what went wrong but you have to look at the positives too. It was unlucky the way the game unfolded that the scrum didn't become more of a factor in the match because it was an area we would have dominated.
Our scrum went really well. Jack and Rory and Tadhg were rock solid and they took the Scots apart. It's a real strength for the team as we go into the spring and it could also be the undoing of the Scots - they'll face strong scrums against England and France too.
The scrum is the most tangible positive we can take from the game but there are other positives too: our attitude, for example, coming back from 21-5 down to lead, shows that the system isn't broken and that there is little need to rip it up after just one match.
On the other side of the ledger, apart from the slow start which put us severely on the back-foot, our lineout let us down badly. There were two or three opportunities from five-metre lineouts to maul over and, ultimately, one of them would have been enough to win the game.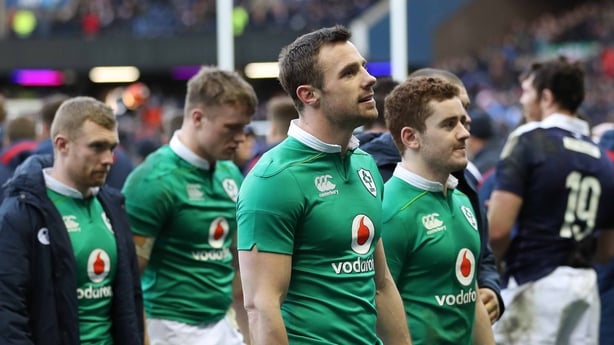 Joe is such a good strategist and a lot of his one, two, three, four - sometimes five - phase patterns are often most effective coming from lineouts, and so clean ball is very important. When that's not happening it takes away from so much good work on the training pitch.
Whatever concerns you would have for the Scottish scrum going forward, you have to give them plenty of credit for what they did on Saturday.
Their defence caught us off-guard and they showed some qualities I haven't seen from this team before. It's the first time, for example, that they've defended so aggressively and they hit our ball carriers really hard behind the gain line. 
Also, the way they set up their attack was something of a surprise: the full-back and wingers standing in the 5m line and setting up with a big space between the number 10 and the full-back. This was done to give Stuart Hogg a one-on-one or even a two-on-two and with his speed and strength he's going to come out on top. Even if he goes and converts 50% of the chances with that kind of space, it's going to be telling.
I know there has been some talk that Joe set up a narrow defence because Johnny wasn't playing but I'm pretty sure he would not have changed his set-up because of that. I sense it was more the way the Scots attacked us that caught us off guard and forced us to go narrow.
Both Johnny and Paddy are really good defenders and there would be no reason to change everything to 'protect' Paddy: his tackle stats - with completion rates in the 80 and 90% - are very good. I was very impressed with how Paddy stepped up in the second half; he really took the game by the scruff of the neck, took his try brilliantly and made a few tricky kicks too.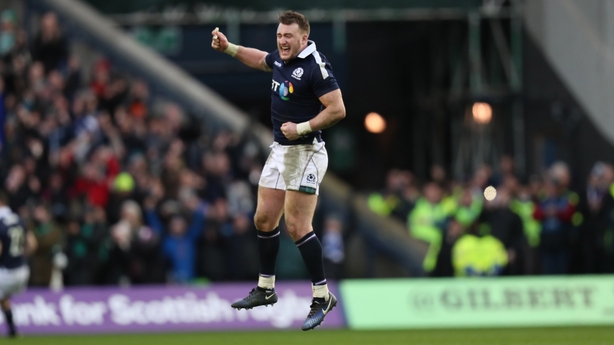 What's done is done, and now it's very important that we focus on the next game, put in a good performance against Italy on Saturday, and regain some momentum to set us up for the final three games of the tournament. 
It has been made difficult, for sure, but it's not inconceivable that you could lose your first game, win the next four and take the tournament. For now though the focus will be solely on Italy in Rome on Saturday.  
Italy at home are a really dogged, passionate side and with Conor O'Shea as head coach, they are sure to have that extra tactical nous to them this spring. 
For both Ireland and Italy, with no breaks between the opening two games, you have to be able to park losses in the opening round of games very quickly. Ireland are lucky to have so much experience in the squad, so many players with over 50 caps for their country and over 100 for their province and these players will re-energise the squad over the next few days and keep everything on an even keel.
I definitely think Joe will work on the animation of the other players surrounding the ball carriers. He will look for a bit more deception, hoping it won't be as clear who will receive the ball off the number 10 and 9. He will be driving that all week and will have forwards working on their footwork, trying to find soft shoulders, ultimately trying to suck more defenders into the ruck.
"Generally, though, all that is needed is small tweaks"
It is possible too that Ireland's forwards will set up a bit deeper to try and get more momentum on the ball because at times on Saturday we were receiving the ball too flat.
Generally, though, all that is needed is small tweaks, little changes here and there because all is not lost, and this certainly isn't the time to panic.