Make no mistake, the French would have come to Dublin pretty optimistic on Saturday. They needed a win having lost to England and beating Scotland despite a poor performance but ultimately Ireland's fitness and strategy were superior, and that showed in the game when it really mattered.
If you look at the stats and what these players are exposed to on a week-to-week basis it's not surprising that Ireland had too much stamina for the French. In the Guinness Pro12 and the English Premiership, on average, the ball is in play for 35-36 minutes. In the Top 14 here in France it is 26-27 minutes.
That might not sound like a significant difference, but in percentage terms, when it becomes something you're accustomed to for 20-odd weeks of a season, you be become acclimatised and it makes it more difficult to adapt.
The breaks in play, the little breathers when the scrum is forming or there is a player injured, the general tempo of the game.
The bottom line is that a French team always has to up it to international speed and it's not something they're used to. They're able to do it when called up to do so, but they need to be exposed to it more often to be more effective.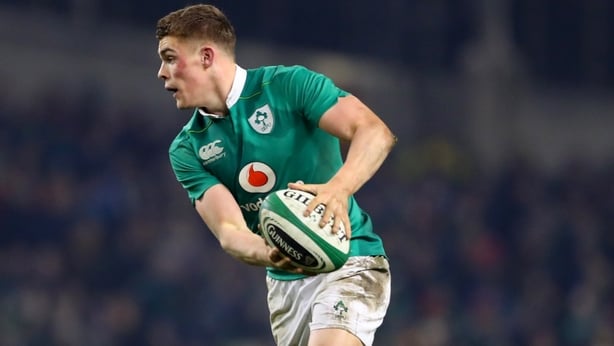 Fitness cannot be underestimated as a factor, even at this level. The repeat, quality efforts from Robbie Henshaw and Garry Ringrose were superb. It's one thing doing something well once, but being able to do it three, four, five six times - that's a true sign of fitness and conditioning.
Ireland looked like winners as early as the ten minutes before half time, but I thought that Johnny Sexton's drop goal in the second half was a real turning point; it almost felt like a six-pointer, and you could sense the French heads dropping as the flags went up.
Sexton played very well, marshalling the game, and it was a real testament to him that he can come back from an injury lay-off and be that influential.
Conor Murray was fantastic too, back to his very best, and always looked like he had loads of time on the ball. His try was typical Conor - he's so good at getting over from those positions.
There were so many areas that went well for Ireland on Saturday but one element that will please Joe Schmidt no end was the success of our restart strategy.
Even at the top level teams switch off after scoring and tune out for the restart. Ireland took advantage of that in the opening half, going short for a restart, winning the ball back straight away and gathering momentum.
"Ireland have a major opportunity now to set up a grandstand finish."
Johnny's accuracy with restarts is a real advantage to this Irish team and was very obvious on Saturday.
It's the old argument: kick the ball deep from a restart or not? Kick it long and into the opposition's 22 and the chances are you will have a line out around half-way with possession back on the 10m line.
You could argue that kicking it short and winning it back on the 10m line results in the same possession but I would disagree: the difference in momentum is huge, and suddenly the defending team are a disorganised group who have lost the ball in an area of the field they're not organised in, with players scattered all over the field. It's a great platform to restart and was one that Ireland deployed brilliantly at the weekend.
These things would not have happened on the hoof or by accident. Joe would study the formations of the upcoming opponents and would find that some opponents have five pods across the 10m line for restarts making it very difficult to go short.
With five pods, one jumper and a lifter, it would make it very hard for an Irish player to beat someone lifted into the air. When a team sets up like that you'll more than often kick long and high onto their 22, giving your winger an opportunity to make a big tackle or even contest that high ball on the 22.
But if a team decided to stack deeper back with more cover on the 22, the opportunity, like Joe and Johnny would have sensed beforehand, would present itself to go short across the 10m line.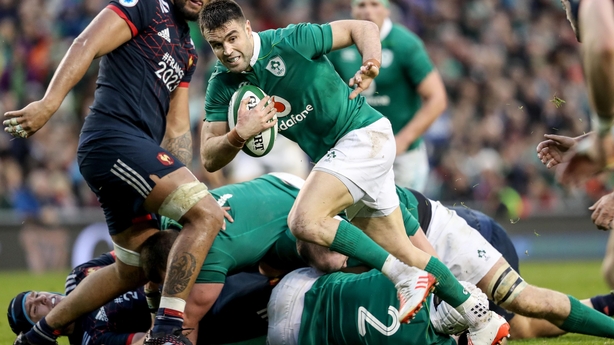 All options would have been covered off in camp during the week. Keith Earls and Simon Zebo would have practised receiving short kicks on the 5m lines, Devin Toner and Jamie Heaslip on the 15m lines and Rob Kearney as an option up the middle. Practice makes perfect and while the best made plans don't always reap dividends, Joe's homework and Johnny's restarts bore rich harvest on Saturday.
To be fair to France they took the game to Ireland from the start and probably deserved to score a try with the early pressure they had. But Ireland's scramble defence was really good and they refused to panic, even after trailing 6-0. They just stuck to the game plan and worked their way back into the match slowly.
The French match looked and felt a lot different to the Italian game and that's because there'll be a real game-by-game focus about what Ireland do. They got their momentum back in Rome, and have backed that up with a very good performance against France but it gets tougher from here on in - and Wales, in Cardiff, should not be underestimated.
They should have beaten England in the second round of games and were teed up to beat Scotland but came unstuck with a poor second half performance. You can be full sure they'll be raring to go in the Millennium in just over 10 days time.
Ireland have a major opportunity now to set up a grandstand finish but there won't be anyone talking or thinking about the England game in the Irish camp these few days - the Wales test will be very much a game to treat on its own.