By Tadhg Peavoy
A key element of modern rugby is strength and conditioning and ensuring that in addition to ball skills and tactics, players have the adequate physiques to play the very specific positions in the starting XV.
To this end, all professional clubs have dedicated S&C men, as they are known, to hone squads into the best physical shape possible.
But what does this work entail? We spoke to Munster S&C man Aled Walters, and Munster scrum coach and former Arsenal S&C employee Jerry Flannery to get a handle on the jobs they do.
Pre-season
The first steps are taken are in pre-season, and this is where much of the groundwork for the long and arduous year ahead is done, says Walters: "The priority in pre-season is to introduce a volume and intensity of training to the players.
"The first week is low-risk to make sure we don't break any players. The players who have experience from seasons before will adapt quicker than younger players. The younger guys conversely won't and we have to be mindful of that.
"We look at up to five weight sessions. Four conditioning sessions. Two speed sessions. And that would be in a heavy week.
"Typically, we would look for between six to nine weeks for pre-season. But the senior, well-conditioned players, the Paul O'Connells, they would be able to do a much shorter pre-season because they get up to speed so much quicker."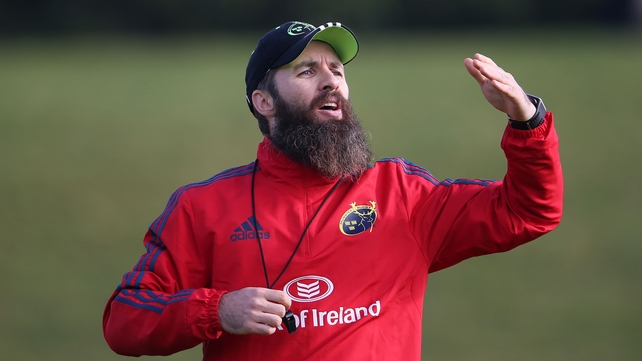 As one would imagine, the various positions require different programmes, all designed to maximize benefits to their roles on the pitch.
"We tailor the content to the positional needs and individual requirements and injury history," says Walters.
"We know some guys would have enough with three weeks so we'd pull back with those guys to make sure we've got a full compliment of players. We try to minimise breaking players by doing that. We also monitor their mood, energy and musculoskeletal condition to reduce injury risk.
"If they are stiff one morning we monitor that. We monitor everything they tell us."
Match-day
Having players in optimum condition come match-day is the goal so the S&C is built around training on the field to make sure the players have adequate recovery time while also gaining the weekly benefit of S&C sessions.
"Whatever we do is done to enhance the performance at the weekend on matchday," said Walters.
"If guys are outside the matchday 23 their schedule is tweaked.We typically only have two days where we have team or squad sessions.
"The turnaround between games also effects the schedule. If we play on a Friday night that gives us Saturday and Sunday where they rest and recover and then they're back in on Monday. We don't really want to do much with them within 48 hours of the game. But sometimes we just have to, but that's adapted then again.
"If the coaches point out the players have a week where they will do a fair bit of contact or a long pitch session then we'd pull back. Quality of work is the priority."
Injured players
While injury is clearly something every player wants to avoid, time on the treatment table can also be used to develop S&C with extra time available away from the pitch.
"Straight away we will assess the lay-off of the injury," says Walters.
"Let's use CJ Stander as an example. In the Saracens game when he injured his ankle we looked at how long he'd be out and what he needs to do in that time off and what kind of player we want him to be when he returns.
"We decided we wanted him to improve strength and get a bit of size back on. We also used the time to improve weaknesses.
"And also the side effect is to provide an alternative focus for players when they are a bit down that they're not involved on match-day."
Close of season
The post-season also has its schedule, so players return in a condition that means they can slot back in as easily as possible rather than having a mountain to climb.
"We're very mindful the guys get a mental break as well. It's been a long season, particularly for those guys who've been involved in international rugby as well," says Walters.
"So, the mental recovery is part of it. But they also come away with a programme that is tailored for that individual.
"We try and be clear with each player what their focus and area of improvement will be.
"They'll get a programmes tailored towards that and we'll set clear goals as well. We don't have any Ricky Hattons here that will go and eat and drink whatever they like."
Supplements
Eating right and getting adequate supplements are part and parcel of any sport and rugby is no different.
"We have a food-first philosophy. And there's a nutritionist on site," says Walters.
"We use supplements as well, but really only protein. Certain guys will be using creatine; certain guys will be using beta-alanine."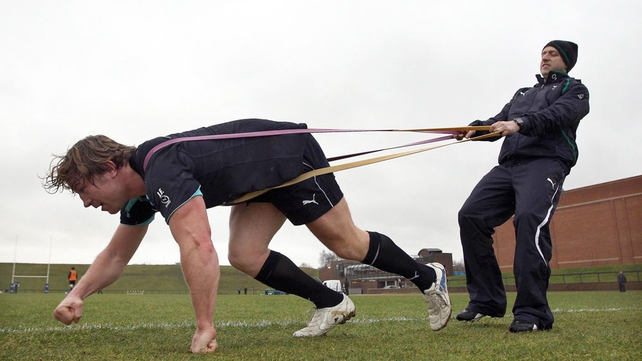 The scrum
Former Ireland and Munster hooker Flannery masterminds the province's scrum and he explains that S&C ensures the players have the physicality to back up technique in order to do damage in the scrum.
"Primarily, you want to be able to get the players into an effective body position bio-mechanically for producing and transmitting power," says Flannery.
"The first thing we look at is the players' flexibility and making sure they can get into those positions. If they can't get into them they're not maximising how efficient they can be as part of the scrum.
"Then you work on their core work, which is really important to deal with the pressures coming at them. They need to be able to hold and maintain a strong core to compromise the opposition.
"After that you generally try to make the players stronger and being able to quickly produce them."
"All of the S&C programmes will be tailored for positions. Basically, you are looking to improve your pushing power. At a higher level the players are bodily aware. But with the younger lads a lot of the pre-season is teaching the younger lads about body position. When you break it down to three-on-three drills it's a lot easier to get across."
Evolution in S&C
Sport is a constantly evolving sphere and Flannery also feels that the current professionalism that has been brought into schools and club teams makes life easier for academy players.
"As rugby is evolving, players are getting bigger and stronger and faster and players are coming in with a much higher training age," says Flannery.
"Now with the way a lot of rugby is run at school level they are lot more acclimatised to a professional lifestyle when they make an academy."
Rule changes
The rule changes to how the scrum hits now, with a more delayed impact after the packs have set, has also changed how players bodies need to be prepped for the rigour of that set-piece.
"In the scrum it used to be about using momentum, but now with the way the players are pre-bound there is a much bigger emphasis on dead-stop strength," says Flannery.
"Now it's about durability and being able to get into a good bind and hold it until the referee lets you hit. That has to be coordinated across all eight forwards."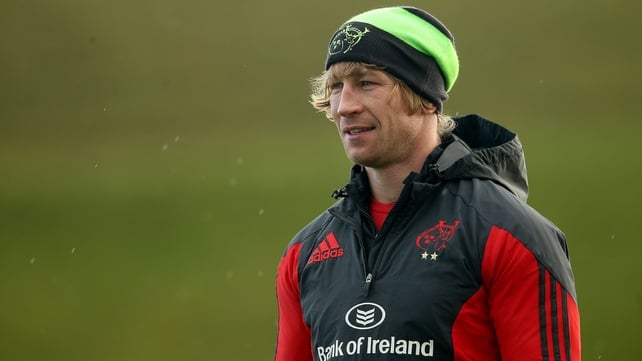 Rugby versus football
Prior to joining the Munster coaching ticket, Flannery was an S&C coach with English Premier League team Arsenal and the opportunity to work in soccer gave him a unique opportunity to see how S&C is different at the top levels of both sports.
"The biggest difference between football and rugby is that rugby is a late specialisation sport because of the contact nature of it. It's only about 16, 17 and 18 players find the position they're going to play," says Flannery.
"Up until then they play a lot of sports, they are generally quite rounded. In football, because it's early specialisation, players are signed on a contract from nine to 11-years-old. There's a huge volume of work but it's very football related.
"They were good on a football field, but some of their movement patterns were poor in terms of deceleration, accelerating, jumping and landing.
"You can walk onto a pitch and play a Premier League game at 16, but there are few lads who could do the same in the Guinness Pro12 because of the contact nature.
"With football you're trying to get them moving well and making them strong. In rugby it's the same but the size thing also applies."