By Tadhg Peavoy
Ireland and France will lock horns at Aviva Stadium on Saturday in round two of the Six Nations, with both sides unbeaten coming into the tie. We spoke to L'Equipe rugby writer Bruno Vigoureux to gauge the mood in France.
Since Philippe Saint-André took over the reins as France head coach Les Bleus have yet to beat Ireland; the sides have met three times, with Ireland winning last year, preceded by two draws, one in Paris and one in Dublin.
With that recent history in mind, and the recent form of both sides taken into account, it would appear sentiment in France has pegged Ireland as favourites to get the job done this weekend.
"It will be very difficult for France to win in the Aviva Stadium. Since Saint-André took over as France coach they haven't beaten them home or away," said Vigoureux.
"France's win against Scotland wasn't convincing, but the players got important self-belief with the victory. It gave them lots of confidence after the defeat to Argentina back in November in Stade de France.
"So, it was important to start with a win for France. It wasn't a great win, but it was a win nonetheless, which gives them a chance in Dublin."
Substitutes' impact
One of the strengths of the France team is their bench, which is packed with talent and superb physical specimens. Vigoureux feels that sending in the subs in the final quarter is key to Saint-André's tactics and France's hopes of victory.
"The most important thing for the French team is to be leading or within a score after an hour," said Vigoureux.
"If they are then the French substitutes can do damage. With Vincent Debaty, Uini Atonio and Romain Taofifenua their key men on the bench. They're very heavy and powerful impact players.
"Saint-André hopes at the death of the game, if it's close, they can win it through penalties won by the substitutes, with Camille Lopez kicking them to the win."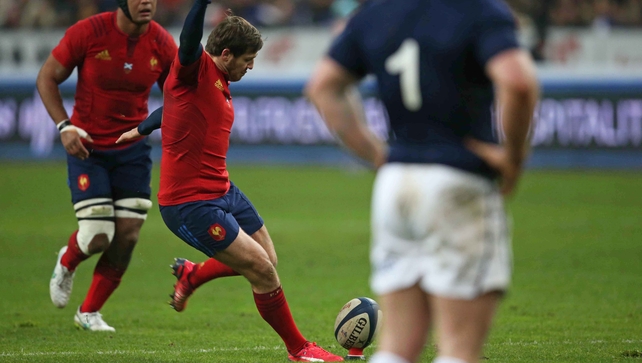 Debaty v Moore
Debaty and Marty Moore faced off last year in Paris when Ireland won the championship, with both players coming off the bench and Debaty getting a distinct advantage over Moore in the scrum.
Leinster's Moore has spoken this week about how he feels better prepared to face Debaty this year. But the worrying news coming from Paris is that Debaty has also improved and could again have the edge on Moore.
"Debaty has improved since last year. He's fitter this season. That's why Saint-Andre has called on him. We weren't sure if he'd pick Debaty or Thomas Domingo. But he picked Debaty because he's a good impact player and can do real damage in the scrum to win penalties late on."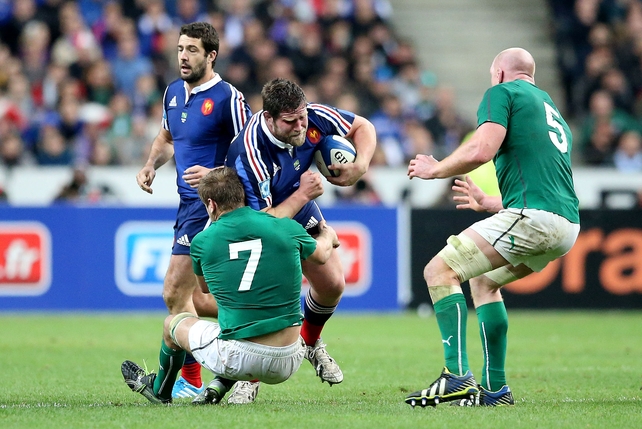 Back row an area Ireland could get an edge on France
One of the major challenges facing Ireland is how to contain Les Bleus' superb back row, where Thierry Dusautoir, Bernard Le Roux and Damien Chouly forming a formidable unit that has power at its core.
But Vigoureux feels that back row could be the area where Ireland get the edge on Saturday, leaving the Irish back line with more possession and space to exploit.
Vigoureux said: "The France back row is excellent. Dusautoir and Le Roux have an excellent defensive game. But there is also an opportunity for Ireland in this area of the game. France's back row play a very narrow game. They don't have a true openside who can cross the pitch and win the ball as well as taking it on himself.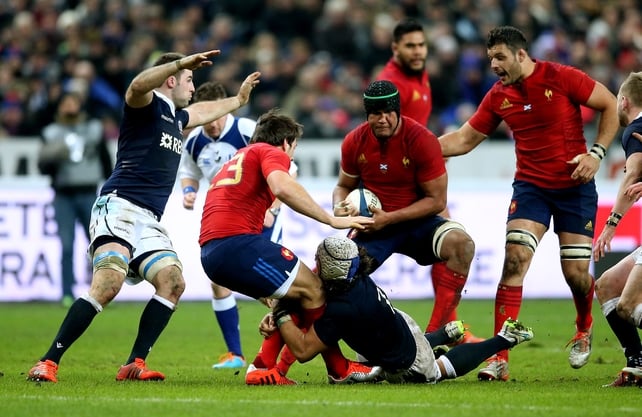 "The French back row are very good tacklers, but as a unit are maybe missing a running openside, which could cost them against Ireland if Joe Schmidt's team spread the ball wide early on."
With all that in mind, Vigoureux feels the game is likely to be close, but that the reigning Six Nations champions could come out on top. But he also feels that the pressure on Ireland as favourites is a tag that won't help them.
"The France team think the pressure is on Ireland and that works against Ireland. They don't play well under pressure.
"That means that France can play without pressure and could win it with open, running rugby. But Ireland are still favourites to come out on top."