By Tadhg Peavoy
Former Ireland flanker Alan Quinlan expects Ireland to play a more creative and expansive game against France at Aviva Stadium on Saturday.
Against Italy in their RBS 6 Nations opener, Joe Schmidt's team adopted a largely conservative and physical approach, but Quinlan fully expects Ireland to unleash more of their attacking capabilities this weekend against Les Bleus.
"I think there is no doubt that Joe Schmidt would have held stuff back for France. Ireland were probably a little bit more conservative in their approach [against Italy], which is a bit more understandable. They were probably a bit more direct and didn't take too many risks," said Quinlan.
"I think it'll be a little bit different on Saturday. They'll try and move France around a bit and play with pace.
"We can score tries. We have many ball carriers and line breakers and that will be the key on Saturday."
"I think there is no doubt that Joe Schmidt would have held stuff back for France" - Alan Quinlan
The result in Rome, a 23-point winning margin, was a decent result for weekend one against the bruising Azzurri, and Quinlan feels there are a number of positives to take from the encounter.
"I think Schmidt will take the positives. He'll certainly look at the game and in the analysis in the meantime he'll probably look at mistakes and errors that Ireland made. Turnovers – they were a little bit sloppy with the ball on occasion. Lines of running, passing on occasion, which he's very diligent on and sets a high standard," said Quinlan.
Tommy O'Donnell and Jordi Murphy filled the openside and No 8 slots on Saturday in place of regular starters Sean O'Brien and Jamie Heaslip and Quinlan praised the duo for how they handled the occasion at Stadio Olimpico.
"Both Tommy and Jordi were excellent on Saturday in a first start in a Six Nations match. And that brings its own pressure. I thought they stepped up really well. One or two little mistakes, but they were probably the two guys with the most energy in the pack," said Quinlan.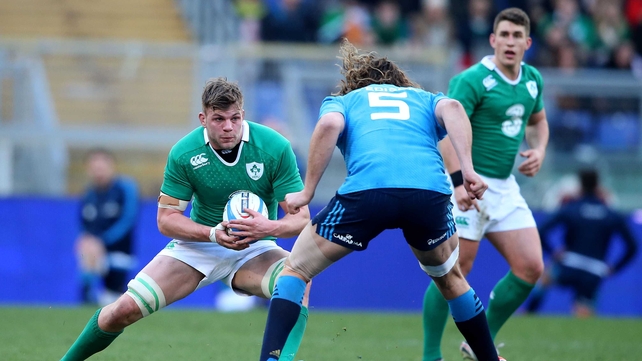 "Certainly in the first half they made a lot of tackles, a lot of carries. The Italians were on their feet a lot, and overall I think we could have been better at the breakdown, and engaged the Italians a little bit more.
"We probably went a little bit wide and one-off runners got exposed a little bit. Both Tommy and Jordi were energetic; they're both very good players. And for Tommy to score a try like that was great. There is plenty of strength in depth in the back row.
The question for Schmidt now is who starts at seven and eight against France; does be bring back the regulars or stick with the new boys?
"It's a tough one. Heaslip starts – no doubt. He has a lot of rugby played this year. If O'Brien starts against France he's a world-class player and any coach would want him the team. But he's only 50 minutes played for the Wolfhounds in five months," said Quinlan.
"I think if you can get a repetition with performance [it's a good thing]. O'Donnell played seven at the weekend so I think he would play seven, even though Jordi can play there. After what he did on Saturday I would go for O'Donnell.
"I think Heaslip has to come in but it's a big ask for O'Brien to come in and play."
France threat
France's back row of Bernard Le Roux, Thierry Dusautoir and Damien Chouly is a very, very impressive one and whatever Ireland back row takes to the field will have their work cut out for them.
"Le Roux is a fantastic player. His form has been exceptional for the last 12 months. He's a great player for them. Dusautoir is a guy a played against so many times. You have to be really on your guard at the breakdown of his threat," said Quinlan.
"They make a lot of carries around the fringes. They have a huge amount of power up front. Sometimes we struggle with physicality and bigger teams so we have to find ways of keeping dynamic and keep pace in the game. That's crucial with France – keeping phases. If you try to run over them it makes it difficult. We probably did too much of that against Italy on Saturday."
The other big selection call is whether to recall Johnny Sexton to the starting XV. The out-half hasn't played in 12 weeks, but has been declared fit for the St Valentine's Day encounter in Dublin. Quinlan says Sexton has to start the tie.
"I think you bring Sexton straight in. I think he would have trained and been on his feet in the last 12 weeks. It's a big ask. But I think we'll get a fresh Sexton. He's probably done a good bit of contact work on the pads and a good bit of work in the gym and fitness work," said Quinlan.
"[Ian] Keatley did well and it was great to see, but I think the gap between Sexton and Madigan, Keatley, Jackson - there is a gap. And Conor Murray and Sexton when they go well are potentially the best half-back pairing in the world."
If Sexton does get the nod at No 10 the other selection issue is whether Ian Keatley drops to the bench or out of the 23, with the versatile Ian Madigan covering out-half, centre and fullback from the bench.
"I don't know it's a difficult one. When you think, if right was right, in the pecking order Keatley drops in on the bench. Madigan drops out," said Quinlan.
"But I feel Joe will put Madigan in because of his versatility. Because he can play centre, fullback. Sometimes versatility makes a player a stronger option on the bench and it counts against him in the team.
"I know Keatley has played at fullback, but Madigan has played there more. Madigan is probably the guy who lost out last week because he hasn't played a lot of No 10 this year, and Keatley has with Murray. It's a tough one and I think he'll probably go with Madigan."
The new RBS 6 Nations trophy and the Triple Crown Trophy visited RTE, as part of the Ulster Bank Trophy Tour, which is travelling across the country this week to celebrate their sponsorship of the championship.