Ireland head coach Adam Griggs says he's proud of how his players rallied around Cliodhna Moloney, following their 20-10 win against the USA on Friday night.
Moloney put herself in the headlines this week when she took director of women's rugby Anthony Eddy to task over his comments on the state of the game in Ireland, before starting for Ireland in their gritty victory against the US.
On Friday, Ireland captain Ciara Griffin gave her support to Moloney, followed by a resounding rallying cry from other teammates on social media throughout the afternoon.
Griggs, who will step down as head coach following next week's Test against Japan, says the events of the last five days have brought the team closer than ever.
"You've seen the social media of a united group and it's probably brought them closer together to be honest," he said after the 10-point win last night.
"It's been a strange week, obviously the attention that's been put on the side is something we've had to deal with.
"You can say it's a distraction but at the same time I think for us as a coaching group with the players we just concentrated on making sure we were prepared and ready to play a test match, and set the team up as well as we can.
"I'm really proud of the squad effort tonight. It wasn't pretty at times and there's plenty for the group to work on, but the result was really what we were after and it was great to come away with that."
The head coach praised the performance of Moloney in particular after her high-profile stance. However he stopped short of backing her comments, when asked if he supported what she had to say.
"She's a human being and she has her opinions and she's free to speak those. She took a course of action she thought was needed and the players have rallied around her really well.
"In terms of getting the message out there and what she wants to discuss brought it into the spotlight and we would never hold anyone back from speaking their minds and having their opinions.
"That's the world we live in and I'm glad that the players have shown the support they have for her and it shows that this is one squad who are united and committed to their common goal of being better rugby players for their country," he added.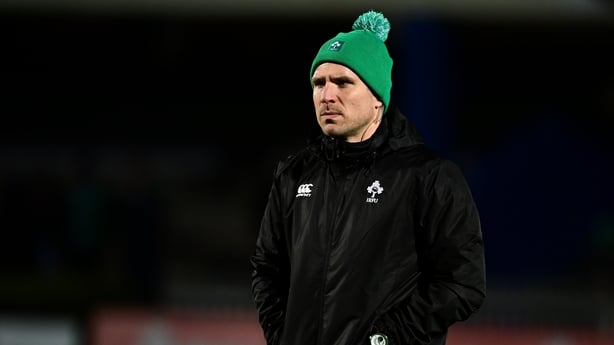 It was the first time Griggs (above) has spoken to the media since the IRFU confirmed his decision to resign last month, with the New Zealander having been in charge since the 2018 Six Nations.
Griggs will move to a new role as an IRFU Provincial Talent Coach for Leinster, with former Ireland assistant Greg McWilliams taking over the women's team ahead of the next World Cup cycle.
The outgoing head coach was also asked whether he believed he had been given adequate resources by the IRFU to fulfil his duties to the best of his abilities.
"Yeah, absolutely," he said.
"I know there's a lot going around at the moment but in terms of structures and frameworks and things like that, that's certainly above what I have been tasked to do, and so my job - in terms of looking after this team and preparing for them for test matches - has been spot on. I've got a really good coaching team with me.
"We've pushed the players as hard as we can to make sure that they understand the level that's required of Test match rugby, and that's ultimately what we're focused on.
"Of course it's been a challenging period, but at the same time I'd like to believe through the group that I've been involved with - I hope - they have taken plenty from me coaching them and hopefully I have made them better players, even if it's just a small moment for them."
While the former Leinster head coach admits it's been a strange feeling taking charge of these games knowing he won't be involved next season, he says he's determined to send the team into the next campaign on a high.
"It's been a difficult period for everyone involved in the squad and no different to myself.
"I've obviously had to take time to reflect on what has been and the work I have put into the group and like anything you've got to take learnings from failure, and that's something I've looked at.
"For us as a group we really hit it front on in terms of what we weren't successful at in the qualifiers, and what we wanted to get out of this block. While I am stepping down, I really felt there was a point to prove for myself with the group, but also with the group to play well, so we've all been really motivated by that in this time."