Waiting for the bus in Ballsbridge at around 5.30pm on Saturday evening, there was still the knockings of a crowd floating about, the final few of 40-odd thousand who had been at Lansdowne Road earlier.
Ireland's 60-5 win against Japan wasn't much of a contest, in large part thanks to a tuned-in Irish team inspired by centurion and captain Johnny Sexton.
The Aviva Stadium wasn't full, but it was still the largest crowd to pack into the ground since February 2020. Between the nine tries, the 18 offloads and the all too rare sight of an emotional Sexton, you would have been hard pressed to find someone in the audience who hadn't enjoyed the day's fare.
As I waited for the number 18, one punter offered his thoughts on the game.
"Can you believe I paid actual money for that? An absolute waste of time!" he cried towards me as he carried on up towards Baggot Street.
In normal circumstances, you'd be inclined to agree that very little was learned from a near-full strength team winning by 55 points.
But regardless of the standard the opposition brought, there was one major lesson learned from Saturday's demolition of Japan: Ireland's players have the skillset to play a fast, attacking brand of rugby.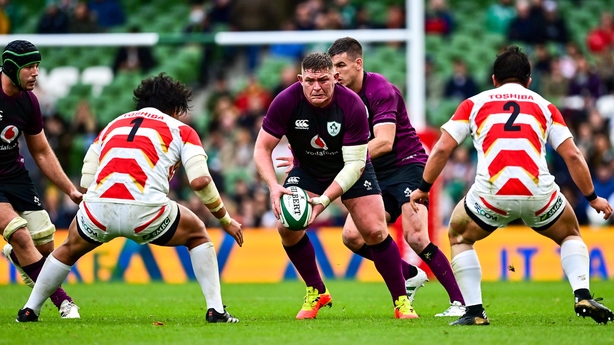 Whether it's against Japan or New Zealand the handling, offloading, distribution, decision-making and support play is possessed by Ireland's players, and specifically the forwards.
The sight of Andrew Porter, Tadhg Furlong, Tadhg Beirne, Caelan Doris and Jack Conan playing rugby that disregarded the number on the back of their shirt was something Irish fans have not been used to seeing.
Similar to the Republic of Ireland soccer team in the years PK (pre-Kenny), the previous argument against expanding their style of play was that the players didn't have the skillset.
For the last decade, structure has been an ally of Irish rugby. When they were at their best, they controlled the game, they dictated the territory, and played on their terms. Players knew their role, and stuck rigidly to it. It was framed as the only way Ireland could negate the natural skills of New Zealand's gunslingers.
For two year now, Andy Farrell and his attack coach Mike Catt have been getting plenty of heat for the way Ireland have approached the game. There would be skill in patches, the first half of the 2020 Six Nations defeat against France in Paris being a good example. But until the final day of this year's Six Nations against England there always seemed to be an inclination to drift back towards familiar structure. On that afternoon in March, Ireland set their benchmark for the future.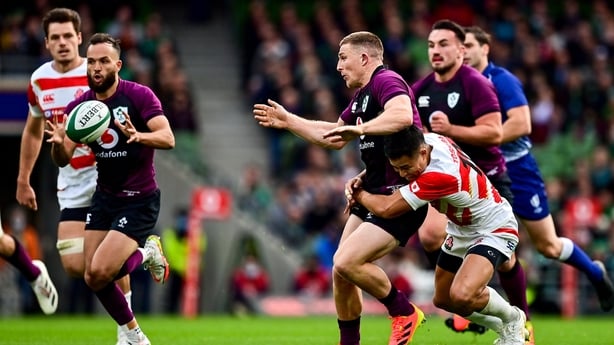 Saturday's win against Japan looked to be a further expansion on that plan. Tight five forwards made themselves available as receivers and distributors, James Lowe continuously drifted in off his wing and popped up in midfield channels, and Jamison Gibson-Park hung off the shoulder of every linebreak.
The belt and braces stuff was still there; Ireland's defensive lineout shut down Japan's supply, the box-kicking was effective and the chasing from Conway and Keenan constantly put the Japan backfield under pressure. There was even an old-fashioned pick-and-go series at the end of the first half which would have led to a try but for a spillage from Furlong. But these were the basics that complimented Ireland's play rather than dictated it.
Of the starting pack against Japan, they combined for 41 passes, 18 higher than their Six Nations average. In their 48-10 win away to Italy in Rome - the most comparable game to Saturday's win against Italy - the starting forwards passed the ball 20 times, their lowest total of the campaign.
If we didn't learn anything else from the game, we learned that Ireland's forwards and backs can work in tandem.
Ball skills aren't relative to the opposition. If you can do it against Japan on a Saturday, you can do it against New Zealand seven days later.
It's not a question of whether they can do it against New Zealand, it's a case of whether they will do it.
Reverting to a low or no-risk strategy against the All Blacks could undermine a lot of the good work that's been accomplished in the last six months.
Ireland offloaded 18 passes in the tackle and box-kicked seven times on Saturday, numbers which don't look sustainable against New Zealand this week.
Even if Ireland execute the basics, it just isn't plausible that Gibson-Park will have the same armchair ride, the New Zealand lineout won't be a rabble, and they will certainly have to kick more. That's not playing safe, it's just a natural result of playing a better opponent.
What will be fascinating to see is the options that the Irish forwards take. Of the starting pack against Japan, they combined for 41 passes, 18 higher than their Six Nations average. In their 48-10 win away to Italy in Rome - the most comparable game to Saturday's win against Italy - the starting forwards passed the ball 20 times, their lowest total of the campaign.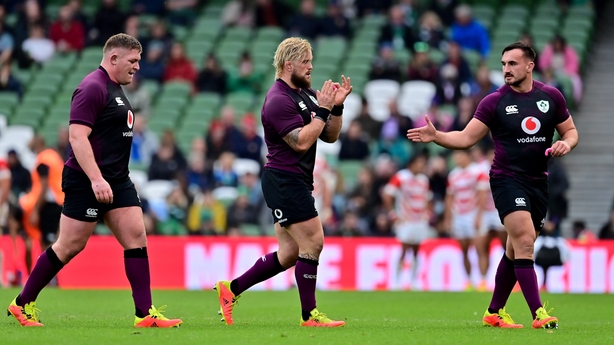 Specifically, Farrell's front row trio of Furlong, Porter and Kelleher look mobile and skillful. Across the Six Nations campaign, the starting hooker and props weren't distributors. Their most generous game in that campaign was in the opener against Wales, when they combined for six passes between the three of them. On Saturday, Ronan Kelleher equaled that on his own. Tadhg Furlong's five passes are more than the combined starting front row managed in the games against England, France, Scotland and Italy.
Andrew Porter may only have passed the ball once in his first Test appearance at loosehead, but in doing so he passed the ball more than Cian Healy did in the entire Six Nations campaign. That's not meant as a slight on Healy, it's an indication of how the gameplan has evolved.
An average of five passes per forward again seems unrealistic when you factor in the increased linespeed and defensive capabilities that New Zealand have, but it's vital that Ireland's forwards don't reach for the comfort blanket of contact when their decision-making time gets cut by a fraction of a second.
It's not a case of one thing or the other, but if Ireland are beaten by New Zealand this weekend while trying to stay true to their recent philosophy, they'll learn a lot more than they would by winning ugly.
Last Saturday showed it's no longer a case of ability. It's a case of belief.
Follow Ireland v New Zealand via our liveblog on RTÉ.ie/sport and the RTÉ News app, watch live on RTÉ2 and the RTÉ Player or listen to national radio commentary on RTÉ Radio 1's Saturday Sport.