Ireland's women face a formidable challenge today as they travel to London for their second and final November international.
The home side haven't beaten their English counterparts since the Six Nations Championship-winning year of 2015 and will be aiming to avoid a sixth consecutive defeat at the hands of the world's second-ranked side (kick-off 5.40pm).
The more recent form book doesn't make for inspiring reading either.
Last week, Ireland lost 19-10 to the USA in Dublin. A week before that, England ran in nine tries to smash the Americans 57-5, though admittedly after the visitors suffered an early red card.
"I guess from our side of things, we have got nothing to lose," accepts head coach Adam Griggs.
"We have to go into this game willing to give it our all, for one, but really have no fear and not let that catch us out, where last weekend with it being the first Test match, it probably caught us up a little bit."
England will become women's rugby's first full-time professional squad from 1 January and head coach Simon Middleton has been taking a wider look at his talent pool in the wins over the USA and, last week, Canada.
Six new caps have been awarded this month, and there are six changes to the team that beat Canada 27-19. Tatyana Heard and Carys Williams both earn just their second caps at centre.
That unfamiliarity might raise Irish hopes of an upset but Griggs is still understandably wary of the World Cup finalists' quality.
"There are players there who have less experience that they are obviously trying through this November," he said.
"It will be a different beast but we know England, they are going to be very physical. They like to use the ball and play some rugby as well. That's still going to be a challenge for us."
Griggs has also made six switches to a team that will be captained by centre Sene Naoupu.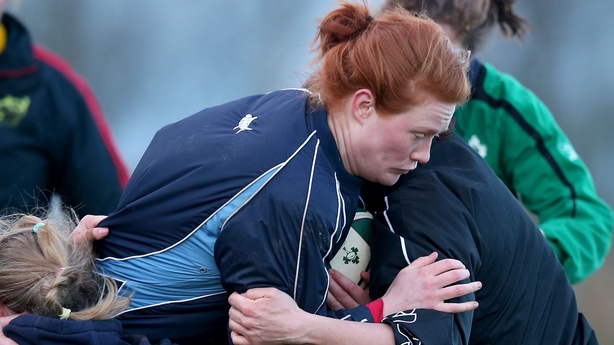 Five of those changes come in the pack. Emma Hooban wins her second cap at hooker, Leah Lyons is in at tighthead and Nichola Fryday comes in for injured Ciara Cooney in the second row.
In the back row, Jeamie Deacon lines up newly crowned Rugby Writers Player of the Year Claire Molloy and Juliet Short, makes her international debut against the country of her birth at No 8.
Sixteen-year-old Beibhinn Parsons, who made her debut off the bench with an eye-catching cameo last week, is again among the replacements.
The game is being played as part of a double-header at the home of English rugby: it will follow the men's international between the hosts and Australia earlier in the afternoon and is included in the price of that ticket.
"We're hoping that there'll still be a crowd from the men's game"
"Obviously what Twickehnam is, the esteem it's held in in English rugby, it's exciting for us to play there," said Griggs.
"We're hoping that there'll still be a crowd from the men's game as well and there's free entry, which is really great from the RFU that they've put that on.
"It is about supporting both Ireland and England in this environment and making sure we get plenty of people in to see this game."
The New Zealander thinks that there is potential to do something similar at the Aviva but he insists he is happy with the support Ireland attract for their standalone fixtures at Energia Park in Donnybrook.
"It's always an opportunity, to do that, but if you look at Sunday and the crowd that we had, we draw a good crowd, we had really good support.
"The beauty of the women's game is it's a tight-knit community. A lot of friends and family know these players very personally. What we had on Sunday was brilliant. We couldn't have asked for better support to cheer us on."
Ireland will certainly need all the support they can get at Twickenham as they aim to put in a performance to build on ahead of next year's Six Nations.
That campaign begins with the visit of England to Dublin on 1 February and breaking the cycle of defeat to the Red Roses would provide a platform for the year to come.
England: 15. Sarah McKenna, 14. Lydia Thompson, 13. Carys Williams, 12. Tatyana Heard, 11. Kelly Smith, 10. Zoe Harrison, 9. Leanne Riley, 1. Vickii Cornborough, 2. Heather Kerr, 3. Hannah Botterman, 4. Zoe Aldcroft, 5. Abbie Scott, 6. Poppy Cleall, 7. Vicky Fleetwood, 8. Sarah Hunter (captain).
Replacements: 16. Lark Davies, 17. Ellena Perry, 18. Shaunagh Brown, 19. Catherine O'Donnell, 20. Marlie Packer, 21. Claudia Macdonald, 22. Katy Daley-Mclean, 23. Rachael Burford.
Ireland: 15. Lauren Delany, 14. Eimear Considine, 13. Sene Naoupu (captain), 12. Michelle Claffey, 11. Laura Sheehan, 10. Nikki Caughey, 9. Nicole Cronin, 1. Lindsay Peat, 2. Emma Hooban, 3. Leah Lyons, 4. Aoife McDermott, 5. Nichola Fryday, 6. Jeamie Deacon, 7. Claire Molloy, 8. Juliet Short.
Replacements: 16. Sarah Mimnagh, 17. Laura Feely, 18. Fiona Reidy, 19. Claire McLaughlin, 20. Edel McMahon, 21. Ailsa Hughes, 22. Ellen Murphy, 23. Beibhinn Parsons.
Follow Ireland v USA this Sunday via our live blog on RTÉ News Now or RTÉ.ie/sport and live updates from Twickenaham on RTÉ Radio 1's Saturday Sport with Gary Moran and Lynne Cantwell