Beibhinn Parsons didn't show it, but there were butterflies in her tummy before Sunday's Autumn Test against the USA at Enbergia Park.
How could there not be?
At 16 years of age, the Connacht back was about to make history by becoming the youngest Irish player to feature in a Test match in the modern era.
With seven minutes remaining, she made her entrance. But that wasn't enough for the Galway teenager. Almost immediately she burst through the visitors' defence and hared for the line, being held up five metres short.
Not quite a dream debut, but an indicator of her prodigious talent on a special day.
"She was a bit nervous... I'm sure there were nerves but afterwards there was a big smile on her face," said head coach Adam Griggs.
"Even the experience of the after-match, where she's handed her first cap and they mention that she's 16 years old. You hear the USA girls going, 'awww!'.
"There were gasps all around the room. She got a standing ovation for that. That kind of buzz is going to drive her on make her really want more."
Griggs has freshened up his panel with plenty of new faces this month.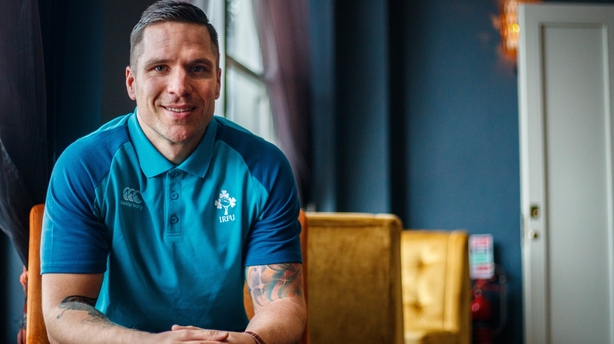 Lauren Delany and Laura Sheehan both started against the USA for their Ireland bows while replacements Parsons and Emma Hooban got their first caps in the second half
Ireland go to Twickenham on Saturday for a daunting meeting with England, a game that's being played directly after the men's Test against Australia. This time Julia Short gets a maiden nod.
It is, insists Griggs, an important period of transition.
"You can see the raw ability they have and what they can do with ball in hand," he said of Parsons and Sheehan.
"A lot of it in this environment is about helping them understand the game a lot more and also realising where they've come from. In international rugby you're not going to get away with some of the things you get away with in club rugby. 
"You've got to work more as a unit, and certainly as a team. That's probably the challenge for them at this time but these experiences are certainly going to help them out."
On flanker Short, who has represented England at Under-20 level, Griggs expanded: "It was a very tough decision to leave her out of last weekend and I think it highlights the strength in our back row at the moment.
"She was always someone we planned on giving time throughout this November window and now she gets her chance starting.
"She's in a different position at number eight but again that's a little bit injury-enforced. If you watched Juliet play in the inter-pros, she brings physicality, she's very dynamic on the ball and we're going to need that to get some go-forward this weekend."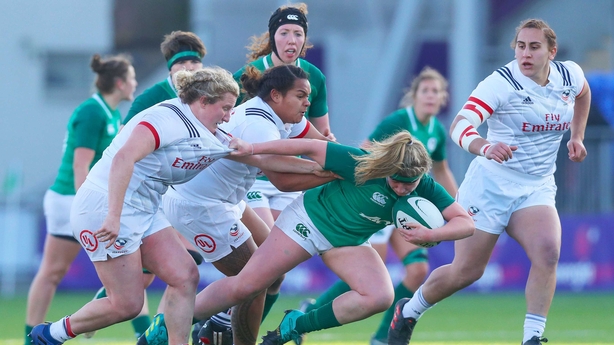 Griggs was disappointed with aspects of the Irish display at the weekend. He wants, and expects, more against the Red Rose.
"Looking at the footage and the review of it, we were probably outnumbered, out-muscled a little bit in terms of the breakdown and trying to create the type of ball we wanted to play off.
"And fair play to the USA, they were very good over the breakdown, certainly their back-row got on more ball than we would have liked.
"From my point of view, the disappointing thing is, we did speak about it but unfortunately we didn't quite put it on the field.
"That's definitely the challenge this week, is that making sure the things we talk about and the way we prepare comes through into game day and in the 80 minutes."