Thousands of fans turned out to greet Khabib Nurmagomedov as he paraded the UFC lightweight belt at a football stadium in his native Dagestan last night.
Nurmagomedov beat Conor McGregor by submission in a much anticipated title defence in Las Vegas on Saturday, but generated even more headlines when he then sparked a brawl by leaping into the crowd to attack a team-mate of McGregor.
On Monday, the champion drew a huge crowd to the 26,000-seater Anzhi Arena, home of the Russian Premier League Anzhi Makhachkala, which he supports.
Fans attempted to invade the pitch to meet their hero but were held back by stewards.
#Khabib Nurmagomedov fans gathered at local football stadium in #Dagestan #UFC229 pic.twitter.com/IaRctSa88o

— Denis Geyko (@DenisGeykoRT) October 8, 2018
INSANE SCENES as #Khabib Nurmagomedov invade the pitch of local football stadium in #Dagestan #UFC229 @TeamKhabib pic.twitter.com/QD7jSfRP16

— Denis Geyko (@DenisGeykoRT) October 8, 2018
Nurmagomedov, now 27-0, could lose some or all of his $2m purse for the grudge fight, which was withheld by the Nevada State Athletic Commission pending an investigation of the post-fight fracas. He is also in danger of being stripped of the belt if he incurs a lengthy suspension.
Following his victory, Nurmagomedov apologised to the NSAC for his actions but expressed bemusement at the backlash compared to what he saw as the free pass given to McGregor for his behaviour in the build-up to the contest.
"I don't understand how people can talk about how I jump on the cage. He talked about my religion, he talked about my country, he talked about my father.
"He came to Brooklyn and he broke bus, he almost killed a couple of people. What about this s***?"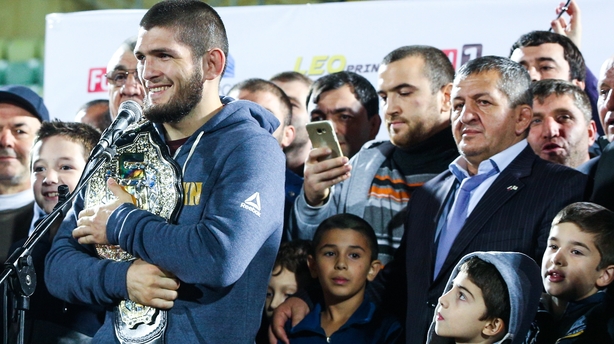 One man who took a dim view of the 'celebrations' was Nurmagomedov's coach and father, Abdulmanap, who did not attend the fight due to visa issues.
"I think that for Khabib, the most severe sanctions would be my regard," he told Ren TV. "I am going to regard this severely. I warned him. For me, the most important thing is discipline. You can do whatever you want in the octagon, but beyond its barrier - this is the border separating civilians, there are children, women, bystanders.
"This fight took place within the octagon. That's the spectacle. But I am categorically against fighting outside the octagon. Outside of the octagon, you need to exist peacefully. Fight in the octagon."
The NSAC confirmed today it was also investigating McGregor. Three men, believed to be team-mates of Nurmagomedov were arrested in the aftermath following an apparent assault on McGregor but were released after the Irishman refused to press charges.
We need your consent to load this Instagram contentWe use Instagram to manage extra content that can set cookies on your device and collect data about your activity. Please review their details and accept them to load the content.Manage Preferences
McGregor took to social media following the defeat, his first at lightweight level in the UFC, to say he was "Looking forward to the rematch" and UFC President revealed yesterday that the Dubliner had already been in touch with that in mind.
"Conor McGregor has already called me wanting an immediate rematch," White told ESPN.
"We'll see what happens with Khabib and what's next," White said. "I mean, Tony Ferguson looked amazing, those two have been lined up to fight three different times and it hasn't happened, so we'll see how this thing plays out."
McGregor was today given a one-month medical suspension from competition by the UFC for injuries sustained in the bout.
By comparison, Ferguson's beaten opponent Anthony Pettis must get clearance from a doctor if he wants to compete before next April.