The Nevada State Athletic Commission (NSAC) has confirmed it will file formal complaints against Conor McGregor following the unsavoury scenes that marked his defeat at UFC 229.
Khabib Nurmagomedov's victory in Las Vegas, which saw the fighter retain his lightweight title, soured a career-best performance by vaulting the cage and attacking someone from McGregor's camp.
Amidst the chaos, McGregor was attacked by at least two men who entered the cage as the bad blood between the camps spilled over.
Nurmagomedov's purse of $2m was withheld immediately, while McGregor's disclosed payout of $3m was paid out.
No arrests were made, but NSAC chairman Anthony Marnell told ESPN that the commission is conducting its own review which will include footage not seen on the night and further interviews.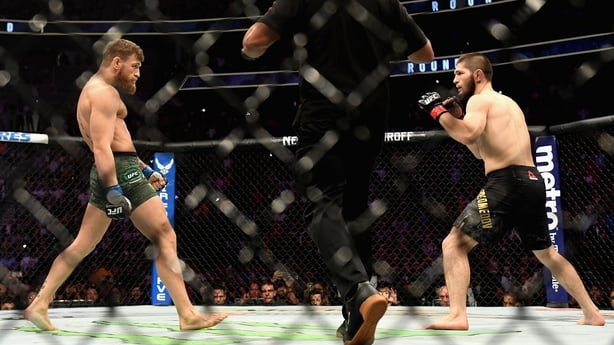 "We will be filing against Conor McGregor and Khabib Nurmagomedov," Marnell said. "Because we withheld one purse, we will have to move expeditiously to a complaint and hearing.
"We have held 100% of one of the fighter's money. Temporary suspensions will be out shortly, and we're shooting for a final hearing date in November."
A statement from the Las Vegas Metropolitan Police Department confirmed that no arrests were made as none of the parties involved wished to press charges.