Conor McGregor has refused to press charges against the men who attacked him in the aftermath of his UFC defeat to Khabib Nurmagomedov in Las Vegas.
McGregor's opponent tarnished his impressive submission victory by leaping into the crowd to attack a training partner of McGregor's. At the same time, several men seemed to strike McGregor in the octagon.
Stunned UFC president Dana White told a press conference: "I saw one of Conor's guys yelling at Khabib and Khabib ran and jumped over the octagon, and went after him. He scaled that thing like he was a parkour guy. It happened so fast.
"Two of Khabib's guys got into the octagon and one of them hit Conor with some shots from behind. That's what I saw.
"There were three guys, I think they were from Khabib's team, I don't know, that were arrested, and they were released because Conor didn't want to press charges.
"He doesn't like Khabib but he didn't even press charges, he didn't care about that whole thing. He cares that he lost the fight."
However crowd footage that emerged after fight appeared to show a different side to the story, and it appeared to show McGregor, sitting atop the octagon, throwing the first punch at one of Nurmagomedov's corner-men who had joined him on top of the octagon.
????? ???? ????? ?? ????. ??? ?? ????? ?? ????-??????? pic.twitter.com/7DtRWJK79m

— Ram Gilboa (@RamGilboa) October 7, 2018
White said that Nurmagomedov could potentially lose his lightweight belt and added that any fighters found to be involved in the attack on McGregor would not appear in the UFC again.
"He's in trouble," said White of the Dagestani. "The Nevada State Athetic commission pulled the footage from us and there's an investigation going on.
"We'll see how this thing plays out. There's going to be fines, God knows what. Can these guys get visas and get back in the country?
"He's probably going to get stripped if it's a long suspension.
"They're going to go after him (Khabib) pretty hard I'm sure. The Governor was here tonight, went running out of the building. That's not good.
"They are withholding Khabib's purse. They are not withholding Conor McGregor's, they looked at the footage and felt there was no need to withhold his.
"The guys who jumped in will never fight here."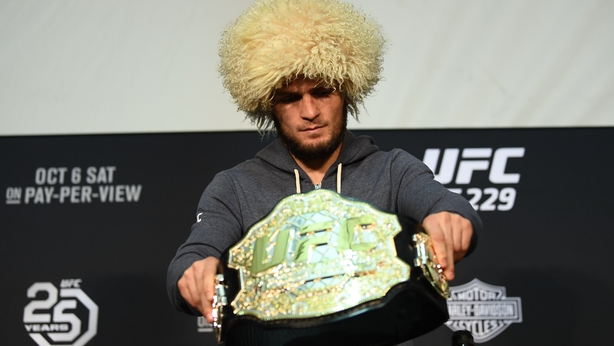 Nurmagomedov apologised to the Nevada State Athletic Commission and Las Vegas but spoke of his disdain for McGregor's behaviour leading up to the fight - including his notorious bus attack in April.
Nurmagomedov said: "First of all I want to say sorry to Nevada Athletic Commission and second to Vegas. I know this is not my best side. I'm a human being.
"But I don't understand how people can talk about how I jump on the cage. He talked about my religion, he talked about my country, he talked about my father.
"He came to Brooklyn and he broke bus, he almost killed a couple of people. What about this s***?"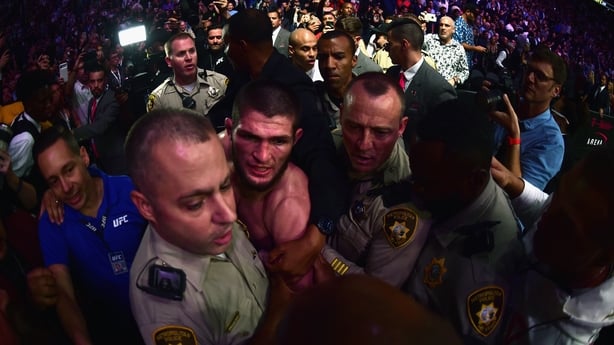 After the fight, Nurmagomedov was led from the arena in a police cordon to angry boos. White said he had decided not to present the belt to Nurmagamedov in the octagon as he had feared a riot could erupt.
"The police did what they could do and the security, they did a great job of containing it.
"I was at the Tyson-Holyfield fight (in 1997), that thing was crazy, it spilled out into the crowd and casino and seemed like it wouldn't stop.
"When it started I had visions of that."
White denied that the tense exchanges between the pair in the build-up, following McGregor's attack on a bus carrying Nurmagamedov, had overstepped the line and made an incident inevitable.
"This isn't the last time guys are going to say mean things to each other. It's the fight business, it's how it works.
"There's trash-talking in every sport. That's never going to change.
"People have been saying mean things to each for 18 years here at the UFC, nothing like this has ever happened. It's the biggest night ever and I couldn't be more disappointed.
"It's not who we are, it's not what we do. It's not how we act.
"It's unfortunate the night that the most people are watching, this sh*t show goes on."