Padraig Harrington feels it is a concern for golf that Phil Mickelson will not defend his title at this week's US PGA Championship.
The six-time major winner's decision to pull out of the tournament at Southern Hills was confirmed by organisers last Friday.
It comes as the American has been taking a break from golf since the fallout from his explosive comments about the PGA Tour and the Saudi-backed LIV Golf Invitational Series breakaway which is spearheaded by Greg Norman, who was last week criticised for comments made at a press event in which he described the murder of Washington Post reporter Jamal Khashoggi as a "mistake".
Amnesty International branding the remarks as "wrong and seriously misguided" amid scrutiny over Saudi Arabia's human rights record.
An author of an upcoming unauthorised biography on Mickelson recently released excerpts from the book in which the golfer called the Saudis "scary" but said he was willing to look past their human rights records to gain leverage with the PGA Tour. He subsequently apologised for the comments.
US intelligence agencies concluded last year that Saudi crown prince Mohammed Bin Salman - the Saudi Arabian government's Public Investment Fund chairman - approved Khashoggi's murder in the country's embassy in Istanbul in 2018.
Speaking to RTÉ Sport's Greg Allen ahead of this week's second major of the year, three-time major winner Harrington shared his thoughts on Mickelson's absence as well as his view on the potential impact of a breakaway.
When asked if Mickelson's decision not to participate at this week's major is very concerning, Harrington replied, "It is".
The Dubliner continued: "I think he should be here to defend regardless of his position and what he's done.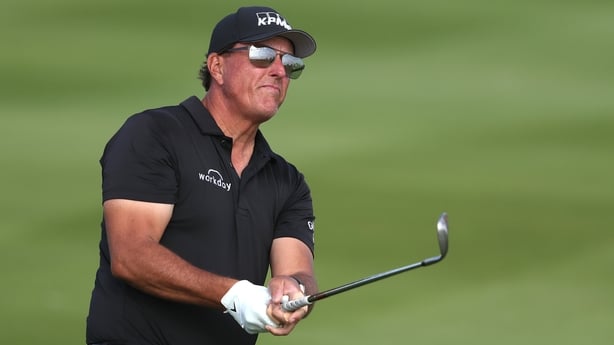 "He's got to own it, be himself and come out here and play golf. For him not playing here, he'll never get this year back.
"I haven't talked to him. I did try, I've tried but I don't think he's ready for that at the moment. I would say, 'Get yourself out here and play golf.'"
On the potential impact of a breakaway, Harrington said he sees "rough seas ahead" for world golf amid the advent of the Saudi-backed series.
Funded by the Saudi government's Public Investment Fund, it will feature an individual and team concept and is set to hold its inaugural event between 9-11 June at Centurion Club outside London with a total prize purse for the eight-event season of $255m.
Mickelson and Lee Westwood are among the players known to have asked for the required release to play the 54-hole event.
Harrington envisages that the DP World Tour will be the "one going to get squeezed the most".
"What is going to happen? Where is world golf going to be? I can understand the European Tour when they turned down the PGL offer originally. They didn't want to rock the boat but that boat is being rocked with pretty rough seas ahead," he said.
"I think there will be at least 30 European players who've gone to look for releases and they're going to be playing for 12 and a half times what they're playing for every week.
"When you start seeing people turn up who you're better than and they're winning $4 million, that will be hard on other players. I can understand why those 30 individuals in Europe, middle of the road players, have gone, 'this is a life-changing opportunity.'"
Earlier this week, Rory McIlroy, who is a among a host of leading players to have turned down the Saudi-funded breakaway, told Sky Sports that it has become "toxic to talk about" the issue.
When asked if there is a toxic element to the debate, Harrington said: "Yes, there's no doubt that the moral side of it has been the low hanging fruit that's been used to beat them back which has come back to bite them because if they go ahead they get over that sort of thing.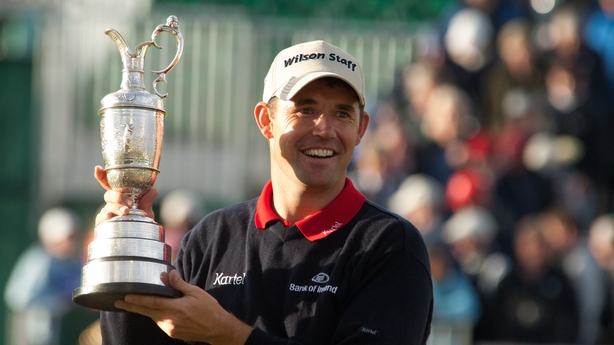 "The players who will go I'm sure after a couple of years will move on. It's not like my own country doesn't do a lot of business in Saudi Arabia. It's not like all the major sponsors don't do business in Saudi Arabia.
"As much as it's been used as a stick to beat those guys and it is a big issue for anybody who is going, clearly time will pass and if they build it and players go, then younger players who have no allegiance to (any tour) - and you've got to think that plenty of Asian players, that's where the growth (of the sport) is at - but young players will go there and know no difference.
"It's not like they've played the European Tour for 20 years and feel like they need to give back. They're starting off. It's a big deal. If they survive the 2-3 years then it becomes normality.
"At the end of the day, the only issue at the table here for the players who are going - because the moral questions, they'll have got over that if they're going - will be do they get world ranking points and will they still be eligible to play the majors?"
Harrington also said he has not been spoken to about participating in the breakaway tour.
"I haven't been offered anything so I don't need to make any decision," he said.
"I'm delighted (that) I don't have to make a decision. Put it like this, it would be tough in five or six years' time if I'm sitting there feeling like I've left 50 million on the table."
Harrington added that the breakaway had been the hot button topic behind the scenes at the Champions Tour's Regions Tradition tournament where he finished runner-up to Steve Stricker.
"It's all that's been talked about. I could hear every table at the Champions Tour last week talking about it," he said.
"If you're not involved, there's a certain amount of drama isn't it? If you are involved, it's interesting and strange times ahead."
We need your consent to load this rte-player contentWe use rte-player to manage extra content that can set cookies on your device and collect data about your activity. Please review their details and accept them to load the content.Manage Preferences