Shane Lowry said he was "bullish" about his chances ahead of the PGA Championship but acknowledged that major weeks always bring their own anxiousness.
The 2019 Open Champion arrived at Southern Hills off the back of a third placed finish in the most recent major at Augusta - as well as a fourth placed finish at this event in Kiawah Island last year.
Refreshed now after a three-week break, Lowry is among those being touted as a possible winner in Oklahoma - however, he acknowledges that golf's unpredictability can bite you.
"I take nothing for granted. It's a fickle game," Lowry told RTÉ Sport's Greg Allen.
"I feel okay but I always go in with a certain amount of anxiousness. You've always got this want to do really well but you need to control that and just go and play your game.
"I feel good coming in here, I feel like I'm hitting the ball well. I feel like I'm doing everything pretty well. I just want to get going, to be honest. Weeks like this can get long and you're kind of waiting for Thursday morning.
"I didn't come here to make up the numbers or to enjoy myself. I came here to try to win the golf tournament. That's the only reason I'm here.
"There's certain weeks where you're happy with a 10th (place finish) because you've not played your best. But weeks like this, I do expect to come here and play well. I expect a lot of myself.
"I'm bullish about my form and the week ahead. But you take nothing for granted because you don't know what's around the corner. I'm just going out and do my thing. I feel good and I'm ready to go."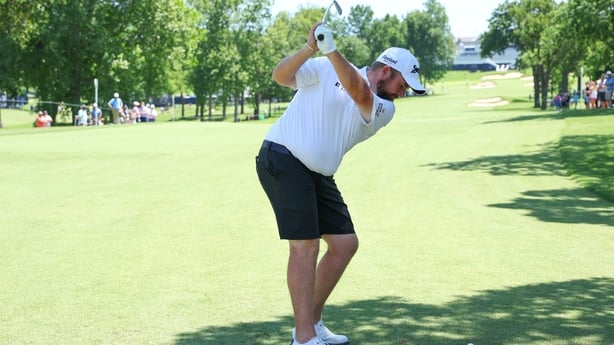 Lowry, now ranked 27th in the world, has been in stellar form in the first five months of the year, with six top-15 finishes from seven PGA Tour events.
However, he's still waiting for his first win since Portrush in July '19, admitting that it has been somewhat "frustrating" to have contended so often in the past year and a half, without getting past the winning post.
In his second most recent tournament before his three-week hiatus, Lowry had a glorious chance to win at the RBC Heritage at Harbour Town Golf Links but for a costly double-bogey on the back nine on Sunday.
"Since the start of last year, I feel like I'm playing a lot of really good consistent golf. I'm feel like I'm knocking off a lot of top-20s, top-15s.
"In some ways, it's been quite frustrating. Because if you finish top-15 on the PGA Tour, you're really close to having a chance to win the tournament. It may not look like that but it does feel like that when you're out there.
"The last year and a half to two years have been really good and I've been playing some nice golf.
"It's not that I don't know what I'm doing differently. Maybe I'm just getting older and more mature. It's nice not to be battling out there and struggling. I did that for a while."
Speaking earlier about his desire to add to his major haul, Lowry said he'd be "okay" if he finished with just the one - but that he was driven enough to want more.
"Obviously I'd love to win more majors, but I don't think that's a given. I think that's just kind of something that you need to go out and work towards, and if it comes your way, you need to take it.

"You get four of them a year, it's hard to peak your game for those weeks. It's hard to peak your mental attitude for those weeks. You just need everything to be in the right place to win those tournaments because it's so hard to win out here in regular events, let alone majors.

"If I was to finish with no more majors, would I be okay with that? Yeah. But I do want more. I am very driven and a very competitive guy. I know I want to win more majors, and I want to win more tournaments."
This week's tournament was to be the first major held at a Donald Trump owned course, originally fixed for Bedminster, the PGA hastily making the switch to Southern Hills in the aftermath of the 6 January riots in Washington.
The course has held seven major championships, the US Open in 1958, 1977 and 2001, and the PGA Championship in 1970, 1982, 1994 and 2007 - the latter being the occasion of Tiger Woods' last triumph in the event.
Lowry is confident the course fits his game.
"It's definitely a place that I can play well around. It's like every major championship, you need to put the ball on the fairway and you need to hit greens.
"And if you don't, you need to leave yourself in the right spots and you're going to need to hole the key and crucial 5, 8, 10 footers for par, at times, and that's what'll determine if it's a good week or not.
"I like the golf course, it's nice. It's exciting to be here and it's exciting to be in the form I'm in.
"I do feel like I'm here and I belong here and that I can challenge. Look, if it doesn't happen this week, so be it."
As a marker of his current status, Lowry is drawn in a high profile group alongside Brooks Koepka and Adam Scott.
"I do prefer when I do get those draws. I like playing with great players and when you're playing with great players and they're playing well, you kind of drag each other on.
"I came out after the Open and I didn't get great draws on the PGA Tour. But you have to man up and play well and the better you play, the better draws you get."
With additional reporting: PA