The walls have been closing in on Donald Trump since he egged on his red-capped goons to attack the Congress last Wednesday.
The Big Tech oligarchs have moved swiftly, and in apparent unison, to cut off the President from his internet fanbase.
After 11 and a half years of breathless, scattergun activity, @realDonaldTrump, the most famous Twitter account in history, is silent. The moderators appear determined we shall never see its like again.
But nothing could have hurt more than the news that his most loyal of constituencies was turning on him.
The New York Times' White House correspondent Maggie Haberman tweeted yesterday that Trump was "gutted" to hear the news that the 2022 PGA Championship was moving out of his course in Bedminster.
The news of the impeachment and all that condemnation coming from politicians and the media, they were mere trifling concerns next to this hammer blow.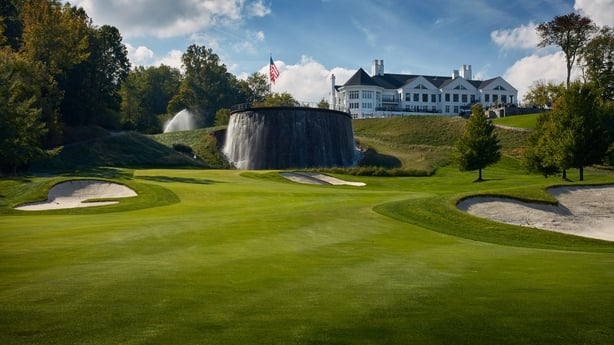 Trump had long fantasised that one of his courses would host a major championship, discussing the possibility with Irish golfer/ US TV wag David Feherty in an interview in 2012. He was advised at one point to change the name of one of his courses if he wanted a US Open there. Alas, this was a red line issue for Trump, who has an incurable compulsion to plaster his name on everything he touches.
In 2014, the PGA blinked and awarded the 2022 PGA Championship to the 'Trump National Golf Club' in Bedminster, his renowned course in New Jersey.
But they've decided, in common with the rest of corporate America, that the scenes in Washington last week were bad for the brand and have taken the decision to switch venues, rather like FIFA did when they took the 1986 World Cup off Colombia and gave it to Mexico again (one can only imagine the state Colombia must have been in at the time for FIFA to say "enough").
This is 11th hour stuff by American golf standards. The 2037 Ryder Cup has already been pencilled in for Congressional Country Club in Maryland. There's planning ahead and then there's planning ahead. You'd have to applaud the golf authorities' serenity that nothing will happen in the intervening 16 years to blow their schedule off course.
We can't be sure which of Trump's kids will be President at that point or whether one half of America will have tried to secede from the other half in the meantime. It's possible that Europe will be taking on the Northern Union of America plus California when the 2037 Ryder Cup rolls around. Although given golf's infamous political associations, it could be the other half of America that will have picked up the baton at that stage.
Professional golf's political leanings are so right-wing that we could nearly characterise the PGA Tour as the sporting wing of the Republican Party. The two are, to borrow a phrase, inextricably linked. To prejudiced European eyes and ears, their leading good ol' boy Senators could easily pass for golf administrators. Mitch McConnell looks and sounds like he should be sitting in the butler cabin beside Jim Nantz. If the GAA was once described as 'Fianna Fáil at play', then we can surely describe the PGA Tour as 'the GOP at play'.
Democrats on the PGA Tour are generally held to be about as numerous as DUP voters on the Crossmaglen team.
In 1996, Sports Illustrated reporter Bruce Selcraig went on an intrepid journey to see if he could discover that rarest of birds - an American professional golfer who was prepared to own up to being a supporter of the Democratic Party.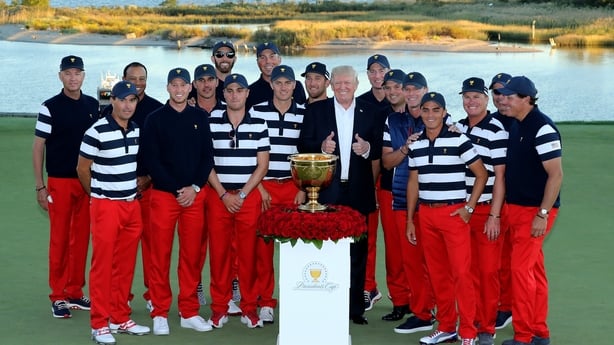 This was an exhaustive and very nearly fruitless search but it did, in the end, turn up one result, 1987 US Open champion Scott Simpson.
The moustachioed Simpson was the only player to vocally support Bill Clinton over Bob Dole in that year's Presidential election, a situation which remained unchanged even after Dole fell off a podium in California.
We don't know whether he was shunned in the locker-room or whether his Cadillac was keyed by hostile peers (the golf fraternity probably wouldn't do something like that), but he subsequently changed his mind. A born-again Christian, Simpson later became a big-time George W Bush fan. (We've seen reports that David Duval and Billy Andrade have since outed themselves as Democrats).
Almost all modern Presidents have played a hell of a lot of golf, though it's only the Republican ones who are regarded with any warmth by the pros. The story of how the 1993 US Ryder Cup team were initially unwilling to meet Bill Clinton is well-known at this point. (We picture a scene where all 12 of them stood posed like Ronan O'Gara while the Queen/ Bill Clinton approached tentatively).
In 1999, US captain Ben Crenshaw, a man who records indicate has donated most of his wealth to Republican election candidates, turned not to the then President, but to Governor of Texas George W Bush to deliver a stirring speech to the team when they were 10-6 behind in Brookline on Saturday evening. This motivational gambit worked out rather better than Stephen Kenny's video in Wembley last November.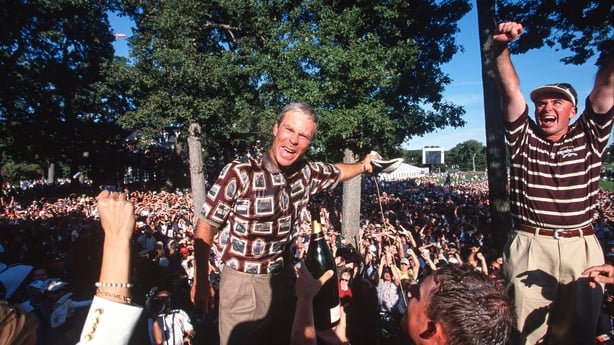 One might be inclined to conclude that these wealthy golf pros' motivation for leaning Republican was financial. That, like the (ultimately liberal-minded) 'Rockefeller Republicans' of old, they were only in it for the low taxes.
But according to writer John Feinstein, who documented the Clinton-1993 team stand-off, in most cases the attachment is also cultural. There's an enormous number of Christian evangelists on tour and Rush Limbaugh - the original, Big Daddy of the right-wing shock jocks who have since proliferated across the US media - is regarded as a valued thought leader.
Some of the non-American players on the PGA Tour were apparently spooked out by the hardcore conservativism of the natives, 2006 US Open champion Geoff Ogilvy later telling Selcraig "a lot of their conservative views are way off the map... there's less tolerance for diversity in opinions over here and people have more blind faith in their government."
And the golf constituency's partiality to the Republican party became even more pronounced in 2016, when Donald Trump became its standard-bearer. This held true across the PGA Tour, the LGPA Tour and the Champions Tour.
A big investor in the game, Trump has milled around high society for so long that there's few on Tour who haven't teed it up with him at some point, with most praising the 45th President's ball-striking abilities.
(Fending off accusations that he "cheats like a Mafia accountant", Trump generally holds the reputation for being the finest golfer ever to lead a country, outside of the late Kim Jong Il. My colleague Ed Leahy has lamented that this was the greatest episode of 'Shell's Wonderful World of Golf' that we never got to see.)
Jack Nicklaus and Nancy Lopez remained vocal supporters of his all the way along, while Gary Player and Annika Sorenstam were content to accept the Presidential Medal of Honour the day after the Capitol riots.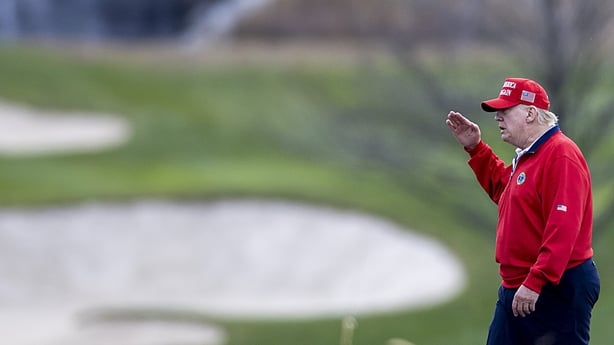 But now the PGA have gotten itchy feet about the association with Trump. Of all the people to turn on Donald in recent days, this is the surest indication that he has gone beyond the pale.
What can he do in reaction? The Trump Organisation came out with the usual lawfare in response, saying the PGA had no right to terminate the agreement.
But others have suggested alternative approaches.
2017 Barbasol Championship winner Grayson Murray - not admittedly a household name - tweeted a possible way forward for Trump - before deleting his account in the ensuing backlash.
The Donald should, he said, stage his own event on the same weekend as the 2022 PGA Championship, and "put up a huge purse the players can't turn down." This, he argued, would force the PGA to stage with a "weak field" (possibly a field so weak that Grayson Murray could conceivably win the thing) or else increase their own prize-money.
It's possible that Trump might be too tied up with other matters post-Presidency to spark a Kerry Packer-style Civil War in the sport. The moment for 'Trump's World Series of Golf' may have come and gone.
But the intervention demonstrated, if nothing else, that not all golfers have turned their back on the outgoing President.