SATURDAY
Munster SFC final
Kerry v Limerick, Fitzgerald Stadium, 3pm
Leinster SFC final
Dublin v Kildare, Croke Park, 5pm
Tailteann Cup
Cavan v Down, Kingspan Breffni Park, 2pm
Leitrim v Antrim, Avantcard Páirc Sean MacDiarmada, 2pm
Longford v Fermanagh, Glennon Brothers Pearse Park, 5.30pm
Sligo v London, Markievicz Park, 6pm
SUNDAY
Connacht SFC final
Galway v Roscommon, Pearse Stadium, 1.45pm
Ulster SFC final
Donegal v Derry, Clones, 4pm
Tailteann Cup
Carlow v Tipperary, Netwatch Cullen Park, 2pm
Laois v Westmeath, O'Moore Park, 2pm
Offaly v Wicklow, O'Connor Park, 2pm
ONLINE
Live tracker on Saturday and Sunday on RTÉ Sport Online and RTÉ News Now app.
TV

Live coverage of all four provincial finals across Saturday and Sunday on RTÉ 2 and RTÉ Player. On Saturday
RADIO
Live commentary from all four provincial finals on RTÉ Radio 1 Saturday Sport and Sunday Sport, plus updates from all seven Tailteann Cup encounters.
WEATHER
Saturday will be dry and sunny. Highest temperatures of 14 to 20 degrees, coolest in the north, with the best values in Munster. Light to moderate northerly winds. Staying mostly dry and sunny through Sunday, there is the chance of a light shower in the north and east. Highest temperatures of 14 to 19 degrees, once again it will be cooler in north Ulster in moderate north-easterly winds. For more, see met.ie.
We need your consent to load this YouTube contentWe use YouTube to manage extra content that can set cookies on your device and collect data about your activity. Please review their details and accept them to load the content.Manage Preferences
Kerry and Limerick renew acquaintances
Installed as heavy favourites for the All-Ireland in the wake of the league final massacre of Mayo, Kerry laboured for long stretches against Cork, before burning off their rivals in the final quarter, winning by 12 in the end.
Jack O'Connor wasn't blown away by his team's performance, though he was content to put it down to the rustiness engendered by a five-week gap. It's been another three weeks since that balmy evening in Páirc Uí Rinn.
Limerick's year, in truth, has gone as well as it could reasonably have gone. Every box that needed ticking was ticked and Billy Lee's side are firmly ensconced in bonus territory.
Promotion to Division 2 and inclusion in the 2022 Sam Maguire race was secured with a final-day win over Fermanagh in March.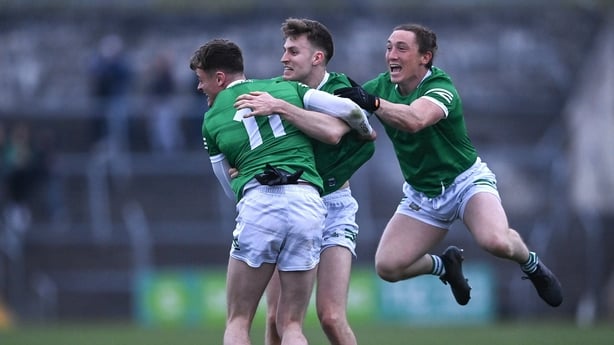 As it happened, they would have qualified for Sam in any event, having reached a first provincial decider for 12 years, after a historic penalty shootout win over Clare and a fairly comfortable semi-final win over 2020 champions Tipperary in Thurles.
It's the first time the pair have collided in a Munster final since the halcyon days of 2010, when the rampaging John Galvin was still the go-to marquee name for ill-informed reporters looking to scribble a few words about Limerick football. Paul Galvin, the previous season's Footballer of the Year, caught up in various disciplinary matters, watched the game from a darkly lit bar in Manhattan. ('Galvinised' is almost certainly still on Youtube).
While Limerick didn't come as agonisingly close to Munster glory as they had six years earlier, the game, played in a blazingly sunny Fitzgerald Stadium (hopefully, more of that tomorrow), was a rip-roaringly competitive encounter and a reminder of a time before the elite had pulled well away from the rest.
Connacht: Rossies widely fancied and home discomforts
The Galway-Roscommon match brings to mind the old line about Denis Irwin. If someone is so widely believed to be underrated, is it still valid to call them underrated? In a similar vein, if so many people are predicting an upset, can it be labelled an upset?
On Morning Ireland, Colm O'Rourke was the latest in a long line of pundits to give the nod to the Rossies. Eamonn Fitzmaurice and Kevin McStay did likewise on the RTÉ GAA podcast. Oisín McConville and Paul Flynn did the same on Second Captains. Galway supporters attuned to media coverage could be forgiven for wondering whether any tipsters are going for them this Sunday.
The prevailing narrative is partly a consequence of Roscommon's proud track record as Connacht's gleeful party-poopers, as well as Galway's long-held reputation for abject carelessness in these situations.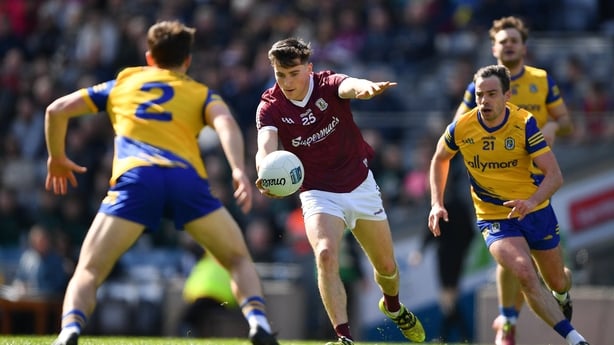 It's questionable whether the conditions exist for an ambush this time around given this background, plus Roscommon's win in the league final. Anthony Cunnigham's side led by five at one stage in the second half before Shane Walsh's introduction changed the tide dramatically, Galway rattling off six in a row, nudging in front before Diarmuid Murtagh's stunning winning goal.
Both attacks are electric, the holy triumvirate of Shane Walsh, Paul Conroy and Damien Comer on one side, the Smith's, Enda and Donie, the Murtaghs, Ciaran and Diarmuid, as well as Conor Cox on the other. Interestingly, McStay suggested that the word in Rossie-land is that Diarmuid Murtagh is unlikely to make the first six.
A further note...
A public service announcement for imperfectly informed bar-stool pundits this weekend. Typically, when tipsters are caught on the fence as to which way to go, they're inclined to throw their hands in the air and simply plump for the home team.
This is not wise practice in the Connacht championship.
Perusing the data, we can see that in Connacht championship games involving any two of Galway, Roscommon and Mayo, stretching back to 2015, the home team has only managed one win in 13 games played on a home and away basis - that being Galway's one-point win over Mayo in Salthill in 2017.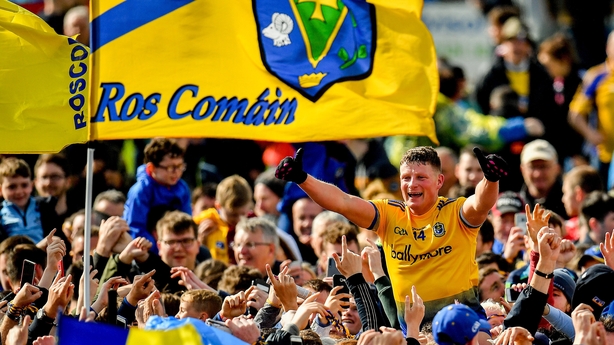 This run excludes a few neutral venue games played in that time, for instance, Mayo's wins over Galway in the Gaelic Grounds in 2019 and in the Croke Park provincial final in 2021, and Galway's victory over Roscommon in the 2016 Connacht final replay played in Castlebar.
Here, in reverse chronological order, is a rundown of that record in home and away fixtures in the past eight years.
2022: Galway win in Castlebar
2021: Galway win in Hyde Park
2020: Mayo win in Salthill, Mayo win in Hyde Park
2019: Roscommon win in Salthill, Roscommon win in Castlebar
2018: Galway win in Hyde Park, Galway win in Castlebar
2017: Roscommon win in Salthill, Galway win (over Mayo) in Salthill
2016: Galway draw (with Roscommon) in Salthill, Galway win in Castlebar
2015: Mayo win in Salthill
This trend, obviously, would have Roscommon fans rubbing their hands with glee. But we need to attach the old trading proviso - past results are no guarantee of future performance.
Ulster: Pick of the weekend
After years faffing around in the wilderness, descending as low as Division 4 not so long ago, Derry's return to the top table was definitively confirmed by their semi-final win over Monaghan in the Athletic Grounds.
It's their first appearance in an Ulster final since 2011, when John Brennan's side were mere roadkill in the face of Jim McGuinness' already remorseless machine. In fact, Derry and Donegal have a habit of colliding in provincial deciders.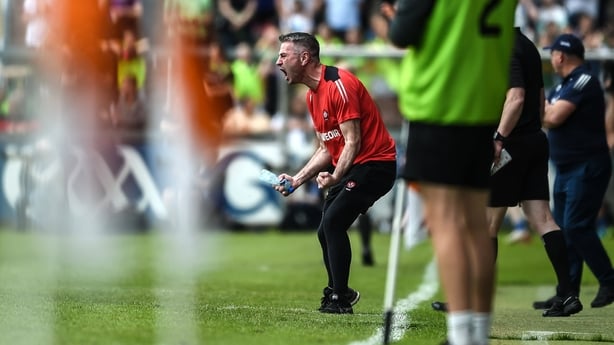 Derry's last Ulster title, in 1998, came against Donegal in a wretched, miserable encounter in Clones, the bull-headed target man Geoffrey McGonigle feeding Joe Brolly for the winning goal in injury-time.
The pair previously met in the 1992 and 1993 Ulster finals, both teams earning a win apiece en route to All-Ireland titles.
Derry, as has been noted plenty, are the story of the championship thus far and are the dark-horse pick du jour. Their startling destruction of the All-Ireland champions in Omagh was followed by another surprise, a five-point win over the legendarily stubborn Monaghan in the semi.
Their manager has caught the eye too, leaping about and hollering on the sideline like William Wallace limbering up for a pitch battle. Rory Gallagher has now taken three different counties to Ulster finals - we'll see whether he can win one this time.
Éamonn Fitzmaurice pinpoints where he feels Donegal will target Derry in Sunday's Ulster football final #rtegaa
Listen here for full podcast ➡️ https://t.co/LMMXmCdthQ pic.twitter.com/LBacgHKy22

— RTÉ GAA (@RTEgaa) May 26, 2022
Donegal manage to be both an extremely known quantity and also strangely enigmatic. Several of their key players - Murphy, McBrearty, McHugh - are on the go a long time, but younger figures like Jason McGee and Peader Mogan impressed against Armagh and Cavan.
Their league form was indifferent though they turned up in rude health for championship, confounding those who thought they were on the slide. In the end, the Ballybofey game was an emphatic re-assertion of their credentials.
They were less sure-footed against Cavan in Clones, a couple of rickety late goals helping them home.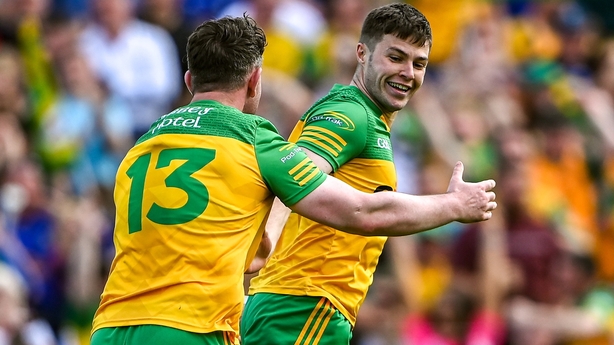 However, in recent years, they've had a nasty habit of shrinking in sight of 'the next step'. Remarkably, Donegal haven't contested an All-Ireland semi-final since 2014.
According to Kevin McStay on the RTÉ GAA podcast, matters are more urgent this weekend for Donegal than their opponents.
"This is a bigger match for Donegal than it is for Derry. This is the line in the sand for Declan Bonner and the management team. And for quite a few of the older players. It's time to produce or leave the table I think. They will find it very difficult to continue into the quarter-finals if they don't have the confidence of an Ulster final [win] behind them."
Kildare getting another crack
During the league, when the Dubs embraced losing for a change and Kildare won the encounter between the pair in Newbridge, folk were bullish about the prospects of seeing a proper Leinster championship - or a proper final at least - this summer.
These hopes have dimmed somewhat in the time since. Dublin, strikingly anemic en route to this stage last year, ran roughshod over both Wexford and Meath - admittedly questionable opposition - in a manner reminiscent of Jim Gavin's heyday.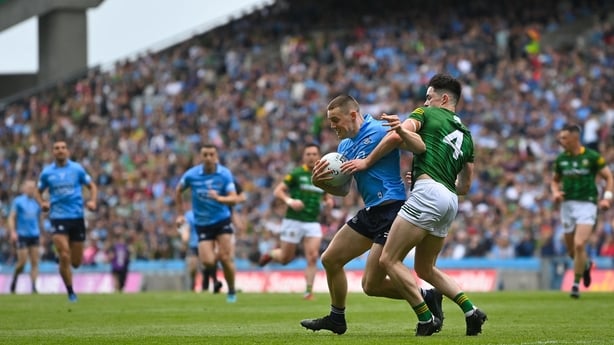 Save for last year's blip, they've been bashing Meath from pillar to post for the guts of a decade. Even by those standards, the semi-final demolition was emphatic. The Dubs didn't register a wide in the first 21 minutes, by which time they already had 0-11 on the board and the game was over well before half-time.
That the margin was only 13 in the finish was down to them easing off the throttle in the final quarter. With Con O'Callaghan, absent for the league, returned to the full-forward line, their familiar cast of A-listers are rolling nicely. Of the new breed, Lorcan O'Dell looked lively against Meath, while Lee Gannon, one of the few bright spots in the league, continued to impress.
Kildare football doesn't appear as psychologically damaged by the ascension of the Dublin empire as their once proud neighbours to the north - arguably a consequence of having no great modern history to wistfully gaze back upon.
After Jacko's abrupt departure last autumn, the county seems more contented and happier in itself under the guidance of a crack-team of county luminaries, headed up by Glenn Ryan.
They were highly credible in Division 1, giving the top tier a right rattle, but fell through the trap-door at the end, courtesy of Monaghan's last-day win over Kerry.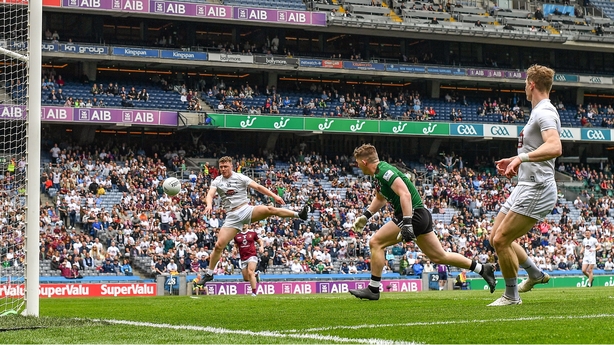 They comfortably dispatched one-time bogey side Louth - perceived again as dangerous opponents - in their first championship outing but the manner of their semi-final win over Westmeath possibly cooled any incipient sense of confidence.
Their attack looked in fine fettle, rattling up 1-21 in total, Jimmy Hyland, Naas' Darragh Kirwan and, in particular, Ben McCormack looking rampant. However, their defence shed 2-15, sparking fears about what an elite team, aka the one coming down the track, might do to them.
Let the Tailteann Games (truly) begin
Offaly and Wicklow survived their preliminary games last weekend, the latter with rather more comfort than the former.
We're really stuck into the meat of it this weekend, with seven games across Saturday and Sunday. Ordinarily, the pick of the bunch would be Cavan-Down, two historic aristocrats of Ulster football, still atop of the province's Sam Maguire roll of honour with five apiece.
But with Down football in a state of hardly concealed disarray, lauded club stars deriding the county set-up, one has to assume that competition favourites Cavan, provided their attitude is right (could hardly be worse), will canter home.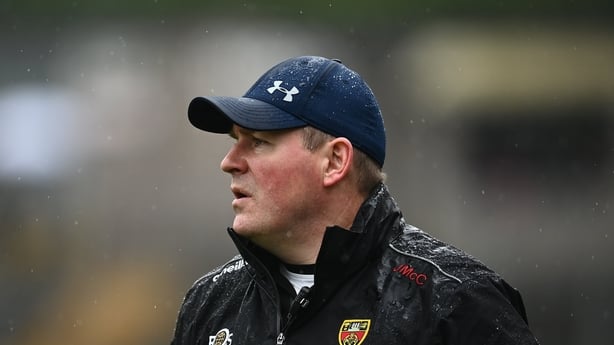 After shipping a hammering against Monaghan, captain Barry O'Hagan announced that they weren't particularly bothered about the Tailteann Cup, though he (perhaps unsurprisingly) did walk back these comments when appearing at the Croke Park launch of the tournament last week.
Apparently rivalling Down in the apathy stakes are Laois, who have endured a torrid year after a bright pre-season. Relegation to Division 4 was followed by a rare defeat to Wicklow in Aughrim on a faintly surreal scoreline. They are at home, at least, against tournament contenders Westmeath but couldn't be fancied on form.
Elsewhere, Longford, whose manager effected supreme disinterest in the Leinster championship at the start of the year, are, according to Mickey Quinn, winding up for a tilt at the second tier comp, with Fermanagh coming to the midlands on Saturday. The pair are deeply familiar with one another from the yearly Division 3 rigmarole.
Andy Moran, having presided over a reasonable league campaign and earned a championship win in Ruislip, was at pains to remain upbeat after his Leitrim side were met with unmerciful slaughter in Salthill. They host Antrim in Carrick, Enda McGinley's having disappointed desperately in their Corrigan Park opener against Cavan.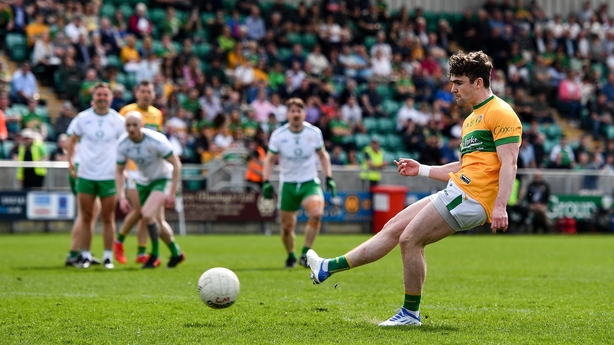 Our esteemed tipster, Colm O'Rourke, does foresee one potential surprise in the offing, fancying Wicklow to take down John Maughan's Offaly in O'Connor Park.
Since manager Colin Kelly departed mid-league, citing work commitments as a reason four months after taking the job, Wicklow have been re-invigorated under the stewardship of Mayo man Alan Costello, inflicting a stunning defeat on Laois. And the concession of goals in Navan may have masked how close they were to Meath, in reality.
The county, while not weighed down by championship silverware admittedly, have demonstrated past prowess in the fore-runners of this event, winning the All-Ireland B championship back in the day and the Tommy Murphy in the late 2000s.
We need your consent to load this rte-player contentWe use rte-player to manage extra content that can set cookies on your device and collect data about your activity. Please review their details and accept them to load the content.Manage Preferences
Listen to the RTÉ GAA Podcast at Apple Podcasts, Soundcloud, Spotify, or wherever you get your podcasts.
Watch Kerry v Limerick in the Munster SFC final live from 2.30pm on RTÉ2 and RTÉ Player, listen live on RTÉ Radio 1's Saturday Sport and follow our live blog on RTÉ Sport Online or the News Now app | Highlights on The Sunday Game, 9.30pm, RTÉ2
Watch Galway v Roscommon and Derry v Donegal live from 1pm on RTÉ2 and RTÉ Player, listen live on RTÉ Radio 1's Sunday Sport and follow our live blog on RTÉ Sport Online or the News Now app | Highlights on The Sunday Game, 9.30pm, RTÉ2