In the end, it was the result everybody expected but not the contest.
For 50 minutes, Cork put it up to hot favourites Kerry in Saturday's Munster SFC semi-final. There was just a point between the teams with 20 minutes remaining before the Kingdom cut loose to win by 12.
"We expected a big battle from Cork and at half-time, there was nothing in it," Kerry manager Jack O'Connor told RTÉ Sport.
"Two points, and around the 50th minute, they'd it brought back to one point. So we really knew we were in a game at that stage.
"But I think we started controlling possession in the middle of the field, particularly on the Cork kickout. That basically changed the flow of the game and we kicked on well in the last quarter.
"We hadn't a game in five weeks. We were a bit rusty. I thought that showed at times, we were sloppy with possession. We gave the ball back to Cork and allowed them to play their running, transition game.
"We hope that we'll tidy up things after today. But we're happy enough. Any day you get out of here with a win of ten points or so is a good day."
Kerry will face Limerick or Tipperary in the decider on 28 May.
"We're happy with a share of things but we know that there are areas we have to improve on," said O'Connor.
"That's what the next three weeks are about."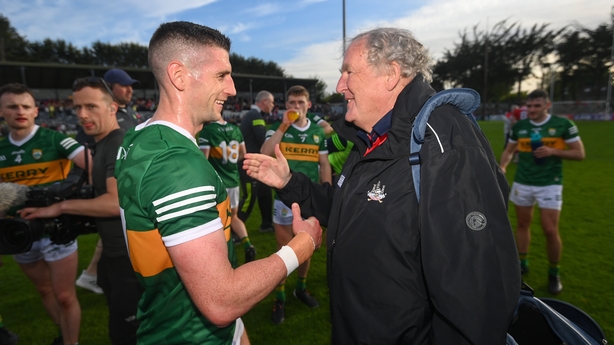 Cork interim manager John Cleary was proud of his players but was left to count the cost as he revealed that goalkeeper Micheál Martin (groin) and Kevin Flahive (knee) both appeared to have sustained serious injuries.
"I thought we gave an awful lot for 50 minutes and we just ran out of legs," he said.
"Kerry are more battle-hardened, they're playing in Division 1. We're not at that level yet but I thought the lads performed heroically.
"They had the class to bring off the bench. Paul Geaney, Micheál Burns, they were bringing on lads who have played at the top for a long time.
"We were still beaten by 12 points, the floodgates opened a bit in the end. But I couldn't ask for any more from the lads and hopefully this will stand to them going forward."