While Shane Lowry was preparing for a major this week, the Offaly footballers were getting ready for what some might consider a minor – but that doesn't mean their paths aren't intertwined.
Last April it was announced that Lowry would become a partner of the Faithful county board, and while the Tailteann Cup was not where they wanted to be 13 months on, the golfer is sure to be checking in on updates of their preliminary clash with Wexford whilst at the PGA Championship – unless he is preoccupied, of course.
Johnny Moloney, the Offaly captain, is delighted that Lowry's support is being sought, even if he hasn't had first-hand experience of it just yet.
"He hasn't done that with senior team, [he] might have done it with underage teams, I am not sure," was his reply when asked had Lowry been into the changing room to provide help with the side's mental preparation.
"Just his support alone has thrown a lot of momentum our way and I am sure going forward, what you are talking about will happen, a small bit of mentoring to the younger squads.
"But look, he has a very busy schedule. Whatever small part he can play is greatly appreciated in Offaly. I am sure that the lads aren't expecting a whole pile from him in that sense. At the end of the day, he is a professional sportsman with a serious career to look after.
"That's number one for him and whatever Shane gives us will be greatly appreciated."
The mental state of Offaly for this tournament will be telling. A narrow loss to Cork in the final round of the Allianz League saw them relegated to Division 3, and opened the door to this new tournament.
It's not where they wanted to be, but manager John Maughan told RTÉ Sport that he expected his players to embrace it, and his captain has backed that up.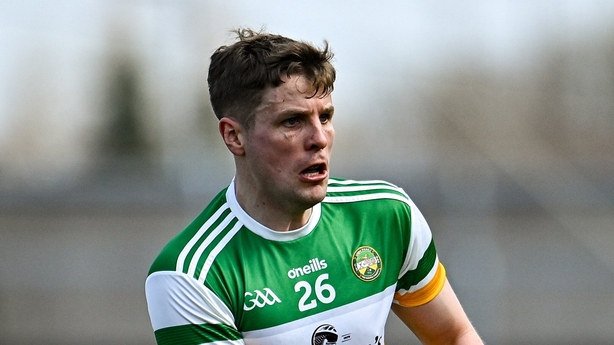 "The Tailteann Cup was never in our minds and it wasn't because it was the Tailteann Cup, it was because we wanted to stay in Division 2. Even saying that, if we stayed up, to be honest, and that was our goal, we would have no business in the qualifiers at the present time.
"I think we will eventually but at the minute, we are two or three years away from that. I think we have a lot of young players who will be able to step up so we can bridge a gap to most teams and be competitive in most games, competitive against all teams hopefully, but not at this moment in time.
"The Tailteann Cup gives us an opportunity to develop something with a view to next season and beyond. If we go well in it, it be a chance to build a bit of momentum so lads are hungry to come in next year and start bridging that gap that I am talking about.
"So no, we hadn't thought about it a whole lot but now that we are in it, it is probably a good thing for this team."
Offaly's second chance of remaining in the All-Ireland race was ended at the first hurdle as Wexford earned a surprise 1-15 to 1-12 win in the Leinster Championship.
Redemption rather than revenge is the word on Moloney's lips as they prepare for another trip to the Model County, this time to Bellefield.
"[It's] not really a revenge mission, but it just did focus the minds because the result actually flattered us down in Wexford. They won by three points but it was a bigger margin than that.
"It is an opportunity not for revenge, but just to redeem ourselves in putting in a better performance because we were very poor the first day and it wasn't of the standard we expect of ourselves."