Offaly GAA has received a huge boost with the news that 2019 Open Championship winner Shane Lowry has pledged his support as a partner with the county board.
An official announcement confirming the partnership was made this afternoon. Lowry will financially support Offaly GAA over the next five years.
Clubs in the county were yesterday informed of the involvement of the leading golfer and Clara native in the county's ongoing development.
Lowrly will focus on helping to support Offaly GAA's commercial and fundraising initiatives.
He will also help improve the county's underage coaching programmes and the development of educational bursaries.
The top golfer is also expected to help develop current and future Offaly players by lending his expertise as an elite sportsperson.
Lowry's GAA pedigree is well-known. His family, originally hailing from Ferbane, are one of the great Gaelic football families.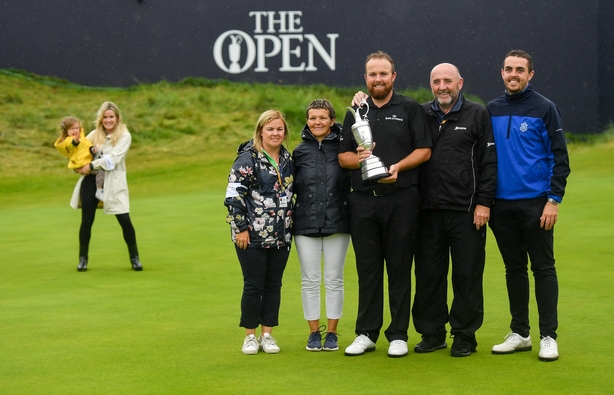 Shane's father Brendan and uncles Seán and Mick won All-Ireland medals with the county in 1982. That famous Offaly side stopped Kerry from completing the five in a row.
Brendan Lowry scored 0-03 in that final, the highlight of 15 years spent representing the county's senior footballers. The display helped him win an All-Star award at left corner-forward.
The news comes at a most opportune time for an Offaly board that has a list of significant projects in the pipeline.
Lowry's generosity also comes shortly after their chairman Michael Duignan told RTE Sport that "a new spark has been lit" within the county after a recent joint venture between the county and its 41 clubs surpassed €200,000.
The figure, stemming from a 5km Grand Canal Walk fundraiser, will be split evenly between the board and its clubs.
At that time Duignan says the five-week campaign not only united the county set-up - but clubs and communities too.
Over 7,000 people were involved in the fundraiser, less than 10% of the county's population.
With a cash deficit facing the board - gate receipts fell from €359,000 in 2019 to €89,000 in 2020 - there are plenty of financial challenges facing the county, albeit with support coming from the GAA via Government assistance.
But there are grand plans ahead - some of which will be assisted by Lowry's help.
In January, there were three people on the county's coaching staff. By January 2022 the target is to have 11 coaches employed.
A new strategic plan will examine all areas of club development, coaching and games, and ensuring financial stability.
Offaly GAA has taken on two coaches in recent times, a Games Development Administrator and a Games Promotion Officer.
Another eight clubs have applied to bring GPOs in and have completed their audits.