Veteran Ben Brosnan turned back the years with a match-winning 1-08 as Wexford rocked Offaly in Sunday's Leinster SFC opener at sunny Chadwicks Wexford Park.
Brosnan lorded matters as Wexford responded emphatically to Offaly springing into a 1-07 to 0-06 lead after 39 minutes as the 34-year-old kicked 1-05 to reassert home authority by 1-12 to 1-07 after 54 minutes and they held firmly thereafter.
And the prize is another home tie against provincial powerhouse Dublin next Saturday after the Dubs were given a searching test by Wexford in last year's championship.
Offaly were nursing the considerable blow of losing the attacking potency of the McNamee cousins, Niall and Ruairí, together with the star of last year's All-Ireland Undere-20 glory Jack Bryant through injury.
Wexford twice claimed the early initiative through Brosnan (one free), with Offaly 'keeper Paddy Dunican and wing-back Colm Doyle bridging those gaps.
A sublime angled Mark Abbott score from the right on 12 minutes gave Offaly their first taste of the lead, and Johnny Murphy (free) doubled it 0-04 to 0-02.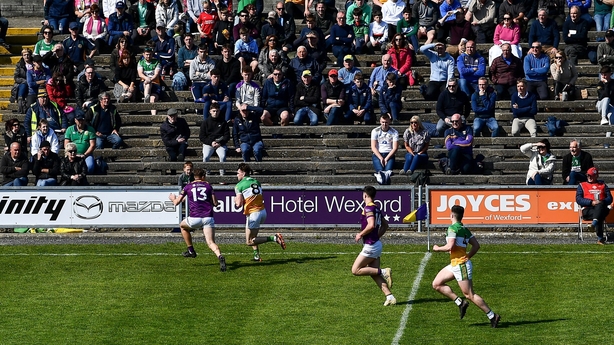 Eoghan Nolan pegged back a mark before Offaly defender Declan Hogan made a goal-saving intervention as Mark Rossiter eyed the town-end net in the 20th minute.
The Wexford goal survived a couple of narrow escapes following a subsequent exchange of points, as Anton Sullivan broke down a delivery to Dylan Hyland whose shot was smothered by 'keeper Darragh Brooks, before Bernard Allen was wide from the breaking ball.
While Brosnan levelled matters for a third time, Offaly were eventually shading matters 0-06 to 0-05 at the break after Bill Carroll completed a counter-attack.
And after exchanging pointed frees on the restart, Offaly applied the first significant blow when Johnny Moloney sauntered through a ball-watching rearguard before offloading to sub Lee Pearson to slot low to the net on 39 minutes (1-07 to 0-06).
Wexford's defiance was decisive as they charged back in front 0-11 to 1-07 by the 52nd minute as Brosnan obliged with four points (two frees) and defender Martin O'Connor also chipped in.
And the Model County evidently had serious designs on bringing the Dubs to town next weekend when midfielder Liam Coleman made a storming advance before offloading for Brosnan to ram home an angled finish (1-12 to 1-07).
Páraic Hughes made it a six-point gap before Offaly threatened when closing to within 1-13 to 1-10 after 67 minutes as Dylan Hyland, Dunican, Bill Carroll and Niall Darby asked questions.
But Wexford 'keeper Darragh Brooks (free) and sub Tom Byrne afforded the locals a 1-15 to 1-11 cushion, and despite losing Kevin O'Grady to a second booking, they closed out the deal.
Wexford: Darragh Brooks (0-01, 1f); Liam O'Connor, Eoin Porter, Martin O'Connor (0-01); Páraic Hughes (0-01), Glen Malone (0-01), Dylan Furlong; Niall Hughes, Liam Coleman; Alan Tobin, Donal Shanley, Kevin O'Grady (0-01, 1f); Ben Brosnan (1-08, 4f), Eoghan Nolan (0-01, 1m), Mark Rossiter.
Subs: Tom Byrne (0-01) for Rossiter (61), Robbie Brooks for Nolan (61), Dean O'Toole for Shanley (68), Seán Ryan for Tobin (70+3).
Offaly: Paddy Dunican (0-03, 3f); Declan Hogan, James Lalor, Kieran Dolan; Colm Doyle (0-01), David Dempsey, Niall Darby (0-1, 1f); Jordan Hayes, Bill Carroll (0-02); Mark Abbott (0-01), Johnny Moloney (0-01, 1f), Dylan Hyland (0-01, 1f); Bernard Allen (0-01, 1f), Anton Sullivan, Cathal Flynn.
Subs: Lee Pearson (1-00) for Doyle, inj. (28), Carl Stewart for Allan (53), Joseph O'Connor (0-1) for Flynn (54), Cian Donohoe for Hyland (64), Conor McNamee for Abbott (72).
Referee: Derek O'Mahoney (Tipperary).