It's 32 years since John Maughan embarked on his managerial career.
Clare were the recipients of all that youthful enthusiasm. The former Mayo player was just 28. Maughan's impact was instant and in 1992, the Banner defeated Kerry to end a 75-year wait for a Munster football title. Further managerial stints with his native county, Fermanagh and Roscommon followed.
Maughan's stint with the Rossies ended rather acrimoniously in 2008; we thought that would be the end of a well-travelled inter-county coaching career. Over a decade later, the Crossmolina native was back, this time accepting the post as Offaly manager. Last year was a high point for Maughan at the helm of the Faithful. Promotion to Division 2 was achieved.
This year the county were looking to kick on. No such progression for now after relegation, albeit narrowly, in the league and a surprise loss to Wexford in their Leinster championship opener. The Tailteann Cup now awaits.
Speaking at an event where Glenisk were announced as Offaly GAA's new title sponsors, Maughan commented on how management has changed since he started out over three decades ago.
"At times, I'd love to throw the GPS system away and unleash myself," he quipped.
"But look, it's more scientific now. I over-trained teams in the past. I know that now. Now, our strength and conditioning personnel monitor that down to the nth degree. There is a greater engagement with players, how they are feeling, are they fatigued after training, what kind of load they are taking.
"So that huge element of science has come into the modern game. We've had sports scientists coming out of every university and campus in the country. They're bringing knowledge and wisdom.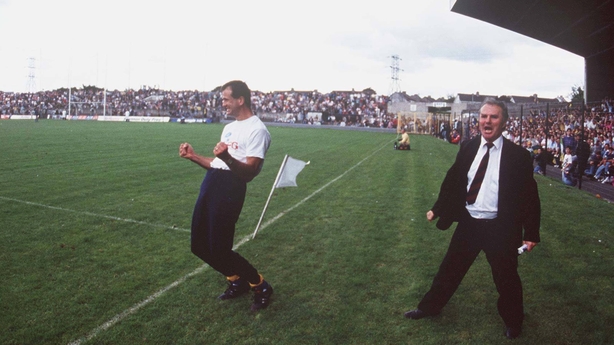 "There is a balance to the whole thing. I know some managers out there of my particular vintage would argue that there is a little bit too much analysis.
"The video analysis can take hours. And at the end of the day, you'd wonder have we really benefitted enormously from all the analysis we do on opposition and looking back on our own games. We didn't have that. Or I had it back with Mayo in the 90s but it was a very crude system back then. We had no GPS.
"So it's a balance. I'm probably old school. I have younger coaches who are pulling me in that direction. And I'm kind of battling a little bit. I'm saying, "I'd love to see these guys pushed a little bit harder in training".
"But then we look at the injury crisis we have. We were supposed to train tonight but because there is a league programme fixed in Offaly tomorrow night and Saturday, we felt on balance it was better to release them back to their clubs.
"I wanted to train them tonight, and let them play tomorrow night, but my scientists and the experts are telling me "John, you can't do that". That's where it's at."
And where it's also at for the Offaly footballers is a venture into the inaugural Tailteann Cup. Maughan is in favour of the secondary competition and believes his squad are also up for it, this after taking a two-week break following the loss to Wexford.
"I went home really encouraged and I get the impression that these guys are going to embrace it and have a real go at winning this Tailteann Cup"
"Thinking on our feet immediately after the game, we decided to take a couple of weeks off," the manager explained.
"So we took a two-week break and we only returned on Tuesday night. And driving up from Castlebar I was kind of intrigued as to what way the lads would be, would they embrace the Tailteann Cup because you listen to some commentators and some players out there denigrating the Tailteann Cup and suggesting it was a losers' competition, something I wasn't in agreement with.
"I arrived in Kilcormac with uncertainty as to how the lads would be and would they all attend training. We only had one guy who opted out of the squad and it wasn't because of the Tailteann Cup – he felt he wasn't getting sufficient game-time. Joey O'Connor was the guy I was referring to there. The others were fantastic.
"The attitude was superb and I drove home to Castlebar after training on Tuesday night feeling good about the whole thing. There was a great bounce at training, I thought we got great intensity in it and I went home really encouraged and I get the impression that these guys are going to embrace it and have a real go at winning this Tailteann Cup."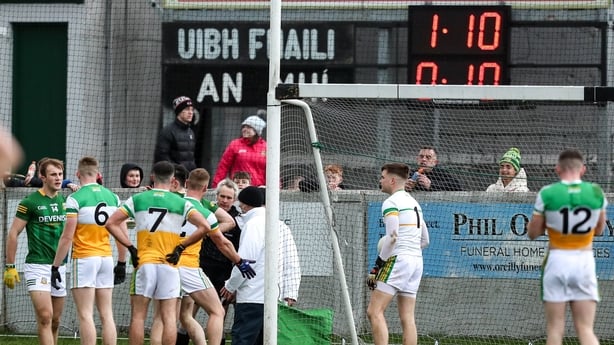 Like others Maughan was surprised that the pairings for round one of the GAA's new competition will be along geographical lines.
"So there is a bit of confusion, which certainly doesn't help," he added. "I wasn't aware of that and I should have been aware of it, to be honest.
"I anticipated an open draw. I thought the Tailteann Cup competition would have benefitted from an open draw. There's an element of surprise and anticipation over who you might get. If it's restricted… I can understand that we had geographical grouping during Covid because of travel restrictions and overnighting.
"I do think it takes from it, being honest. All we have to do is wait and see how it evolves, whether we have a preliminary round on the 21st of this month, I'm not quite sure.
"In my previous roles in both Clare and Fermanagh we won the All-Ireland 'B' championship as well, and I know it really propelled both counties - particularly Clare.
"Winning that All-Ireland 'B' championship was absolutely fantastic for us at the time, it was the first title they won in 70 or 80 years and we got an enormous kick out of it.
"I feel once a Division 3 or 4 team embraces the competition in the way it deserves to be, I think it's fantastic preparation for the following year and a great opportunity to play football and play games; if you are lucky enough to get a run to the semi finals or final.
"I think for the likes of Offaly and particularly Division 3 or 4 teams; and I'm only speaking from my own perspective, I think it should be embraced and I think it's a fantastic idea.
"The weather is getting better, this is the time to improve on your skills and look at younger players, and we have a kind of a shift towards some of those under-20's who are coming onto the stream and I think the Tailteann Cup is absolutely fantastic for the likes of those guys. But yes, an open draw would be more attractive."