At the beginning of this latest stripped down, straight knockout championship, it was widely assumed that the early stages were just the prelude to the inevitable Kerry-Dublin decider.
This was to be either the prolonging of the dynasty into a seventh year or, as many suspected, the handing of the baton to a primed and hungry batch of young gazelles from the Kingdom. Either way, we were going back to the 70s.
There was no great surprise that Mayo and Tyrone were there to accompany the old aristocratic duo in the last four. That same quartet have filled the semi-final spots in every odd year since 2013.
But both were thought to be in the midst of overhaul, to varying degrees.
Mayo had bid adieu to a host of legends in the early days of 2021, one retirement statement after another dropping at the beginning of January.
Keith Higgins, Tom Parsons, Seamus O'Shea and Donal Vaughan were perhaps already halfway out the door in 2020, most having been demoted to the periphery by manager James Horan, who had signalled his determination to press ahead with change. Others like David Clarke and Chris Barrett, however, had started last year's All-Ireland final.
Replacements were ready to go in most positions. Less easy to replace, it was thought, was Cillian O'Connor, laid low by an Achilles tendon injury picked up against Clare in the opening league game.
O'Connor had been a Footballer of the Year nominee in 2020 and had become the leading scorer in championship history after rattling home 4-09 against Tipperary in last December's All-Ireland semi-final. Such a hammer-blow was his absence that it convinced many that Mayo's chances could be almost discounted in 2021.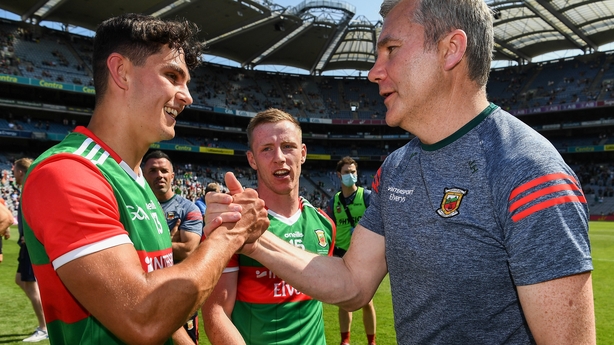 Tyrone, meanwhile, were in a state of flux, settling into life post-Mickey Harte. The three-time All-Ireland winning supremo had seemingly been bestowed with manager-for-life status after the glorious 2000s, but all that hard-earned goodwill whittled away gradually over the course of the next decade.
Harte was struggling to take the next step with a promising generation of Tyrone players and voices in the county were growing restless. He garnered little enough credit for Tyrone's run to the All-Ireland final in 2018, after a somewhat fortuitous win over Monaghan in the semi-final and a demoralising loss to Dublin in the decider.
Following their early exit to Donegal in 2020, the county board finally plucked up the resolve to tell the great man that enough was enough.
Feargal Logan, who had presided over Tyrone's teeth-grindingly contentious 2015 All-Ireland U21 final win, was installed, with noughties great Brian Dooher joining as co-manager.
The dislocation caused by the change in management was as nothing compared to the upheaval they would endure during the year.
The spanking they'd taken in Killarney – where Kerry ran up six goals – indicated they had a road to travel to be marked as contenders. Still, they battled their way through Ulster, making impressively light work of reigning champions Cavan, gained revenge on Donegal, aided by the first-half banishment of Michael Murphy.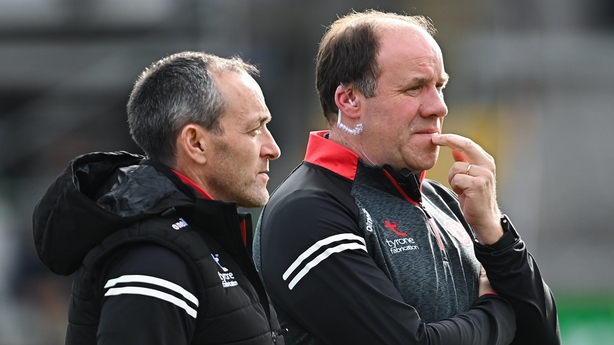 Then, with Covid already beginning to implant itself within the camp, they ground out a narrow Ulster final victory over Monaghan. The shaky manner of the latter win had the effect of dampening any hype before Kerry.
The odds on them pulling off a shock lengthened considerably after what happened next.
Already down three players – as well as joint-manager Logan – for the Ulster final due to Covid, the virus began to spread further within the camp. Word soon filtered out that the camp was riven with Covid-19, half the squad affected.
The GAA moved reasonably quickly to postpone the semi-final, a decision which even then provoked bellyaching from some quarters, given Sligo's forfeit of last year's Connacht semi-final. The controversy wasn't close to being done. Tyrone gradually let it be known that one week wouldn't be enough. Several of their players were still badly affected – one of them in hospital.
On 14 August – the morning of the Dublin-Mayo game – Tyrone moved to escalate the situation dramatically, informing the GAA they would forfeit the semi-final unless it was postponed by another week. It was a daring game of brinksmanship. It's a matter of conjecture whether the GAA would have budged had Kerry not stepped in and made it easier for them.
The 2021 championship was leisurely and fairly predictable fare until the semi-final dramatics. To some degree, everything before the semi-finals appears superfluous.
Mayo's cause looked hopeless in the first half. For the first time ever, Dublin were 'managing' the Connacht champions like they were early summer Leinster Championship cannon fodder. With the forwards jittery in front of goal, the absence of Cillian O'Connor was being badly felt. This was compounded by the loss of 2020 Young Player of the Year Oisín Mullin to injury before the game. A revival seemed fanciful.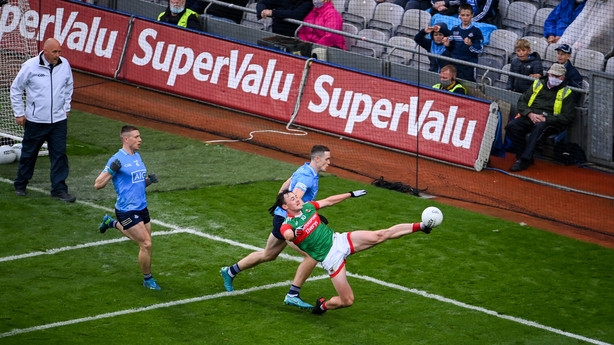 At half-time, as a typically phlegmatic James Horan confirmed afterwards, Mayo opted to come out of their shells a bit more, press the ball in twos and threes to snuff out Dublin's dainty pop passes and voilà – the Dublin machine ground to a halt.
Emboldened, Mayo's new-look team – Padraig O'Hora and Mattie Ruane inspirational, with Ryan O'Donoghue and Tommy Conroy beginning to shine up front – began to overwhelm their opponents. Cillian's brother Diarmuid O'Connor offered probably the most vivid snapshot of their desire, racing across to acrobatically volley a drifting long-range free back into play, from which Kevin McLoughlin narrowed the gap to three points.
In a tempestuous endgame, with Dublin clinging on, Mayo caught them just in time thanks to Robbie Hennelly's last-gasp '45, ordered to be retaken in confusing circumstances.
For extra-time, the unmistakable sense in the ground was there was only going to be one winner. Dublin completely disintegrated, their discipline collapsing as Mayo careered home. They had at last given one in the eye to their oppressors.
Given the circumstances, Tyrone's semi-final triumph was even more unexpected, although somewhat easier to explain.
Viewers would have gleaned pretty early on that Tyrone were not labouring under the effects of any post Covid fatigue or grogginess, or if they were it was admirably well hidden.
Kerry, despite all the mood music about their tightening defence and their insatiable attack, betrayed much the same flaws as they had in previous years. Their attackers made poor choices at key moments and they left yawning spaces in defence, ripe for Tyrone to exploit on the counter.
Tyrone saturated their defence with bodies, before sweeping up the field beautifully. As usual, positions seemed to become interchangeable. By half-time, their goalkeeper and full-back line had all scored, accounting for 0-05 of their 1-07 first-half tally.
Late in the day, as Kerry appeared to be spluttering the way over the line, Tyrone tossed ace-in-the-hole Cathal McShane into the fray. He rustled up 1-03, while Darren McCurry, quiet early on, found his range, notching 0-04.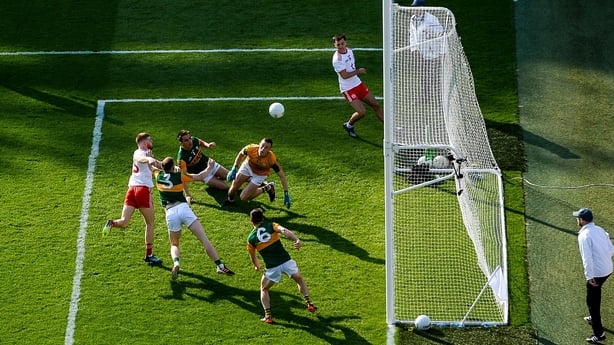 The use of McShane is an interesting conundrum for the management this weekend. Will they stick with named team and ask for a reprise of his super-sub role, or will he be sent in to try and torment Mayo from the off?
Conor Meyler was hailed for his disciplined and selfless corralling of Kerry flyer Paudie Clifford, while man of the match Kieran McGeary harried attackers and charged forward relentlessly.
Mayo's modern history is firmly part of GAA folklore at this point. They've played in ten finals, not including two replays, since 1989 and lost them all, and in every conceivable fashion.
They've been pipped at the post, they've been held at arm's length, they've been hammered. They've frittered away leads and they've been put out of their misery in the first quarter. They've been beaten by modest margins and by immodest margins.
At no point have they entered an All-Ireland final as clear favourites. Perhaps the closest they came to pre-match favouritism – until now – was 1997, when Kerry were seeking to an end an 11-year 'famine' and the most recent meeting between the pair was Mayo's six-point win in the previous year's semi-final.
Now, at last, Mayo enter into a final as slight favourites. Tyrone, like William F Buckley, stand athwart history, yelling stop.
In Mayo, the sense of nervous anticipation is rising as many contact us to ask the dreaded question – "If we don't win it this week, will we every win it?" Their opponents this weekend could hardly been better picked to maximise that sense of unease.
We need your consent to load this YouTube contentWe use YouTube to manage extra content that can set cookies on your device and collect data about your activity. Please review their details and accept them to load the content.Manage Preferences
In recent years, some Tyrone fans had taken to adopting the Millwall chant "No one likes us, we don't care".
But there is a deep, deep respect – and borderline fear – for both their cussedness and game intelligence, a legacy of the noughties and one newly revived after the semi-final ambush.
The combination of Tyrone's stubborn resolve and Mayo's deep history of misfortune in finals has convinced many that the script is written, another agonising defeat for the Connacht side, while Tyrone scoop another Sam Maguire, giving two fingers to their detractors in the process.
And yet, it seems highly unlikely that Mayo will allow Tyrone the same space to attack on the counter as Kerry did. Their defence is combative and energetic. With O'Hora one of the stars of the campaign, the ebullient Lee Keegan still going strong and with Mullin presumably an option from the bench, their backline looks an entirely different proposition to Kerry's.
They've also been given fair warning. There'll be no sense, subconscious or otherwise, that Tyrone will be under the weather.
Former Mayo great Andy Moran assured us during the week that anyone who calls Saturday with any certainty is "bluffing" but, perhaps unsurprisingly, his gut said Mayo. Tentatively, we'll lean the same way, but in the knowledge that things could as easily take off in another direction.
Follow Saturday's All-Ireland senior football final with our live blog on RTÉ.ie/sport and the RTÉ News app.
Watch Mayo v Tyrone live on RTÉ2 or RTÉ Player from 3.30pm.
Watch highlights of all the weekend's hurling and camogie action on The Saturday Game at 10pm on RTÉ2.
Listen to live and exclusive national radio commentary on RTÉ Radio 1's Saturday Sport.