"It is not the most intellectual of the species that survives; it is not the strongest that survives; but the species that survives is the one that is able best to adapt and adjust to the changing environment in which it finds itself."
- Charles Darwin
When teams from the top cohort in any sport meet in battle, the perceived pecking order doesn't necessarily predict outcomes with much accuracy. Often, "styles make fights" and teams trouble opponents in ways they aren't expected to because of a strength or weakness that is exposed by how that team plays the game.
Both Mayo and Tyrone bring their own qualities into this final but a striking similarity between the teams is the number of scores both create from turnovers. They generated 82% and 65% of their score total against Dublin and Kerry respectively in their semi-finals.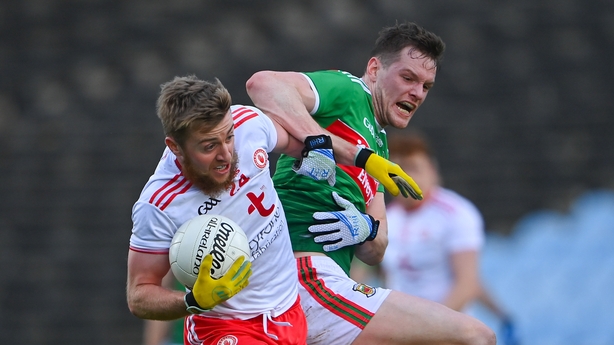 That stat is essentially a measure of organisation, intensity and discipline without the ball and quality on it rolled into one. A decent cohort of teams lay claim to those qualities with the ball or those without the ball but piecing it all together is a huge part of Mayo and Tyrone's success. Against opponents of the calibre of Dublin and Kerry, this aspect of both finalists' play sets them apart as the two best teams in the country in 2021.
Tactical Key
More than ever, this will be a game dictated by possession: How it can be engineered and how well it is used. We know that both teams will punish any ball given away on the front foot but that has to be balanced by bravery and belief to create scores. Paralysis or even hesitation will be a fatal flaw in the cauldron that Croke Park will become for ball carriers.
Mayo have the better long kick-out options overall but Tyrone will offer them the short restart every time. It is a safe option for Rob Hennelly but he has to know that the purpose is to make sure Tyrone have their defensive shape in position by the time the Mayo cross the half way line.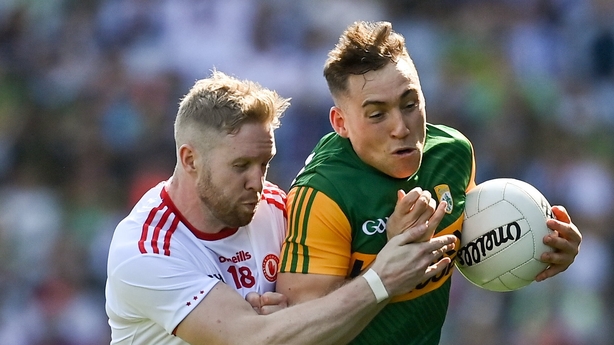 To open up this Tyrone defensive structure, ably marshalled by Frank Burns in the cover role, Mayo have to find ways to get the ball forward quickly. Longer kick-outs are the most impactful way to create those scenarios but those opportunities will have to be carefully chosen.
Kerry made the fateful error of running every ball forward off short kick-outs, which allowed the Ulster champions to scramble into their defensive shape – that is a mistake Mayo can't repeat if they are to find the gaps they are looking for. There will necessarily be a lot of short restarts but even from those, early kicking can take away organising time from Tyrone.
The key physical and tactical challenge for Tyrone, upon which their performance will hinge, is to interfere with and slow down Mayo's build-up. If they can force the Connacht champions to labour through the middle third then they will have created a brilliant platform to win the game.
Match-ups
For the anoraks, the match-ups in this game are fascinating. There will be no tactical blindsides but the subtle tweaking of roles and personnel can drive early momentum and create footholds for possession and scores.
In the absence of Oisín Mullin, James Horan has a physique headache at the back if Mattie Donnelly and Conor McKenna stay close to goal. Assuming Padraig O'Hora picks up Donnelly, then Lee Keegan will likely have to match up with McKenna.
Tyrone will know that Keegan has struggled with physique while marking in the full-back line before and will look to exploit that if the opportunity arises. If McKenna roams then Keegan will be comfortable to track or allow Stephen Coen to do that job. If Michael Plunkett resumes his cover role he will need to be acutely aware of where the mismatches potentially are in each attack.
At the other end, Mayo's pace is what will worry Feargal Logan and Brian Dooher – even with Frank Burns in the vicinity as insurance. Tyrone can't meet fire with fire in that regard and will have what looks like potential trouble with Ronan McNamee and Michael McKernan tracking Kevin McLoughlin and Tommy Conroy. Early supply to either could cause damage.
For the wheel's still in spin
And there's no tellin' who
That it's namin'... #RTEgaa pic.twitter.com/5sT5wVW0Fb

— The Sunday Game (@TheSundayGame) September 9, 2021
Burns will nominally pick up Bryan Walsh then drop off and leave him for the pack to handle.
Perhaps most important is the middle third dynamic of who can contain and hurt opponents in loose play. The athleticism and ball skills of both teams in this sector is phenomenal. It is a mark of the modern game that the result may be decided by who comes out on top in this area.
Tyrone's midfield duo will struggle to contain Matthew Ruane and Conor Loftus over the duration but the inexperience of Enda Hession and Walsh will be severely tested in tracking the firepower that they will have to handle in white jerseys. Missing one tackle or letting a runner go could concede the decisive score at any stage.
Contrasting Journeys
With competitive sport we have become indoctrinated that the flow and outcome of games can be anticipated through the analysis of statistics and previous patterns. There is a lot to be gleaned from what has gone before but a quality that is very difficult to measure that could have a decisive bearing on the result of this year's All-Ireland football final is adaptability.
It is very clear how Mayo are going to play. The Connacht champions know their strengths and believe in them with absolute conviction. As they did against Dublin, they will go after the game in their own style at every opportunity.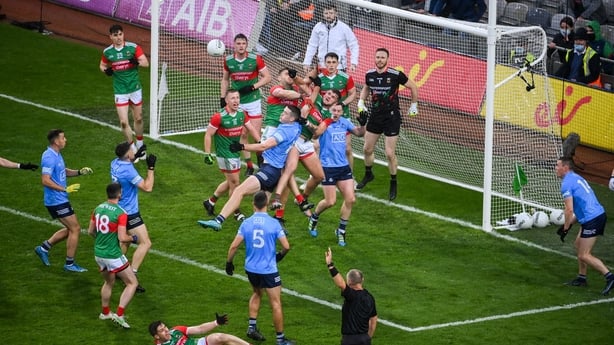 They will move the ball at pace and their link runners will not stop. If there are periods when things aren't going their way they will simply redouble their efforts, run harder in both support and in plugging gaps. They will be relentless in the pursuit of this title.
Tyrone have arrived at here via different journey. They have had to adapt to a variety of challenges that tested the strength of their panel and overall flexibility.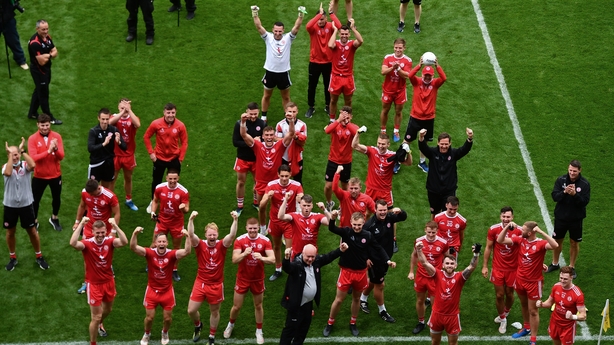 In Ulster alone Tyrone had to navigate the directness of reigning champions Cavan and Donegal's power running to get to the provincial decider. Against Monaghan, with several key players ruled out, Logan and Dooher changed their defensive shape to squeeze the Farneymen's middle third – operating largely without any cover.
Throughout their steady progress the Ulster champions have retained a balance between running and kicking attacks but adapted again in the All-Ireland semi-final to use a more measured counter-attack through the hands to expose Kerry's weakness in defence.
Adapt and Overcome
In a game where so many of the metrics by which we might measure these teams against each other are so close, the determining factor might be something intangible. Both teams have withstood adversity at various times to get to the brink of an All-Ireland title.
Mayo have marched on through the loss of key players to injury throughout the season with the next foot soldier assimilating into the mechanics of the team smoothly each time. They are also the team that finally overcame Dublin.
The aura that has hovered around Tyrone since the beginning of the championship is that they will dig in and compete at every step. They have prevailed through four tough challenges to reach this final and each has been unique in what has been required from them.
If the winner will be the team that best adapts and adjusts to the changing environment in which it finds itself the best, I would expect this Tyrone team to find a way to win – whatever it takes.