When Robbie Hennelly lamped over that 45 to level the All-Ireland semi-final deep in injury-time, the TV cameras zeroed in on a familiar face bouncing up and down in the stands.
"Yeah, I got caught badly, there's no point denying that!" laughs Andy Moran.
The 2017 Footballer of the Year was studiously following the Mayo-Dublin encounter with his pundit hat on for about 55 minutes but this hat was unceremoniously discarded and lay strewn on the ground as the hectic semi-final entered its endgame.
"It was a great moment. It was the first championship game that myself and my wife went to together," Moran tells RTÉ Sport, three days out from the All-Ireland final.
"I was taking stats up to about the 55th minute, but the programme got thrown away from 55 minutes.
"I moved from player to fan in that moment. Seeing Robbie kicking that last score, if that didn't bring any emotion out of me, I don't think anything would have."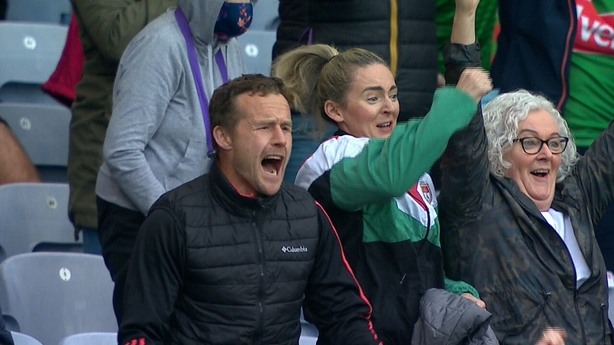 Moran played in six All-Ireland finals in a very long career between 2004 and 2019. In none of them were Mayo considered pre-match favourites.
This time around, it's different, with Mayo given the most tentative of nods by the bookies and the majority of pundits. Their championship record against Tyrone is strong, with four wins from five championship encounters, stretching back to their first meeting in the 1989 All-Ireland semi-final.
As far as Moran is concerned, the final is as close to a 50:50 game as one could possibly imagine.
"Of course as a player you're going in there and you're expecting to win the game. That's what you always do. Every final I was a part of, I always expected to win the game.
"But I would say, this is the most 50:50 game of football I think I've ever witnessed. Maybe I'm a bit too close to it because of my Mayo connections. But it's so 50:50. You can't call a winner in it.
"If you say with any certainty who's going to win this final, I think you're half bluffing. But my gut is saying Mayo. I think the reason is if you go through the teams I think it's so even all through the teams, and I think the one place we hold an advantage is in the middle of the field.
"Mainly because Tyrone have gone with two big guys and I wouldn't be surprised if one of them was changed.
"We play with maybe two half-forwards in along there and I think we can get scores out of there. I think that gives us huge opportunity.
"The beauty of not having Dublin in the game, is that when you go and play Dublin, if you don't play at 100%, you're getting beaten by 10 points.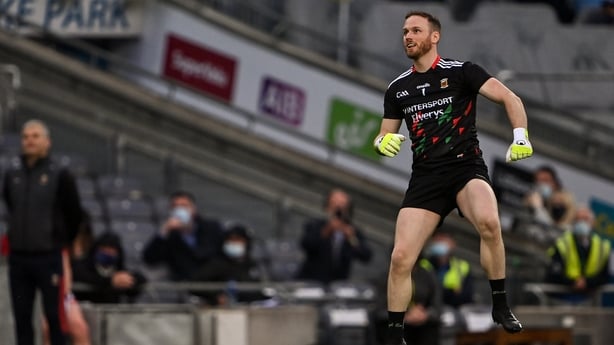 "In this game, both teams are going to make mistakes, there are going to be missed frees, there's going to be turnovers, there's going to be collisions, there might be mistimed tackles.
"When you're not playing a defending champion, that happens because there's going to be so much nervous tension in this game, adrenaline that that creates, you being out of your zone a tiny bit."
Few observers held out hope for this new final pairing in 2021. With Mayo already in transition and missing their totemic inside forward Cillian O'Connor, and Tyrone under new management after a couple of quiet years, it was widely assumed that the provincial championships, and even the semi-finals, were merely the prelude to an inevitable match-up between Dublin and Kerry in the All-Ireland final, in what was prematurely billed as an epoch defining game.
But the aristocrats were shunted into the sidings in the semi-finals, an off-colour Dublin overwhelmed by Mayo in the second half and Kerry, still tactically uncertain, edged out by a characteristically clever and doughty Tyrone in the other game.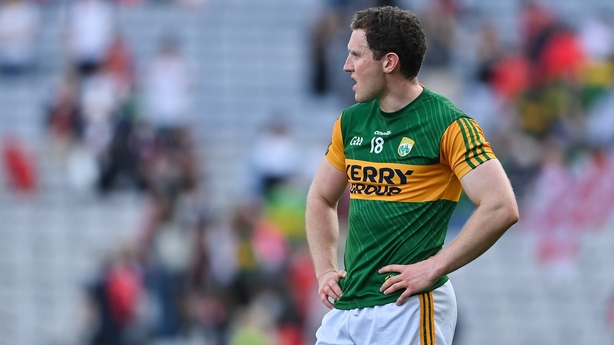 As both Dublin and Kerry re-group and assess the damage, Moran is convinced they won't be down for long, so that brings an added urgency for both teams to seize their chance this weekend.
"My personal belief would be that David Clifford will win All-Irelands. So, Kerry are going to win a few.
"Do I think the fragments of that Dublin team will win another All-Ireland or two? I most certainly do. I think they'll bounce back.
"Will they have the dominance? No, they won't, you can't have that many players leave.
"But if you get Jack McCaffrey back into that team, Paul Mannion back into that team, all of a sudden, you've a serious outfit again. So, them two teams will come back.
"What the beauty of this is that Mayo and Tyrone have shown that there is a way for other teams to come. Offaly in the 20s, Meath in the 17s, all of a sudden now, us as observers can see an exciting future for our game of Gaelic football and it's lovely to see.
"But I do expect that both Kerry and Dublin will bounce back from serious defeats. That's why it makes it more important that both Mayo and Tyrone to go and seize the opportunity when they get it."
The patchy form of captain Aidan O'Shea was one snag for Mayo after their glorious semi-final win, the Breaffy man being hooked after 50 minutes when they were still well in arrears. After an impressive bull-dozing display in the Connacht final, O'Shea had been ineffectual in the semi-final, missing a couple of easy chances, including one mark from the 13m line.
Moran sees a parallel to his own situation in 2013 and argues the downbeat narrative after the semi-final could actually play into his hands for the final.
"I think Aidan had a very similar thing to myself in 2013 when I was captain of the team and got taken off around the same time when I got roasted against Tyrone," recalls Moran. "There was big speculation of was I going to start in the Final or what was going to happen in the final.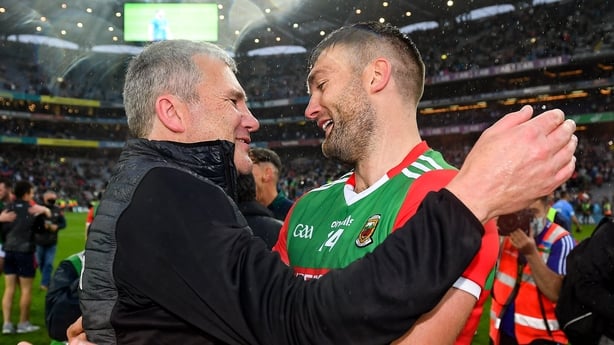 "You have no real choice. If that doesn't take the shackles off, nothing will. People have wrote you off anyway so it just gives you a tiny bit of freedom to go and play. I think it's going to be of huge benefit to Aidan going into the final. I would expect him to have a huge game.
"He usually plays well against the Donegals and Tyrones of this world. He's got an opportunity there because Tyrone aren't going to attack with everyone, they're going to leave Frank Burns or someone there so he has the opportunity to sit in the middle.
"And the physicality of the game is going to suit him. It's going to be a very different game to what Dublin bring or what Kerry bring. I think for Mayo to play well, Aidan O'Shea needs to have a big impact on the game.
"I believe he will, and I think the semi-final is going to help him. What people tend to forget about Aidan in the semi-final, he had three opportunities to score. If he scores them three opportunities, the narrative is very different.
"And people forget that he was in a boot before the game, he was in a boot a couple of days after the game. I don't think it's as big a deal, the Aidan O'Shea issue within the camp, as it is outside the camp."
If Mayo get it done, they will do so, remarkably, without their most high-profile attacker. In Cillian O'Connor's absence, both Tommy Conroy and Ryan O'Donoghue flourished in the semi-final. This was especially encouraging from Moran's point-of-view, as he feared O'Connor's absence would cost Mayo at some point.
"My biggest concern since he went down against Clare is we're going to miss him at some stage. What gives me confidence going into this game was the stage we were at against Dublin. At 63 minutes, I think we had seven, eight points on the board. I was praying, I was just like, 'Where's my buddy Cillian?'
"But yeah, the confidence Tommy Conroy will get with James Horan positionally moving him out the field a tiny bit and saying 'Right Tommy, you still have a big play to play here.'
"He scores his first point late, late in the game, but he scores three of the best points any forward has ever scored for Mayo in Croke Park. In another game under another manager, he could have been sitting on the sideline.
"The key for me in that forward line is Ryan O'Donoghue. He makes everything tick. Outside Mattie Ruane, he's been our best player by a country mile this year for Mayo
"He's been outstanding. Them two guys, their future is mapped out in front of them, but if they win on Saturday, what a career they could end up having."
For the loser now
Will be later to win
For the times they are a-changin'... #RTEgaa pic.twitter.com/4lxdhWPdVm

— The Sunday Game (@TheSundayGame) September 8, 2021
Former Mayo footballer Andy Moran has teamed up with Ireland Active to launch National Fitness Day 2021. This year's National Fitness Day will take place on Thursday September 23rd 2021 and is supported by Sport Ireland, Healthy Ireland and the European Commission, with the common goal of promoting the benefits of physical activity. For further information visit https://nationalfitnessday.ie/.
---
Follow Saturday's All-Ireland senior football final with our live blog on RTÉ.ie/sport and the RTÉ News app.
Watch Mayo v Tyrone live on RTÉ2 or RTÉ Player from 3.30pm.
Watch highlights of all the weekend's hurling and camogie action on The Saturday Game at 10pm on RTÉ2.
Listen to live and exclusive national radio commentary on RTÉ Radio 1's Saturday Sport.