Kevin Bridges once said of Scottish football in its troubled 2012-16 period - "famously, a two-horse race and we've just lost a horse."
Well the consensus after the league is that Gaelic football has gained a horse. Hallelujah! Mayo and a couple others might protest that there are a few more nags in contention than that. But for the majority of observers, it's a case of back to the late 70s, waiting for everybody else to clear off the field so that Dublin and Kerry can contest the big prize.
In the Sunday Independent last week, Eamonn Sweeney went so far as to say that Kerry (and the Galway hurlers) were the team that neutrals "need right now" - a line of argument that was found hard to stomach in some quarters.
The pair have, for the time being at least, "shared" the Allianz League title and what a treasured success it no doubt was for both counties, evoking memories of those Five Nations championships in the 80s before the rugby boys started fretting about points difference.
If Kerry do unexpectedly blow up their season again with a careless performance in Munster, then they will at least have the consolation of knowing that they haven't placed their half of the Division 1 trophy on the line, although it's questionable how much solace they'll take from that in the circumstances. Peter Keane may not feel inclined to bring up the matter in mitigation at the ensuing crisis meeting.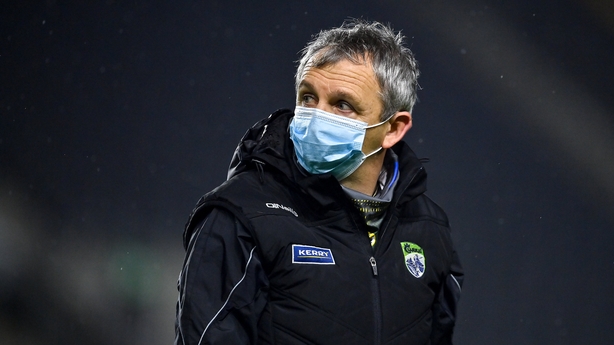 Championship previews of recent years have become a tad repetitive. They've changed little aside from the note of despairing escalation year on year. From 'Can anyone topple the Dubs?' in 2016 to 'Can anyone stop the Dubs?' in 2017 to 'For the love of God, who among you is going to at least give the Dubs a game?' in 2018 to 'Is there any point in the rest togging out?' in 2019.
Since 2018 at least, a vocal strand of the non-Dub population has begun to revel in fatalism, promoting the idea that Dublin may never lose a championship match again and that the county system itself is kaput. This form of commentary is partly aimed at embarrassing the GAA hierarchy for their perceived role in adding jet-fuel to this process. This theory also has the benefit of not having been proven wrong yet.
If they do lose a championship match, you'd imagine that people will spend the aftermath walking around in a state of dazed disbelief, furiously checking and re-checking the scoreline on their news app, repeatedly asking "are they gone now, so?"
It'll be like the Berlin Wall falling or, for the real hardcore anti-Dubs, like the time the Saddam Hussein statue in Baghdad came down and the natives bashed it with their sandals.
But now people are tentatively beginning to wonder if the end is in sight.
If not now, then soon. If not now, soon...
As the shortened league progressed, the ranks of Kerry believers swelled and the naysayers dwindled.
They approached the league with the ferocity of men who've spent the last six months stewing on the Cork game, flogging themselves nightly until the chance arrived to make amends.
Against Galway and Tyrone, they racked up the kind of scores usually seen when a top tier hurling county takes on one of the Christy Ring teams. In previous years, you might have worried about peaking too early but the specific timeframe that applies in 2021 seems to negate that hypothesis.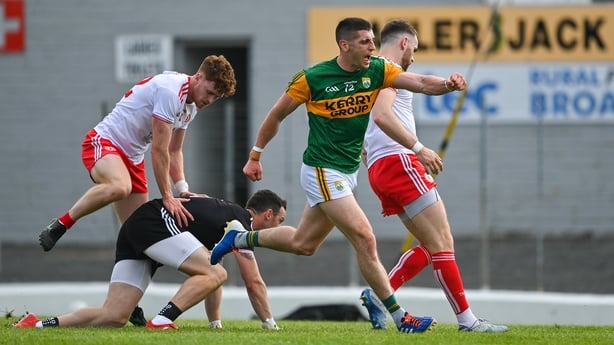 Their attack is running riot with increased regularity. Needless to say, David Clifford is decorating every game with brilliance. Gavin White is terrorising defences with his raids from wing-back. Paul Geaney - almost a veteran now - plundered a couple of goals against Tyrone. They can still afford to deploy Killian Spillane as the most impactful of impact subs.
Even our esteemed analyst Aidan O'Rourke, who for the past couple of years has responded to every supersonic Clifford display by doggedly insisting that Kerry's defence still wasn't up to scratch, is coming around to the idea that the game's historic aristocrats are inching closer to toppling the empire.
The traditional efforts are being made to play it down. Keane, as noted before, is not only the Kerry manager but is also doing an impression of a Kerry manager that you might see on the stage in the parish hall in Cahirsiveen.
He spent the league responding to every 24-point win by sighing that it was right in the mixer until the end there, and that when you think about it, there wasn't much in it save for a goal or six, and that sure, when all is said and done, you couldn't be reading too much into any of it anyhow.
On the whole, his act is probably too blatant and unsubtle to represent a sincere attempt to play down expectations and seems largely to be done for his own amusement.
The Kerry fine-tuning continues apace. But what about the champions? For years, their supporters have been anxious to insist to demoralised rural-dwellers that this was merely a transient generation of great players passing through.
Until now, their departed greats have all proven remarkably replaceable. But so many of the totems of the 2010s have now moved on.
Jim Gavin is gone. Wing-back free spirit Jack McCaffrey is concentrating on other things. Paul Mannion, possibly Dublin's best forward in 2019, has stepped away from the inter-county grind.
The Dublin camp tell us that Stephen Cluxton is hanging around although there's still lingering confusion on the matter. It would be in keeping with the media approach of the game's greatest goalkeeper if he was to retire without telling anyone - "the biggest relief for me was leaving the WhatsApp group" - although, as of now, we have to assume he's still available for selection.
One suspects Clucko subscribes to the John Giles school of thought, Gilesy never quite understanding the phenomenon of players "announcing" their retirement. As Ireland player-manager, Giles played on until he thought himself needed and thereafter simply stopped picking himself.
For the doom-mongers, it's naive to think Dublin will be weakened merely by the departure of their greatest players and they routinely lampoon the 'golden generation' brigade for assuming that Cluxton and co's successors won't be able to kick snow off a rope.
At half-time in the Kerry-Dublin league game in Thurles, neutrals were probably rolling their eyes and mentally writing off the 2021 campaign as another Dublin procession.
By the end, Kerry had erased a seven-point deficit and there was heady talk that the match-up was inching closer to 50:50 territory.
People might intrude at this stage and point out that this talk is reminiscent of... last autumn.
It's hard to recall now but there was a feeling ahead of the delayed 2020 championship that - new decade, new Dublin regime and all that - the time had come for Kerry to wrench back Sam.
That came tumbling around their ears on 8 November, Kerry emerging by a distance as the most shocking casualty of the new jeopardy-infused provincial championships.
In Páirc Uí Chaoimh, Kerry played in a curiously inhibiting and defensive fashion, ill-suited to the challenge before them - as if they were war-gaming a match against Dublin rather than playing a match against Cork.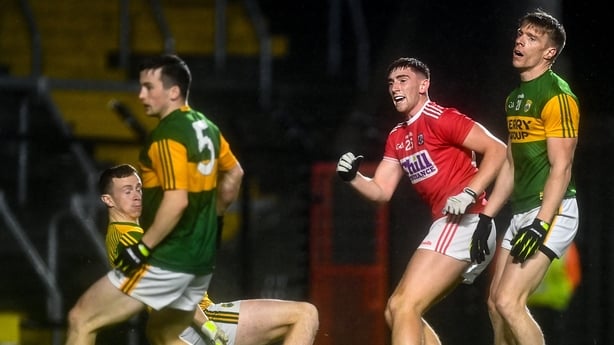 It feels inconceivable they could make the same mistake again.
In Mayo, James Horan appears to be affecting a seamless transition between one generation and the next, but the loss of Cillian O'Connor - who carried most of the scoring load in 2020 - is a hammer blow.
The hype train has grown impatient of Donegal's continued failure to reach the last-four. Galway have more talented but samey forwards than they know what to do with and have only won one game in six since the pandemic. Tyrone have just shipped six goals in Killarney.
Kerry aren't particularly well-cast in the role of plucky upstart. On this week's RTÉ GAA podcast, Sunday Game producer (and Cork man) Rory O'Neill said: "To my mind, Kerry coming to replace Dublin is a bit like Voldemort replacing Darth Vader."
But there's no one else qualified for the role.
Follow all the championship matches this weekend with our live blogs on RTÉ.ie/sport and the RTÉ News app.
Watch Down v Donegal and Clare v Waterford live on RTÉ One (from 12.55pm) and see highlights of all the weekend's action on The Sunday Game at 9.30pm on RTÉ One.
Listen to live and exclusive national radio commentaries on RTÉ Radio 1's Saturday and Sunday Sport.
We need your consent to load this YouTube contentWe use YouTube to manage extra content that can set cookies on your device and collect data about your activity. Please review their details and accept them to load the content.Manage Preferences
Listen to the RTÉ GAA Podcast at Apple Podcasts, Soundcloud, Spotify, or wherever you get your podcasts.