"It's never boring to do well. I think in most any sport, the final analysis submits that it's the better defensive team that wins". - Coach Wooden
Inevitably, the "Kerry for Sam" proclamations gathered pace over the weekend after the Kingdom's demolition of Tyrone in this year's opening Allianz Football League semi-final.
Posting 6-16 against top four opposition will always demand attention but the nature of Kerry's attacking play will have sat a lot of people upright in their seat.
Despite the pace, creativity and finishing power on display in Killarney, the prospect of an All-Ireland challenge may now be stronger than ever in recent years for a more fundamental reason.
Dublin's Iron Grip
It is well established within team sports that attack wins you games and defence wins you titles. In recent years it has been a constant lament that this potent Kerry attack is not underpinned by a defence capable of holding Ciaran Kilkenny, Con O'Callaghan, Dean Rock et al.
From the beginning of Peter Keane's tenure, the coaching staff have been searching for a formula that would retain the natural attacking quality their personnel promise but marry it to an ability to close opponents down.
Their collective defence has consistently been an Achilles heel in the games that matter.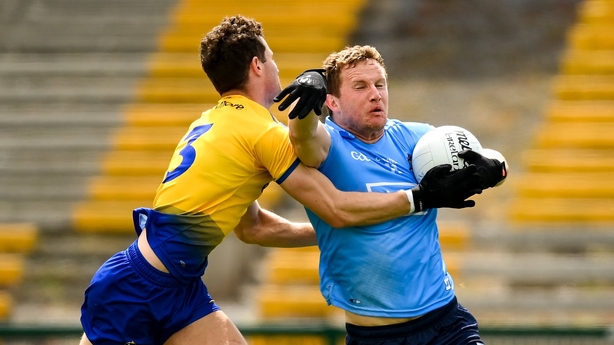 The balance of the attack / defence scale was skewed badly in 2020 as Kerry blunted themselves with a deep lying forward line in an attempt to reinforce the gaps left by their lack of quality at the back.
Setting up camp inside their own half served only to give Cork time to build their wall that fateful night in Páirc Ui Chaoimh.
On the evidence of this league campaign, Keane's search may be over as Dublin's iron grip defensively has shown significant signs of wear and tear.
Drop in Standards
In Jim Gavin's last three years, Dublin averaged a concession of 12 (2017) and just above 14 (2018 and 2019) points per game. Their attack was perched on a granite foundation.
Over the last two league campaigns under Dessie Farrell, that concession average has crept up to 16 (2020) and over 18 points per game (2021) as they experiment with personnel.
That represents a considerable drop in standards, even allowing for a trend in the league towards attack first and officiating designed to make defending more difficult.
Given that Dublin's defensive structure has not changed at all since the change of management – understandably – one conclusion to draw is that the personnel manning those defensive roles are not of the same quality.
Defensive Unit
Gavin arrived to the Dublin job with intentions of building a style of attacking football that would be irresistible to even the most stoic defence but ever the pragmatist, he soon realised the necessity for collective quality without the ball.
The best defensive unit of the modern era evolved with Fitzsimons, Cooper, McMahon, McCaffrey, O'Sullivan and Small operating with a spare man at the back and unmatched work rate in front of them. Two of that sextet are now gone and three more are beyond 30 and waning.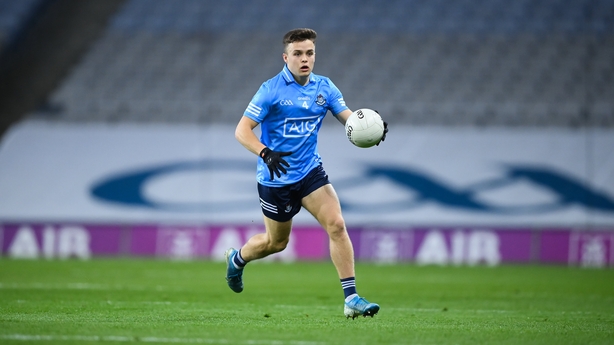 Eoin Murchan (above) has finally established himself under Farrell but otherwise, the search for adequate replacements for those great warriors continues. Against Donegal at the weekend Brian Howard auditioned at centre-back again with Murchan covering his full-back line from wing back.
Howard can counter-attack exceptionally well from deep but his basic defensive qualities are well short of his predecessors in that role.
James McCarthy – also the wrong side of 30 – offers a quality solution at centre-back but the failure to unearth a midfield partner for Brian Fenton means that the Ballymun man cannot be released back to a half-back role.
Conveyor Belt
There is no doubting the quality and impact of the Dublin attack. Scoring averages have been on the rise through both of Farrell's league campaigns and in that time, O'Callaghan has cemented his standing as a generational talent.
Dublin's emerging quality in this sector have kept their more established attackers on their toes. Paddy Small has become a fixture and in Rock's continued absence, Cormac Costello is staking a significant claim to the free-taking berth.
The game time offered to the next crop have shown that the conveyor belt for pace and scoring forwards continues unabated.
Standards
It may well be that in his third year of searching for a silver bullet to Kerry's defensive frailties, an unexpected resolution may have presented itself.
While Dublin remain a formidable outfit, their rearguard is less impenetrable than it has been in recent years. Key defenders are waning together and - crucially – their man markers appear to be half a yard further back than they have been for the best part of a decade.
Despite the deep understanding that continuous battle experience brings to defending collectively, pace and controlled aggression in dealing with marquee forwards remains central to how any unit can cope under pressure.
Although Kerry will be assumed as the primary beneficiary of any slip in the champions' standards, it opens the door for others around the top table to go after Dublin with the opportunity presents itself.
Toe to Toe
There is no more potent attack than Kerry in the country right now and they present a significant tactical and personnel challenge to Dublin's defence of their All-Ireland title.
In previous years, the champions could lean on their defensive power like a boxer using the ropes to soak up an opponent's energy before counter attacking with their customary precision.
I see no evidence that their superiority in that area remains and suddenly a showdown with Kerry later in the summer becomes a battle of both attacks.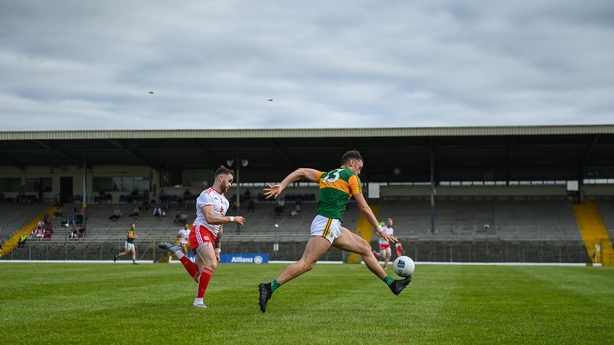 When you sit down to set out Farrell's solutions for going toe to toe with Geaney, Clifford, Clifford, O'Shea, O'Brien and Moynihan then the problem gets very real.
Game Changer
Throughout Keane's reign as Kerry manager, his panel has included the quality and depth most likely to derail the capital juggernaut.
Consistently, not being able to curtail the impact of the Dublin attack has left Kerry too much to do at the other end, irrespective of the talent they possess on the front foot.
The first signs of a shift in status came in Thurles earlier in this league campaign when the country's top heavyweights fought to a standstill and, ultimately, a draw.
Kerry still could not keep the back door shut and, tortured by King Con, gave up four goals.
However, when the tallies were counted after a pulsating second half charge, Keane's men had struck for 1-18 – 19 scores. Despite the four majors, Dublin had created only 13 scores and taken on water heavily at the back.
After nearly three years of trying to address their defensive weaknesses, it is somewhat ironic that the solution might be external. Dublin's defence no longer dominate and that becomes a game changer.
Dual Challenge
If they meet later this summer, Kerry will have the potential to at least repeat the scoring feat of this year's league clash – 21 points.
Farrell will be acutely aware of the threat that poses their title defence but if Dublin cannot take five or six points off that total then Kerry will not be denied.
It's never boring to do well and Kerry now have a huge opportunity if they can keep their eye on the challenges at both ends of the pitch,