Kerry fired in six goals to leave Tyrone reeling at Fitzgerald Stadium, and so will share the Division 1 football title as they are unable to fulfil the decider because of Munster championship commitments the week after.
Tyrone might have to offer the 'only the League' defence after this, even though they might have had a crack at a league title had they won in Killarney. Looking at the result, it seems fanciful that they might have ever entertained such a notion given how they performed here.
It would be easy to make the joke about the Tyrone defenders adhering to the two-metre rule when it came to the opponents, but collectively and individually the Red Hand defence was a rabble.
Five goals in the first half laid the platform for Kerry's win – including an audacious goal from wing-back Gavin White who punished Niall Morgan for his poor restarts and roaming ways by lobbing the Tyrone goalkeeper from 40 metres.
That was the second of a quick-fire brace of Kerry goals as they led 3-1 to 0-3 at the water break; a period when Tyrone needed smelling salts more than hydrating fluids.
A minute after White's brilliant thinking, David Clifford set up Dara Moynihan for the latter to stroke the ball past Morgan, to go alongside Clifford's fifth minute goal from the penalty spot as Kerry ran amok.
All Tyrone had to show for that first quarter was a serious ankle injury to Darragh Canavan who had to be carted off the field after a six-minute delay.
Tyrone really didn't seem to know what they were trying to do in the game; at times going very lateral, other times pumping long ball in towards Conor McKenna and Paul Donaghy to no great effect, and on a few occasions they were forced into shooting from distance. The end result was they mined six points from play for their efforts including two apiece from Kieran McGeary and Darren McCurry – but overall the Kerry defence was very much in control.
The second quarter saw Kerry continue in total control, with Sean O'Shea showing super vision and dexterity to set up Paul Geaney for Kerry's fourth goal after 30 minutes, and the latter was in again in the 37th minute to drive ball – and almost Morgan as well – to the net to help Kerry to a 5-6 to 0-7 half time lead.
The 200 family and friends allowed inside to watch had little to get excited about in the second half such was the pedestrian nature of the game, with Kerry remaining utterly dominant.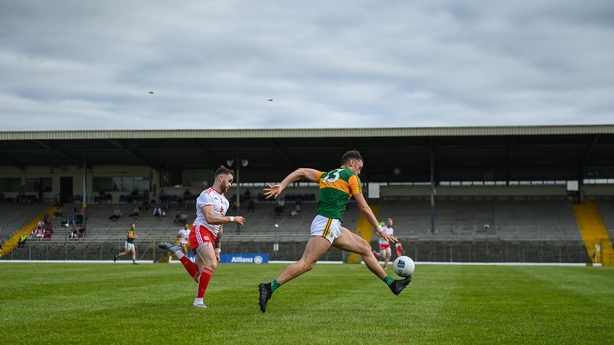 Tiernan McCann snatched a Tyrone goal in the 42nd minute as Kerry led 5-11 to 1-8 at the second water break, Killian Spillane and Micheal Burns came off the Kerry bench to score a brace of points each, and Jack Barry cleaned up a breaking ball to sweep Kerry's sixth goal to an empty Tyrone goal.
So it's a shared League title for Kerry and a pep in their step ahead of a Munster Championship quarter-final against Clare back at the same venue at the end of the month.
For Tyrone there is much work still to be done before an Ulster Championship fixture against provincial champions Cavan, who despite being relegated to Division 4 will fancy themselves against a Tyrone team on this showing.
Kerry: Kieran Fitzgibbon, Brian O Beaglaoich, Jason Foley 0-01, Tom O'Sullivan, Mike Breen 0-01, Gavin Crowley, Gavin White 1-00, Diarmuid O'Connor, Adrian Spillane, Stephen O'Brien, Sean O'Shea 0-03, Paul Geaney 2-00, David Clifford 1-06 (1-00 pen, 0-04f), Dara Moynihan 1-00, Paudie Clifford.
Subs: Joe O'Connor for P Clifford (35+3, blood), P Clifford for J O'Connor (blood reversal ht), Tommy Walsh for P Clifford (43), Micheal Burns 0-02 for P Geaney (43), Killian Spillane 0-02 for S O'Brien (50), Jack Barry 1-00 for S O'Shea (54), Joe O'Connor for D Moynihan (60), Jack Sherwood for G White (60), Paul O'Shea for A Spillane (63), Graham O'Sullivan for M Breen (73)
Tyrone: Niall Morgan, Cormac Monroe, Ronan McNamee, Padraig Hampsey, Michael McKernan, Peter Harte 0-01, Liam Rafferty, Matthew Donnelly 0-01, Frank Burns, Kieran McGeary 0-03, Darragh Canavan, Conor Meyler, Darren McCurry 0-03 (0-01f) , Conor McKenna, Paul Donaghy 0-01 (0-01f).
Subs: Mark Bradley 0-01 for D Canavan (inj, 6), Tiernan McCann 1-00 for C Monroe (26), Ronan O'Neill 0-01 for P Donaghy (ht), Richie Donnelly 0-01 for F Burns (ht), Rory Brennan 0-01 for M McKernan (46), Niall Sludden 0-01 for L Rafferty (46), Colin Kilpatrick for R McNamee (69).
Referee: Conor Lane (Cork)