As the dust begins to settle on a third Limerick All-Ireland success in four years, thoughts in the squad aren't far away from writing the next chapter.
But half-forward Tom Morrissey says they do plan to enjoy yesterday's success first.
The Treaty City men are showing no signs of losing hunger despite having re-written the history books for hurling in the county, with their first-half performance in the victory over Cork being among the best seen in this current run.
John Kiely used 19 players in the final at Croke Park but just two of them - Graeme Mulcahy (31) and Nickie Quaid (32) - are over 28 and it's clear that the rest of the country will have a job on their hands to bring a halt to their domination.
Speaking on RTÉ's Morning Ireland, Morrissey said that they want to drive on and keep the run going.
"That's the way sport has gone, you're not going to rest on your laurels," the Ahane man pointed out.
"While we're going to enjoy this one - and you have to enjoy them when you do win it - there's always going to be an eye and a focus on the next one.
"You don't want to be satisfied. If you get complacent inside in that dressing room that's going to be our downfall. So we'll take our break, get refreshed, go back to the clubs - something I'm looking forward to - and then come in with Limerick again.
"It'll be about pushing it and wanting to go on and go further again."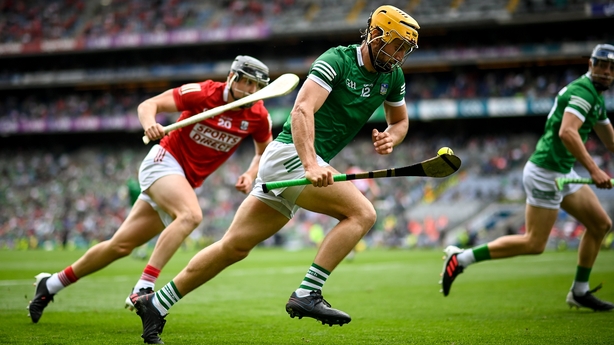 The Rebels aren't the only county to have been unable to find all the answers when met with that Limerick challenge this summer.
In the Munster final against Tipperary it looked as if Kiely's men might be in trouble. They trailed by 10 points at the break after being completely outplayed by Liam Sheedy's Premier County.
But like all great sides there appeared to be no sense of panic. They made the changes, fixed the problems, and by the time the second-half water break arrived they were two points clear.
They never allowed that sort of situation to develop yesterday, and when Cork struck for an early goal through Shane Kingston they took heed of the warning, producing one of the great All-Ireland final performances.
"When we get into a game then maybe we can be hard to stop," Morrissey acknowledged.
"We got into a flow and maybe got scores that were easier to come by. We pride ourselves on our workrate and that's probably first and foremost and the hurling follows from then."
Morrissey was one of 11 Limerick men named on The Sunday Game's team of the year as they drew comparisons with the great Kilkenny team of the the 2006-2015 era.
While they still have a way to go before they can truly be compared to Brian Cody's Cats, Morrissey says the motivation to succeed will come from within the panel.
"You're always going to be hungry if you want to improve," he continued.
"With all the additions to the panel and people chasing your spot, if you have that desire to be a better hurler and a better athlete then you can always improve on all different facets to your game off the pitch and on the pitch, whether it be sleep or nutrition or in the gym, your hurling ability.
"It's just that desire to be better. If you're not moving forward then you are going to be passed out."
With the headstart Limerick have, it might be a while yet before anyone catches them.