The morning after the day before and for the Limerick hurlers, the sense of achievement is still sinking in.
A third All-Ireland in four years, spoken of in generational terms and adrenalin still rushing through the veins after an awe-inspiring display on the big day.
With all that still taking root in the back of the mind, Cian Lynch and Seán Finn were reflecting on their part of Limerick's history-making back-to-back triumph when Marty Morrissey caught up with them on RTÉ's Morning Ireland back in the comforts of their home county.
Lynch, whose collective contribution to the cause also seeped into the individual as he had the honour of being named The Sunday Game Player of the Year, could be forgiven for not being able to get a wink of sleep overnight.
"I go to bed Marty but once I hit the bed, my old head does be going 90 after a game like that," he quipped.
"Everyone's the same. It's weeks building up to a game, adrenalin going throughout the body and coming off a massive high and you're trying to wind down.
"I know we met our parents last night and our families and nearest and dearest but when you go into your own bed and hit the pillow, your mind starts replaying every ball, every episode in the game.
"There's plenty of time for sleep so I'll stay awake for as long as I can now."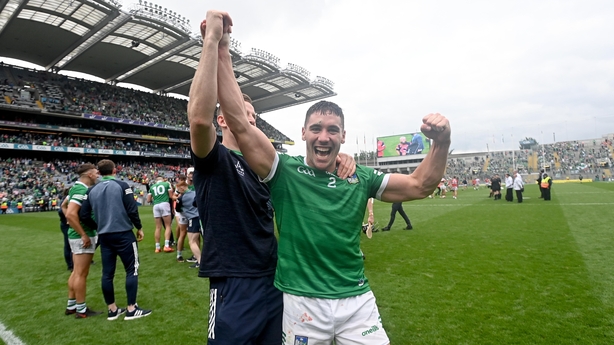 The 25-year-old Patrickswell club man emphasises the importance of enjoying the moments amid the strain of effort and that's an emotion Finn has been trying to instil into himself in the midst of this unprecedented era for the county.
"These are fantastic times and often-times you mightn't enjoy it because you're working so hard and on the biggest stage when you're inside in the dressing room and the pressure's on and you're worrying what might happen in the next couple of hours, Cian's talking about enjoying it, and you're thinking 'How are you going to enjoy this?' And he's not just saying it and that reflects in his performance," he said.
"You must try to enjoy it and it's something I must get better at myself because these are incredible times for Limerick, Limerick hurling, ourselves and it's important they don't pass us by in the next couple of years."
Limerick certainly did not let Sunday's final pass them by, something which Finn draws immense satisfaction from.
"It was all about ourselves really on the day," he added, "We knew if we worked really hard over the last couple of months, we knew that if we came down and performed the way that we expect of ourselves, that we'd do the business," said the corner-back.
"And it was really satisfying just to even see that first-half performance. Obviously at half-time, we had a job to do in the second half but on the big stage, it's just so satisfying to get that performance, considering you'd worked so hard for the couple of months."
Unlike last December when Limerick won their second All-Ireland title of this span in front of empty stands at Croke Park due to the contemporaneous effects of the Covid-19 pandemic, a crowd of 40,000 were able to be on hand on Sunday and that sense of occasion resonated with Lynch.
"It's been a long 18 months for everyone, not just Limerick people but Cork people and across the whole country and just having fans back in Croke Park, it felt like a packed Croke Park yesterday," he said.
"I keep alluding to it that sport and GAA is so special to us as players but also to continuous generations that keep coming and going and keeps us all together."