The debate is over.
Limerick have taken their place in the pantheon of hurling greats after crushing Cork to seal back-to-back All-Ireland titles for the first time.
Sharper, stronger and more composed, the green machine took their opponents apart ruthlessly and posted the biggest ever total in a final.
Every Limerick forward had scored from play by the 18th minute and the contest was effectively over by half time as they went in 13 points up – a staggering 3-18 to 1-11.
Gearóid Hegarty bagged 2-02 and Peter Casey hit five superb points from play before going off with a knee injury while the unstoppable Cian Lynch (0-06) and Aaron Gillane (1-06, 3fs) tore the loose Cork defence to shreds.
Cork veterans Seamus Harnedy (0-04) and Patrick Horgan (0-12, 10fs) were their only players to score more than once and the county's wait for Liam MacCarthy will now stretch to a record 17 years.
John Kiely's Limerick have now won three All-Ireland crowns in four years after just seven in the previous 130. The green wave shows no sign of breaking yet.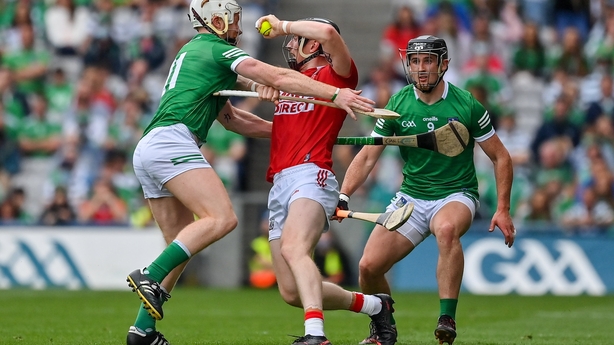 In front of 40,000 fans, the Treaty had started with intent. Lynch, surely the favourite for Hurler of the Year, split the posts after just 11 seconds.
Cork then presented them with a gift, Luke Meade preventing the concession of a sideline but flicking the ball straight to Lynch. He hand-passed to Hegarty to crash home a second-minute goal.
Cork hit back with a green flag of their own almost straight away though, Shane Kingston skinning Sean Finn and sending a superb high finish past Nickie Quaid.
Limerick responded with three points in a row from Casey, captain Declan Hannon and Seamus Flanagan but Cork kept in touch through Horgan frees and a Jack O'Connor effort to trail by just one after a quarter of hour.
The young Rebels looked nervous but full of energy, and were winning enough 50-50 ball to make it a contest. However the self-destruct button was flashing bright red and would soon be pressed.
GOAL LIMERICK

18mins: COR 1-06 LIM 2-07
An unmarked Aaron Gillane slams home Limerick's second goal of the game.#RTEgaa #TheSundayGame

📺 Watch live - https://t.co/QjlupWADOG…

📱 Updates – https://t.co/hcaJmYNkpE… pic.twitter.com/wA9UnJfuke

— The Sunday Game (@TheSundayGame) August 22, 2021
Just before the water break, corner-back Sean O'Donoghue and No 3 Robert Downey seemed unsure who was marking Flanagan. The Limerick full-forward was able to collect Diarmaid Byrnes' long delivery unchallenged and fed the now outrageously free Aaron Gillane to bury a second goal.
The champions took over after that as their ferocious tackling started to take its toll on a Cork defence who regularly coughed up possession while trying to work the ball out short, and were second to every ball going in.
Limerick started finding space with ease and outscored their opponents 2-10 to 0-05 in that second quarter for a huge half-time lead.
Casey had his fifth point by the 25th minute before injury ended his day and Hegarty, who bagged 2-02 without hitting his brilliant best, flashed a goal chance wide before a moment just before the interval that encapsulated the game.
Cork had tried to crowd the middle to starve Limerick of possession but that meant Horgan and O'Connor were frequently isolated. A hopeful ball in to a triple-marked O'Connor was sent back the other way from Hannon to Lynch.
Lynch is so strong that it's difficult to foul him even if you want to and he held off Mark Coleman to feed Hegarty, who stepped inside and smashed a third goal past Patrick Collins.
HT: COR 1-11 LIM 3-18

It's half-time in the All-Ireland final and Limerick lead Cork by 13 points. Gearoid Hegarty with the third goal for the reigning champions.#RTEgaa #TheSundayGame

📺 Watch live - https://t.co/QjlupWADOG…

📱 Updates – https://t.co/hcaJmYNkpE… pic.twitter.com/CAWRF6brvr

— The Sunday Game (@TheSundayGame) August 22, 2021
The pre-match parade had been greeted with a wall of noise not heard here in two years.
But the second half began in an almost eerie silence as even the most ardent Cork fans knew they needed one of the all-time comebacks.
That didn't materialise. Limerick continued to relentlessly swarm and outmuscle their opponents, and their forwards were repeatedly out in front of forlorn Cork backs, who simply couldn't win enough ball to feed their own forwards.
Lynch and Gillane held off tacklers and found space to rack up their tallies while Hannon, Byrnes and Barry Nash all scored from range as Limerick eased 16 clear by the second water break.
Cork had used all their subs by the 52nd minute, and though Alan Cadogan and Shane Barrett made scoring impacts, they never really looked getting a second goal, when they probably needed another five.
Tom Morrissey finished with three points from play while David Reidy and Pat Ryan came off the bench to ensure a record final tally, two points more than Kilkenny managed against Waterford in 2008. They could even afford the luxury of hitting 17 wides.
Cork's last five scores were frees from Horgan, who finished as championship top-scorer for the first time in his 14 seasons in the blood and bandage. That will be of little consolation after a second final defeat.
Cork might be a coming team but Limerick are already here. A golden generation of players have delivered undreamed of success and look likely to be a force for years to come.
Cork: Patrick Collins; Niall O'Leary (0-01), Robert Downey, Sean O'Donoghue; Tim O'Mahony, Mark Coleman (0-01), Eoin Cadogan; Darragh Fitzgibbon, Luke Meade (0-01); Conor Cahalane, Seamus Harnedy (0-04), Robbie O'Flynn; Jack O'Connor (0-01), Patrick Horgan (0-12, 10fs), Shane Kingston (1-00).
Subs: Damien Cahalane for Conor Cahalane (ht), : Sean O'Leary Hayes for O'Leary (48), Alan Cadogan (0-01) for O'Connor (48), Shane Barrett (0-01) for Fitzgibbon (48), Niall Cashman for O'Donoghue (52), Declan Dalton for O'Flynn (55).
Limerick: Nickie Quaid; Sean Finn, Dan Morrissey, Barry Nash (0-01); Diarmaid Byrnes (0-02, 1f), Declan Hannon (0-02), Kyle Hayes; William O'Donoghue, Darragh O'Donovan (0-01); Gearóid Hegarty (2-02), Cian Lynch (0-06), Tom Morrissey (0-03); Aaron Gillane (1-06, 3fs), Seamus Flanagan (0-01), Peter Casey (0-05).
Subs: Graeme Mulcahy (0-1) for Casey (36), David Reidy (0-01) for Hegarty (62), Pat Ryan (0-01) for Tom Morrissey (62), Colin Coughlan for Hannon (65), Barry Murphy for Mulcahy (68).
Referee: Fergal Horgan (Tipperary)