Sarah Dervan has described the recognition of dual players by the Camogie Association as "a huge step forward for women in sport".
At their congress earlier this month the association agreed, in the words of the motion, to "endeavour to facilitate as far as practical the dual player."
Last year Cork players threatened to go on strike after the county's football and camogie teams had championship fixtures set for the same day. Eventually the situation was resolved when Galway agreed to move the camogie clash between the counties.
It was however the latest in a long line of disputes over fixtures clashes between players involved in both sports, and it led four-time All-Ireland winner Ursula Jacob to look for a bit of "common sense" in the standoff.
Dervan, who captained Galway to All-Ireland glory in 2019, says the decision is long over due.
"It's about time that it (playing both) is getting the recognition it deserves. Playing one code is tough enough never mind trying to play two.
"Please God now there won't be any fixture clashes. They will get to play both games because they love them equally."
Last December the women's and men's Gaelic Players Association merged into one organisation
The 20x20 campaign reported last October that participation in women's sports is increasing, while coverage has also increased in the media - although there is still progress to be to be made there.
Another area where women's Gaelic games still lags behind is in grants, with men's football and hurling receiving over four times government funding (€3m) than women's football and camogie (€700k).
Indeed that very topic was discussed at a Dáil Committee earlier this week and there was cross-party support for a letter to be sent to the Minister for Sport Catherine Martin requesting the establishment of a task force which would look at funding levels in all women's sport.
"It's brilliant to see that it (women's sport) did get the air time in the Oireachtas," Dervan says.
"Funding is an issue; I would love to see it be equal. I watched it all back and it was hard to see that the men got €3m and we only got €700,000. That should be equal across all codes and both genders.
"The WPGA and the GPA coming under one umbrella is massive. It's a huge step forward and hopefully it will lead the way to all associations coming under the one umbrella too.
"It's huge to see politicians putting their hand up and recognising that this is an issue."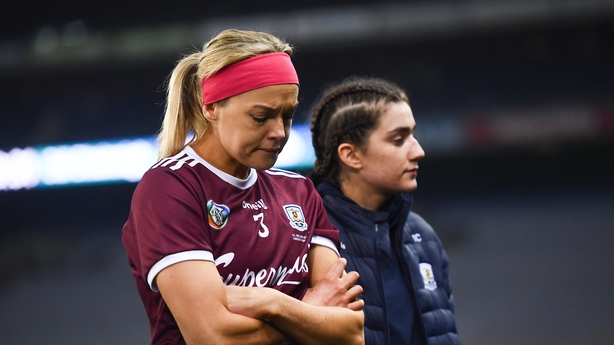 While debates about whether GAA could ever go professional will come and go, the idea of a player having to pay to play for his or her county seems bizarre.
And yet that is the stark situation that many players find themselves in women's football and camogie. A report from the WGPA before the merger last year claimed that just 7% of players were receiving mileage, while 69% were paying their own gym fees.
"That's fine for people that are working," Dervan points out, "but for students that have to prioritise training over work they are actually out of pocket.
"You want to see that gone - it's stone-age stuff now. We want women in sport to be seen as equal to men. Hopefully in the not too distant future we'll just be calling it sport.
"Camogie and ladies football are at such an elite level now we want to make sure they get the showcase they deserve and to be able to put their best foot forward.
"They can only do that by getting the funding."
---
Listen to the RTÉ GAA Podcast at Apple Podcasts, Soundcloud, Spotify, or wherever you get your podcasts.
---
From this season, players will no longer be able to hand pass goals.
Another rule that was introduced at the congress, which was held virtually, was the introduction of a more physical element in the game, including shoulder to shoulder contact.
For Dervan, it's welcome news although she says the new rule is left open to interpretation.
"It's a positive to be seeing changes. Camogie has, and is still, evolving. Girls are getting fitter, stronger, and faster and these changes are a positive.
"It'll be interesting to see how the physical side of things works out. I think the term is 'minimal contact' but I'd love to understand that a little bit more myself.
"I've always seen it as hurling," she says when asked if the women's game will continue to become more like the men's game.
"I've never really differentiated between the two. I would say, 'she's a great hurler' - I just see it all as one."
Reflecting on last year, when they lost their grip on the O'Duffy Cup, Dervan says she recently re-watched the final defeat to Kilkenny.
"It was a hard watch and to be honest it took me a good while to get over that game," she admits.
"It's something we've got to learn from. Hands down, Kilkenny were the better team on the day.
"We need to make sure we come back stronger. We are a resilient bunch. We're mad to get the league going and shake off the cobwebs."
Different Backgrounds; One Association – Doireann O'Sullivan, Sarah Dervan, Paul Geaney and Dan Morrissey were taking part in the GPA's Return to Play event to mark the first season where all senior inter-county players are part of the one player association.