Mayo manager James Horan believes inter-county players are being taken for granted over restrictions around match-day panels for the 2020 championship. 
One of the provisos of the championship in a Covid-environment is that only those on the 26-player matchday squads are allowed into stadiums along with 12 members of the management and backroom team for counties. 
It means that those on the extended panel are not permitted to go to the game, something Limerick manager John Kiely has criticised and called on the GAA to address. 
Horan, who is preparing for next weekend's All-Ireland football semi-final against Tipperary, doubled down on that viewpoint, adding it could leave a sour taste for those coming towards the end of their Mayo careers. 
"Not allowing the panel to go to games, it is outrageous. I think the players, to a certain extent, have been taken for granted. I genuinely do," he told RTÉ Sport. 
"We have guys that have given a decade, some more. It may be their second, or last time going to Croke Park. For them to have trained all year, given absolutely everything and then not be allowed into a venue, it's outrageous really. 
"It's a killer for some guys."
"There are murmurings that it will be changed for the semi-final, that we might be out of Level 5, but even with Level 5... there are a lot of guys with yellow bibs hanging around a lot of stadiums.
"There are obviously protocols that need to be in place for sure, but you can't tell me that we can't have 10 players that have given a huge amount, socially distant, in those stadiums as well. 
"I don't get it. It's a killer for some guys." 
Since returning to the Mayo hotseat two years ago, Horan has introduced a raft of new players, with Eoghan McLaughlin, Oisin Mullin, Matthew Ruane and Tommy Conroy all starting the recent Connacht final victory over Galway. 
It has seen a number of the more established players struggle for game time, with the likes of Seamus O'Shea, Tom Parsons, Colm Boyle and Keith Higgins among those forced into mainly watching briefs.
Horan insists that their attitude has remained positive, despite struggling to make the starting XV.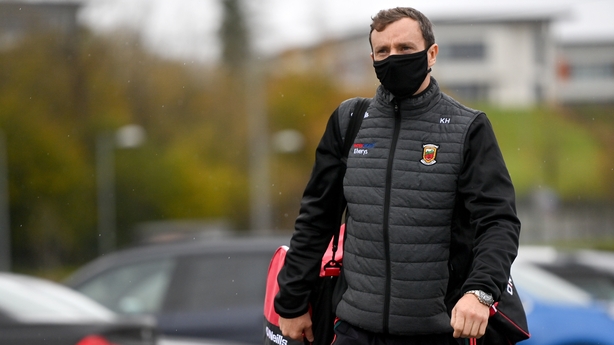 "They are guys of the highest calibre you could possibly meet. They are looking to drive it on, competitive in every training session, every drill they are in. 
"Players have a very good instinct of who is playing well and where things are at, and they would be the first to congratulate guys that are on the matchday 26. 
"In the GAA context, they are complete pros." 
Another long-serving player, Aidan O'Shea, continues to lead the Mayo attack, with the Breaffy man a constant threat on the edge of the square or roaming further out the field. 
Last week Donegal manager Declan Bonner argued that talisman Michael Murphy fails to get enough protection from referees with the "special treatment" that comes his way, and Horan is of the opinion that O'Shea gets even more roughhouse treatment that goes unpunished.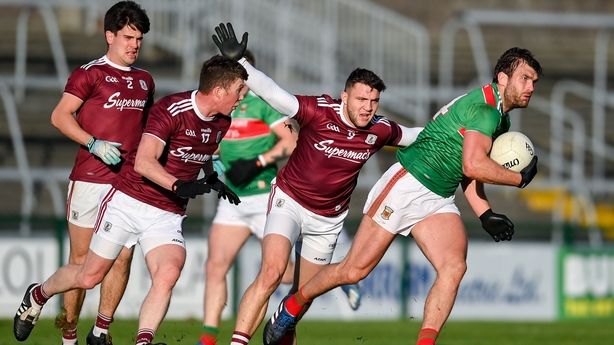 "I think Declan is right about Michael, but I think Aidan is even more of a case in point to be honest. Because of his size and frame, and how much possession he gets on in games, his temperament and discipline is unbelievable.
"If you take the Galway game, some of the physical stuff he got there...in my opinion he should have got a lot more frees." 
Looking ahead to their opponents Tipperary and a repeat of their meeting at the same stage of the competition in 2016, Horan appreciates the challenge his team will face. 
The Premier County's victory over Cork, and with it a first Munster title in 85 raised some eyebrows, but not for Horan - "I wasn't at all surprised" given the way they have been building since their All-Ireland minor victory in 2011. 
And where the game takes place doesn't overly concern him.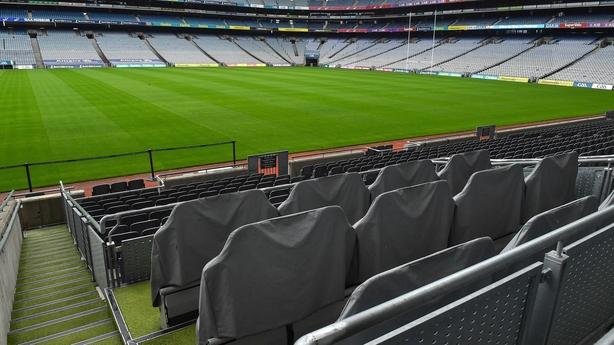 Croke Park is slated for the two semi-finals, but Cavan manager has called for their joust with Dublin to be moved outside of GAA headquarters, arguing that the lack of crowds this year as well as Dublin's comfort of regularly playing there as justifiable reasons why it should be moved. 
We are more than happy for it to go ahead at Croker
Horan, whose first stint as Mayo manager ended after defeat in the only semi-final held outside Croke Park in the last 37 years when Mayo and Kerry went to the Gaelic Grounds for their 2014 replay, is content to make the trip to Dublin where some of his more inexperienced players get more of a feel for the ground. 
"I'm more than happy for our game to go ahead in Croke Park. A lot of players want to play there, but I can completely understand people looking to have a game at a neutral venues, but from my side of it, we are more than happy for it to go ahead at Croker." 
Hurling: Watch Waterford v Kilkenny (6pm Saturday) and Limerick v Galway (4pm Sunday) live on RTÉ2, listen to live commentary on RTÉ Radio 1 or follow our live blog on RTÉ Sport Online and the RTÉ News app. Highlights on The Sunday Game (9.30pm RTÉ2).
Camogie: Watch Cork v Kilkenny and Galway v Tipperary live on RTÉ2 from 12pm Saturday, listen to live updates on RTÉ Radio 1 or follow our live blog on RTÉ Sport Online and the RTÉ News app. Highlights on The Sunday Game (9.30pm RTÉ2).