The contrasting paths of Galway and Limerick to the All-Ireland final suggests an epic contest could be in store on Sunday.
In the latter stages of the Championship, Galway have been steamrolling teams in the opening period, then holding them off until the finish. Against Kilkenny and then Cork, Limerick have refused to be beaten.
Under Brian Cody, Kilkenny have a well-earned reputation for post-interval bursts of intensity. Micheál Donoghue's attitude seems to be from the 'why wait until the second half?' school of thought.
In the Leinster final replay they were 1-09 to 0-01 up against Kilkenny after 19 minutes. That was still a nine-point lead at half-time but was cut to a single point late on.
The @sundaysport team hit the screens tomorrow for All Ireland hurling final day. Join @Darrenfrehill & @jacquihurley from 1130am on the @RTEplayer & @RTENewsNow for The Dressing Room #gaa pic.twitter.com/rP0VQN0KcO

— Sunday Sport (@sundaysport) August 18, 2018
In the All-Ireland semi-final with Clare, Galway were 1-07 to 0-01 to the good a quarter of an hour in. Clare fought back brilliantly and the sides were deadlocked after an extra-time classic.
Déja vu in the replay at Semple Stadium. The Tribesmen lead 1-09 to 0-03 inside 20 minutes. Clare score two brilliant goals and only the width of a post denies them a place in the final.
And yet, Galway remain unbeaten. Joe Canning was perhaps right to be aggrieved when he pointed out that Clare had led only once across both games. They have shown tremendous mental strength in reasserting themselves even after coughing up big leads.
"This year we've shown grit and determination to get the job done," captain David Burke told RTÉ Sport this week. "We've been put to the pin of our collar. 
"Before, I've been a part of teams that have maybe lost tight games - by a point to Tipp in 2010, and different games to Kilkenny as well. It was more of a mentality-based thing and probably a bit of softness in us."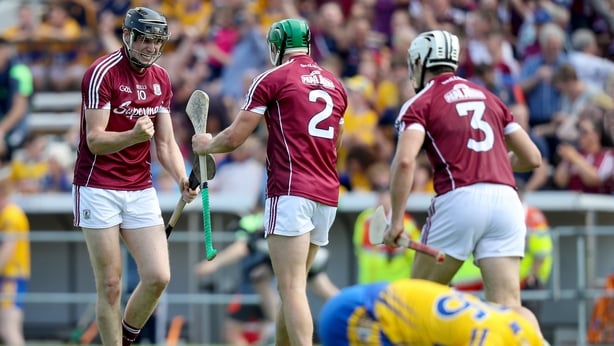 Last year, Galway won the title despite scoring only two goals (both against Dublin) in five games. They managed that by compiling huge points totals - an average of 27.6 per match.
This year they have added a goal threat from direct ball into towering full-forward pair Johnny Glynn (6'5) and Conor Cooney (6'2). Glynn raised green flags in the replay wins over Kilkenny and Clare while Cooney hit the net in the drawn game with the Banner.
The points average has dropped (22.75 in eight games) but Conor Whelan and Cathal Mannion are still cleaning up in the corners while David Burke and Joe Canning have scored consistently from range.
Limerick have their own sharpshooters in Gearóid Hegarty, Aaron Gillane, Tom Morrissey and Graeme Mulcahy and a target man in Seamus Flanagan. However, Gearóid McInerney is expected to be fit, which will be a big boost to the defending champions.
Galway have been behind at half-time in the Championship only once (0-08 to 0-07 against Kilkenny in the drawn Leinster final). It will be fascinating to see how they react if Limerick build up an early head of steam.
But assuming they maintain their form of solid starts, how big a lead will Galway need?
In their opening Munster match, Limerick trailed Tipperary by two points at the break and won by six. They drew with Cork having also been two down and playing the entire second half without the red-carded Aaron Gillane.
Most teams would have wilted when faced with a Richie Hogan goal to give Kilkenny a 64th-minute lead in the All-Ireland quarter-final but Limerick kept their cool and scored five of the last six points to advance.
The rematch against the Rebels in the semi-final looked a foregone conclusion when John Meyler's side pulled five points clear with six minutes to play but Limerick finished like a train and Cork were fortunate to even get the extra 20 minutes in the end.
Limerick's comeback victory when the sides met in Division 1B earlier in the year might be uppermost in Tribesmen thoughts. Galway led that game by eight points at the interval but a goal from substitute Kyle Hayes inspired a revival that secured a long-awaited promotion for the Treaty County.
They came from behind again to force extra-time in both the League quarter-final against Clare - eventually winning in a shootout - and semi-final against Tipp.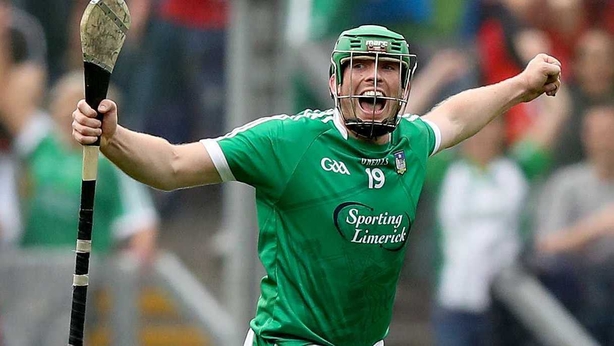 The strength of Limerick's bench is one of their biggest assets. 
Shane Dowling and Pat Ryan both came off the bench to score goals against Cork while the likes of Peter Casey, Barry Nash and 2007 veteran Seamus Hickey have also made big impacts.
Galway subs Niall Burke and Jason Flynn are no slouches either but it's hard not to agree with Michael Duignan when he says that "Limerick have the best squad in the country but Galway have best starting XV."
"We have the advantage of experience, but they have a fantastic bench," agrees two-time Galway winner Pete Finnerty.
"We have experience, we are All-Ireland champions, that stands for a lot. But you still have to hurl for the full 70 minutes.
"We have been brilliant for the first quarter, maybe 25 minutes in games and then we seem to have faded out a bit. The lads know that can't happen on Sunday and I don't think it will happen."
Despite Dowling's game-changing impacts as a substitute, former Limerick boss Tom Ryan insists the Na Piarsaigh man should start.
"I would have Dowling on that team at full-forward, I wouldn't be waiting for him to come in and rescue anything," he said. "It might be too late."
Limerick will be praying they don't need rescuing. The Galway onslaught awaits. 
It's been a wonderful hurling championship. Let's hope it gets a fitting finale.
Follow the All-Ireland senior hurling final via our live blog on RTÉ.ie and the News Now App, watch television coverage on The Sunday Game Live, RTÉ 2, from 2.15pm or listen to exclusive national radio commentary on Sunday Sport, RTÉ Radio 1. Highlights on The Sunday Game at 9.30pm on RTÉ2.