It's back again, the annual International Rules Series that sometimes takes place every two years, at best.
While it cries out for and needs a fanfare, it's going to find it difficult not to get lost in the wake of two big Ireland internationals.
That it takes place at 5am, the morning after Dublin hosts the Springboks, and Ireland play Denmark in a crucial World Cup play-off, is an unfortunate quirk of timing and geography.
Fewer sore heads will rise to witness proceedings on the South Coast of Australia in the Adelaide Oval this Sunday morning.
Next weekend's Test takes place in Perth and the 8.45am throw-in is a more attainable goal for many.
Joe Kernan's Ireland will be up against it as they bid to retain the Cormac McAnallen Cup.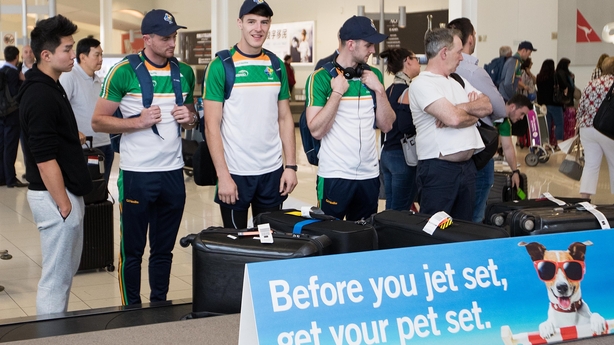 No Dubs, injuries to Essendon's Conor McKenna, Mayo's Lee Keegan and Cork's Paul Kerrigan, a vomiting bug hitting a number of the players three days before the game, shortened training sessions in 34C heat.
It's far from ideal.
Throw in the fact that Ireland have only retained back-to-back series twice – the losers from the previous year usually have extra motivation – and it's an uphill battle that faces those with strong enough stomachs for the fight.
The 23-man travelling panel now looks a particularly thin herd.
AT A GLANCE - AUSTRALIA v IRELAND
More than ever this series needs a close encounter. When it fails to produce a contest, the games are dour.
"The one-sided games in particular, where we won well one year and they won well another year. It doesn't make great viewing," admits Ciaran McManus, the second most capped player in the series' history.
The last two renewals, 2014 and 2015, served somewhat to erase the memory of the disgraceful 2013 mismatches, an indigenous squad beaten by 101 points over two games.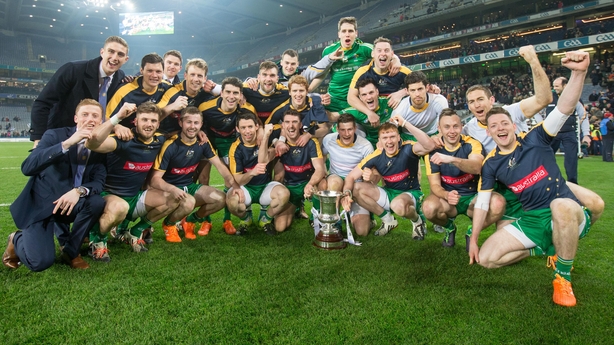 Offaly stalwart McManus has 14 caps, earned over seven series starting in 1999. Only Sean Marty Lockhart (16) has more.
The midfielder's style suited the game: strong and rangy, athletic and a skilled fielder, he could look after himself.
More importantly, he wanted to play for his country. He worked to make the panel for as long as his legs could bear the load.
We need your consent to load this Facebook contentWe use Facebook to manage extra content that can set cookies on your device and collect data about your activity. Please review their details and accept them to load the content.Manage Preferences
Think you can play a couple of series and become an automatic pick? Wrong.
"Every series was a fresh start," he told RTÉ Sport.
"You had to show [you wanted it]. There were new lads called in every year and they always kept pressure on you.
"It was never a comfortable selection or anything like that, or a guaranteed place.
"You had to make sure if you were knocked out [of the Championship] with Offaly you'd have to keep the running up and get in for the trials and try and do as well as you can."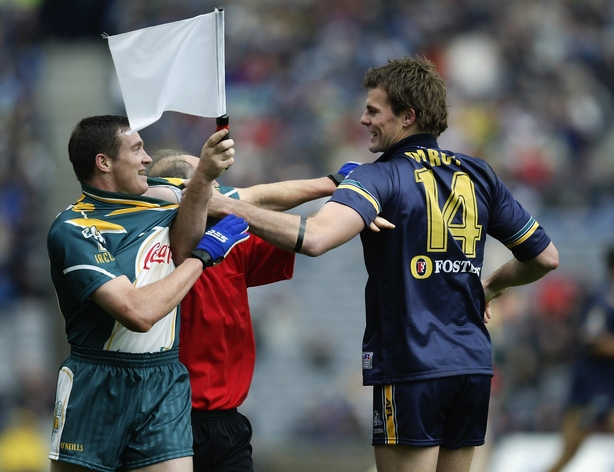 It's an attitude somewhat at odds with this year's gathering, the 20th series between the teams.
For the first time since the formal engagements began in 1984 there will be no All-Ireland champions in the squad.
No-one, McManus included, is saying that the Dublin players don't deserve a break but there's a subliminal message, an unwanted precedent has been set.
He says: "You look at Jack McCaffrey and all these guys playing colleges, club, county Under-21.
"It's a huge challenge at the end of the year to try and make the International Rules squad when there's pressure on to finish the club championship. It's probably a bit much for them.
The @VirginAustralia International Rules Series Australian team!
What a line-up 😍 #VirginIRS pic.twitter.com/875ND1E3lu

— AFL (@AFL) November 11, 2017
"To be fair, they don't even get a chance to prepare for the Irish team."
Notwithstanding the fact that there are no 2017 Grand Final winners from Richmond, it's a blow to the team and a blow to the prestige of the series.
In addition, the Aussie policy of only selecting All-Australian winners (All Stars) has been abandoned after just two games.
They lost six of the original panel and called in four men, not all All-Australians. They'll just have a game-day squad of 21.
Some of the famed McManus enthusiasm wouldn't go astray.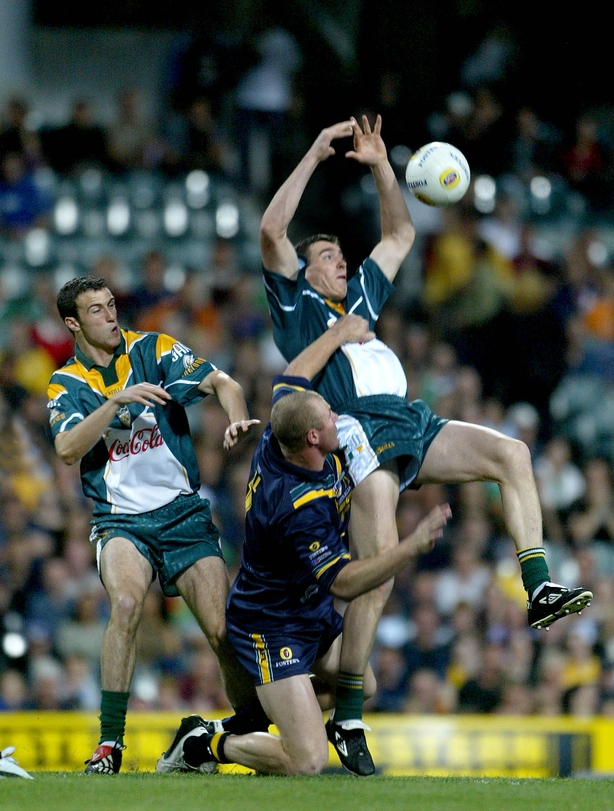 The 1997 Leinster Championship winner played through the early noughties, most of those series were hard-fought, close games.
Making his debut in front of a huge attendance in Melbourne in 1999 is one of his proudest moments.
"The very first one in the MCG obviously, the last-minute goal with Ja Fallon, he just put it away, that was 70-62," he said.
"That was a great game and there was a huge crowd at it, about 65,000 at it. It was a great feeling, that whole week.
"That was my first time to play for Ireland and one of the biggest moments [in my career].
"I really enjoyed the home games, we got great crowds.
"I was man of the match in one of the [2003] games, which was a huge moment. It was a great feeling, a great buzz."
Michael Hibberd takes the gloves for a round of penalty kicks ✋️🤚 #VirginIRS pic.twitter.com/hDvFAMfDti

— AFL (@AFL) November 11, 2017
Unfortunately, the buzz McManus refers to is not as evident as it once was.
There is an agreement for a series next year but talk is already under way about a shake up.
There were rumours of a Test in America, bringing in a third team. Nothing set in stone yet but some innovation is needed.
"I'd hate to see it go," says McManus, currently based in Manchester where he'll rise bright and early on Sunday to catch the proceedings on GAAGO.
"It completes the cycle for any sort of player – club, county, province, country.
"It can't get any better and notwithstanding the All Stars and all these other accolades it's a great outlet for players to represent their country.
"I wouldn't underestimate how high the players value that, how much of an honour it is.
"There'll always be distraction but I'd be someone for playing it at least every two years.
"There is [an appetite] for it and if the marketing is right it can be done right."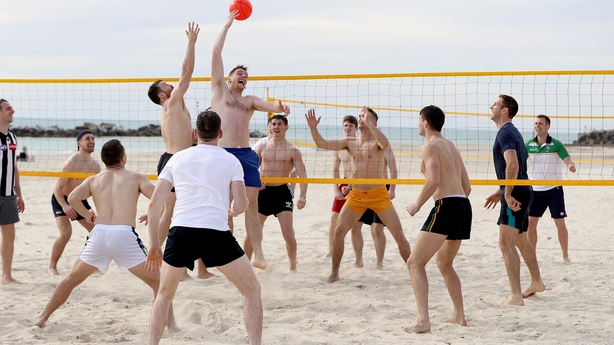 Australia: Brendon Goddard (Essendon), Eddie Betts (Adelaide), Ben Brown (North Melbourne), Travis Boak (Port Adelaide), Shaun Burgoyne (Hawthorn), Patrick Dangerfield (Geelong), Nat Fyfe (Fremantle), Jack Gunston (Hawthorn), Michael Hibberd (Melbourne), Neville Jetta (Melbourne), Rory Laird (Adelaide), Zach Merrett (Essendon), Scott Pendlebury (Collingwood), Paddy Ryder (Port Adelaide), Joel Selwood (Geelong), Luke Shuey (West Coast), Kade Simpson (Carlton), Rory Sloane (Adelaide), Robbie Tarrant (North Melbourne), Chad Wingard (Port Adelaide), Dayne Zorko (Brisbane).
Ireland: Aidan O'Shea (Mayo), Conor McManus (Monaghan), Niall Morgan (Tyrone), Chris Barrett (Mayo), Gary Brennan (Clare), Eoin Cadogan (Cork), Killian Clarke (Cavan), Peter Crowley (Kerry), Kevin Feely (Kildare), Paul Geaney (Kerry), Niall Grimley (Armagh), Pearce Hanley (Gold Coast), Brendan Harrison (Mayo), Michael Murphy (Donegal), Niall Murphy (Sligo), Paul Murphy (Kerry), Karl O'Connell (Monaghan), Sean Powter (Cork), Niall Sludden (Tyrone), Enda Smith (Roscommon), Conor Sweeney (Tipperary), Zach Tuohy (Geelong), Shane Walsh (Galway).
Australia v Ireland live on on RTÉ2 from 0500 (that is 5am), with a live blog on RTÉ.ie/sport. Highlights on RTÉ2 at 8pm.